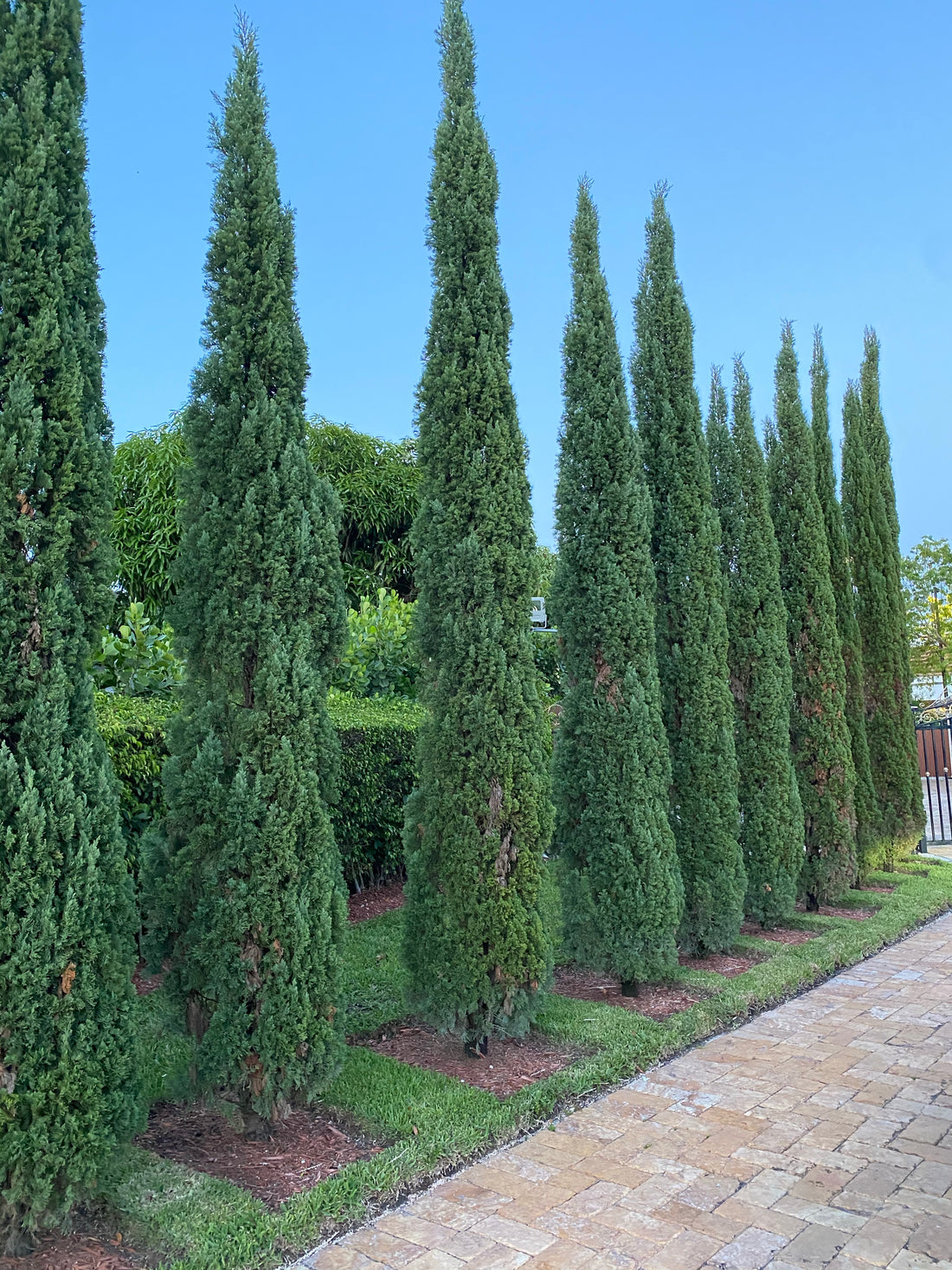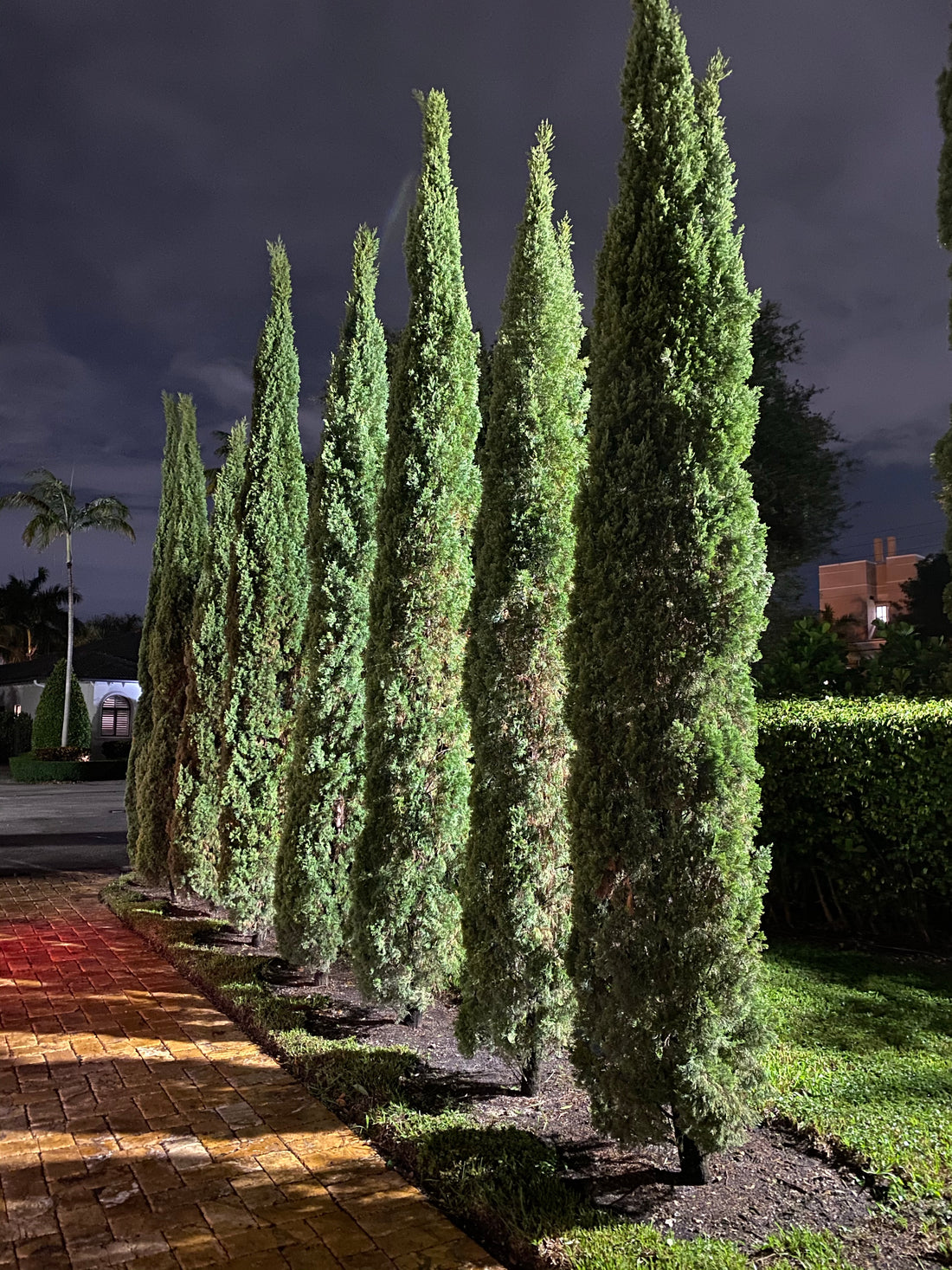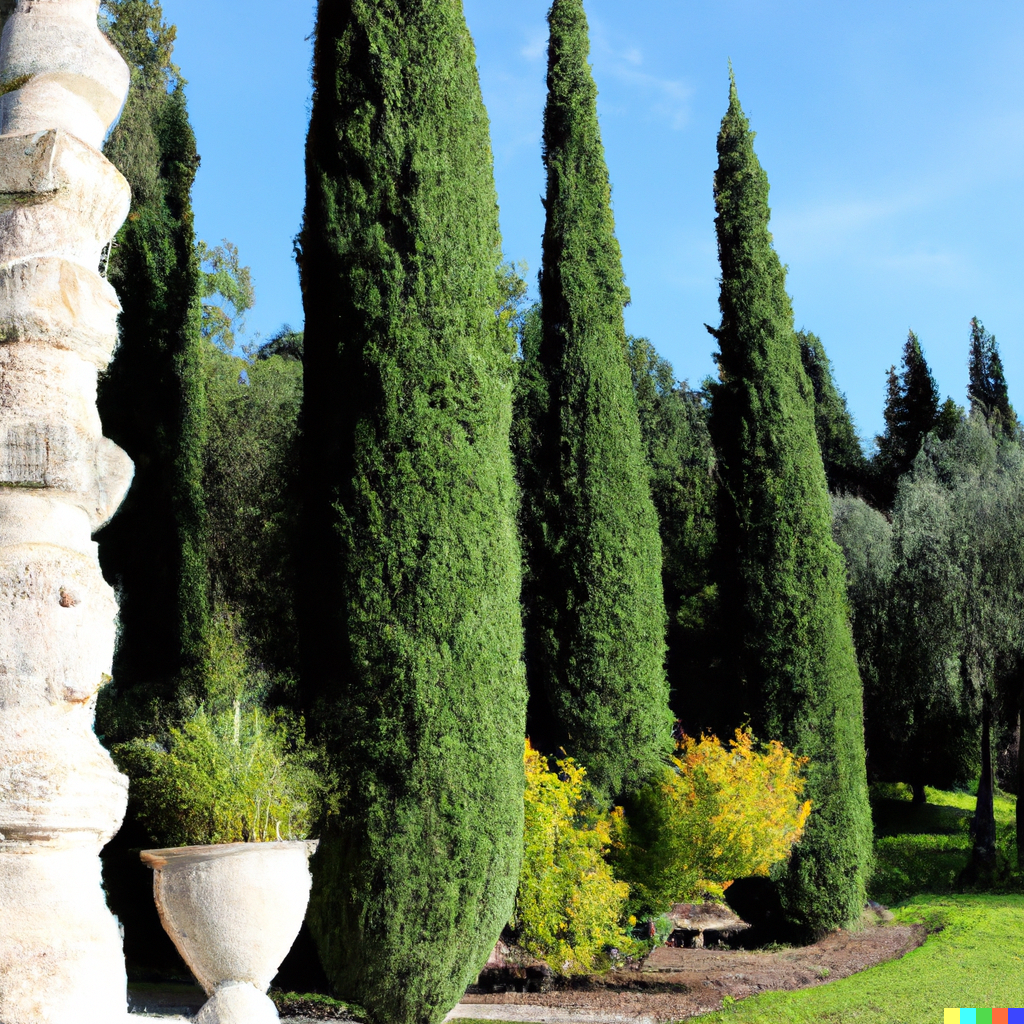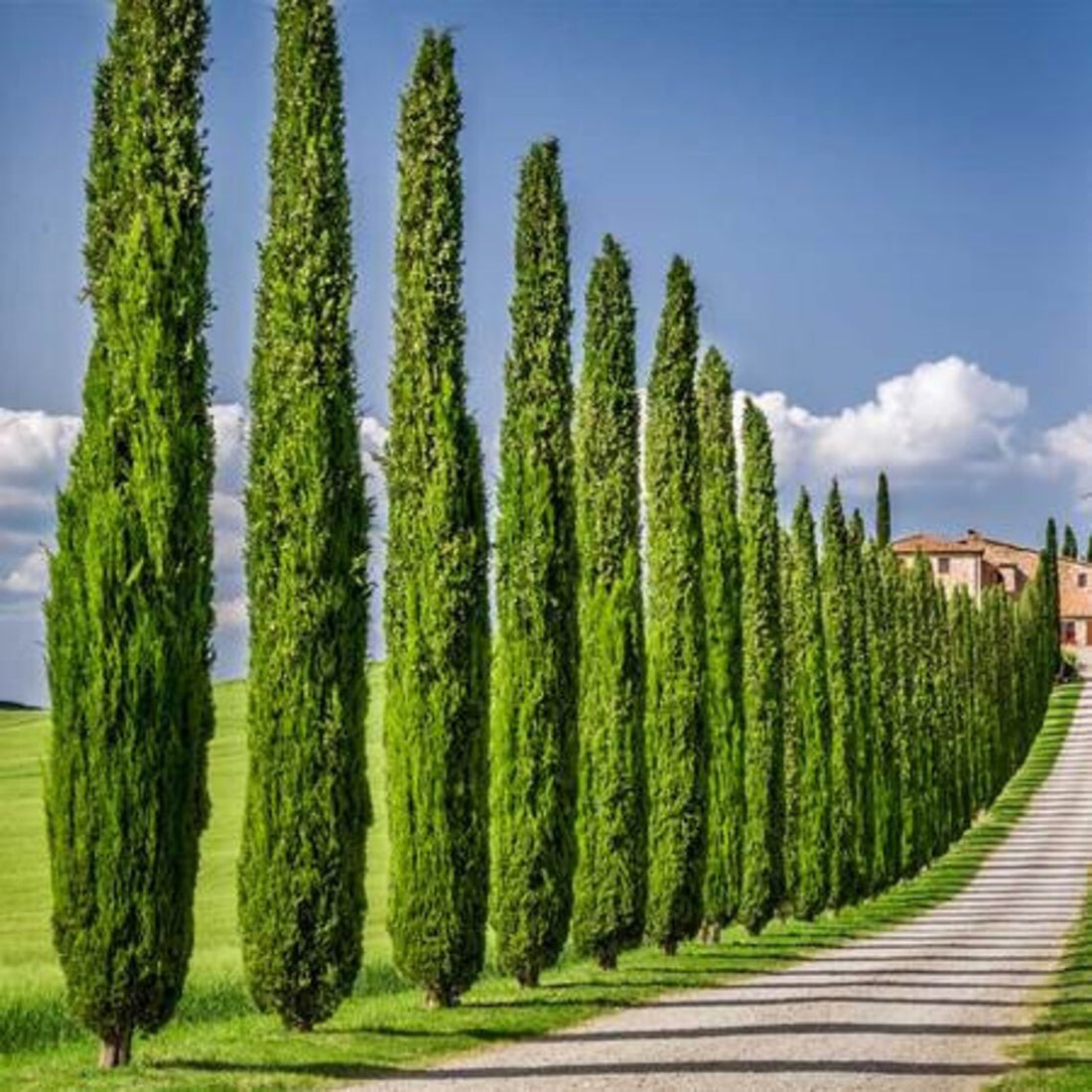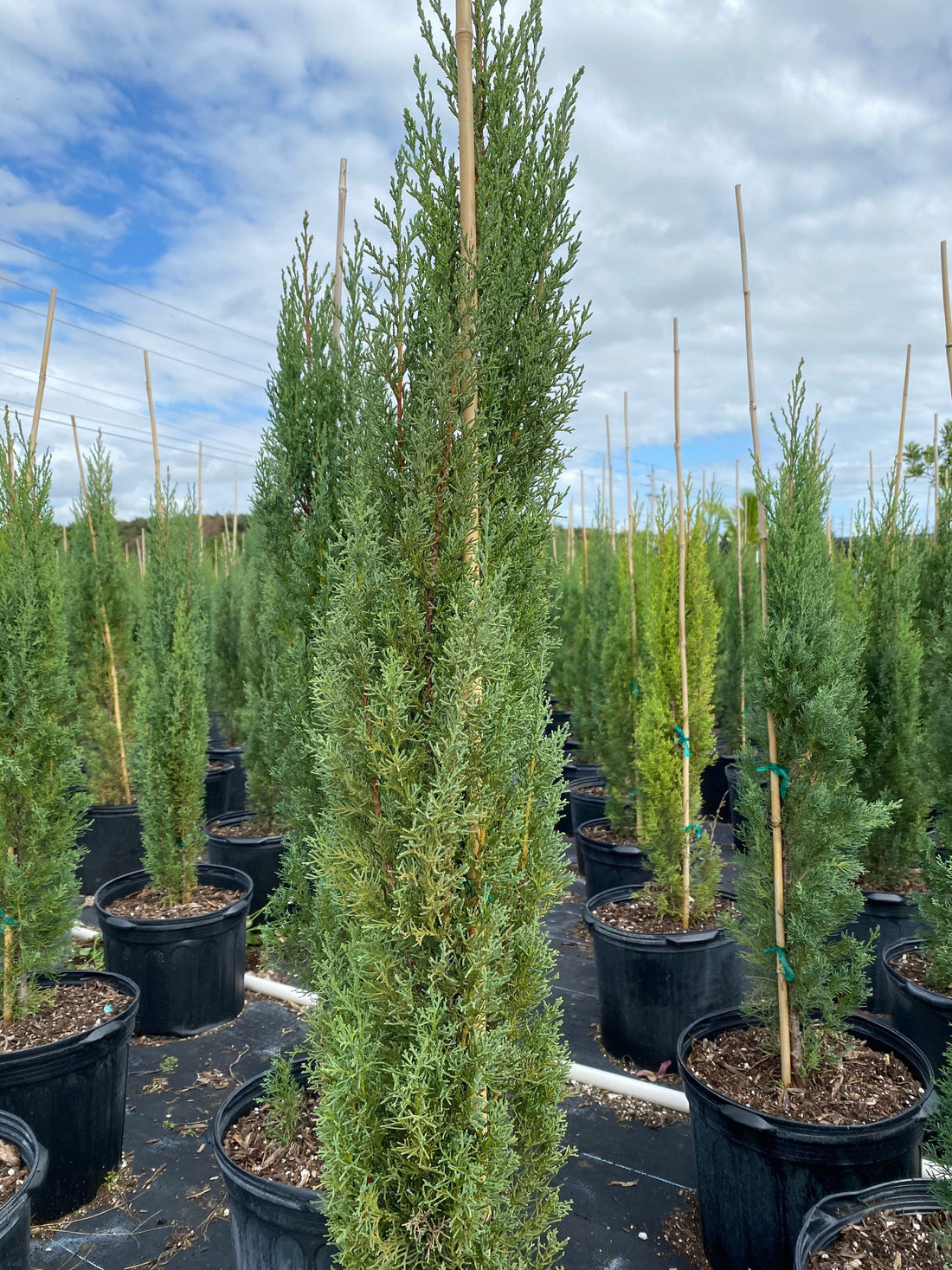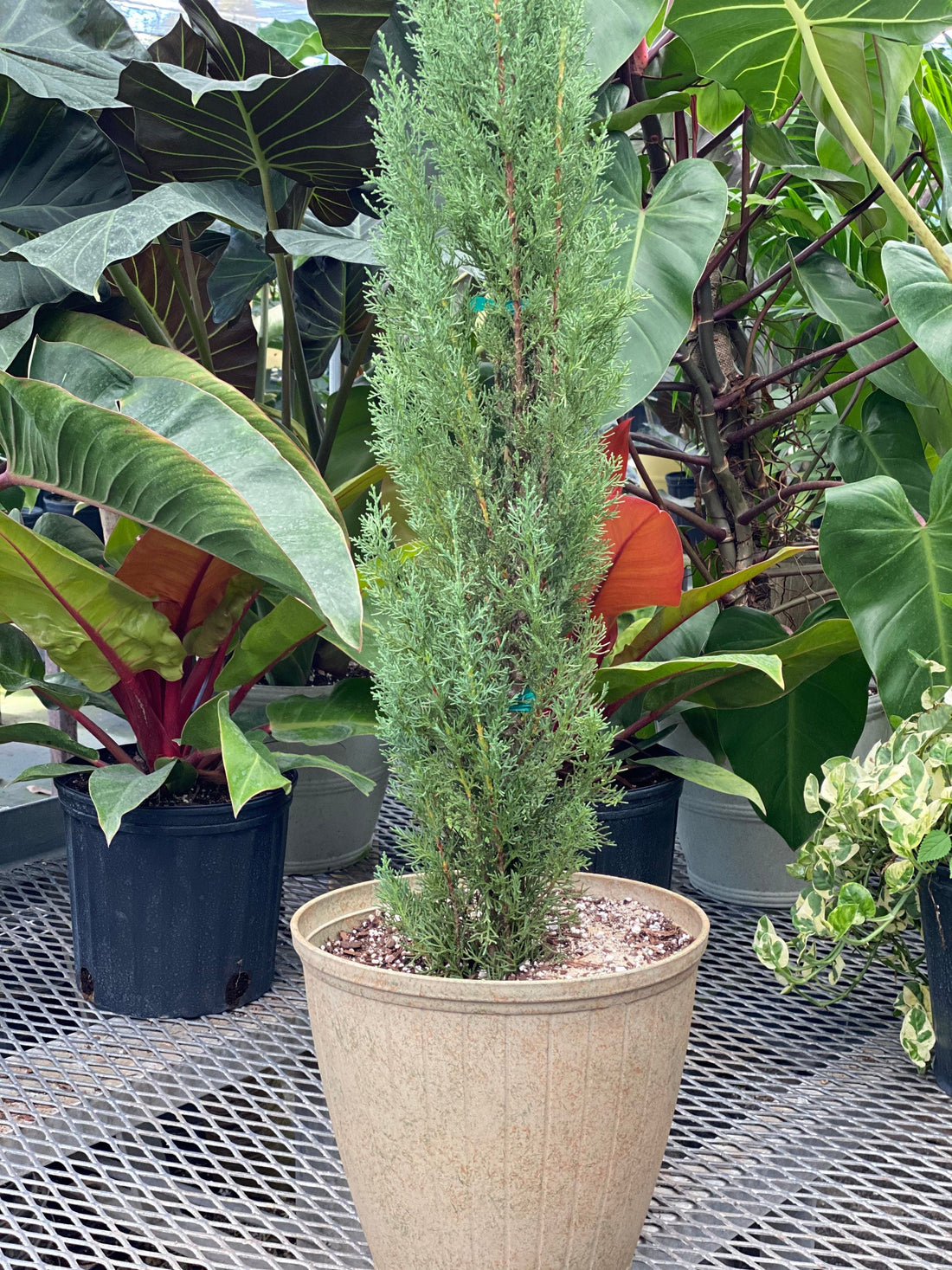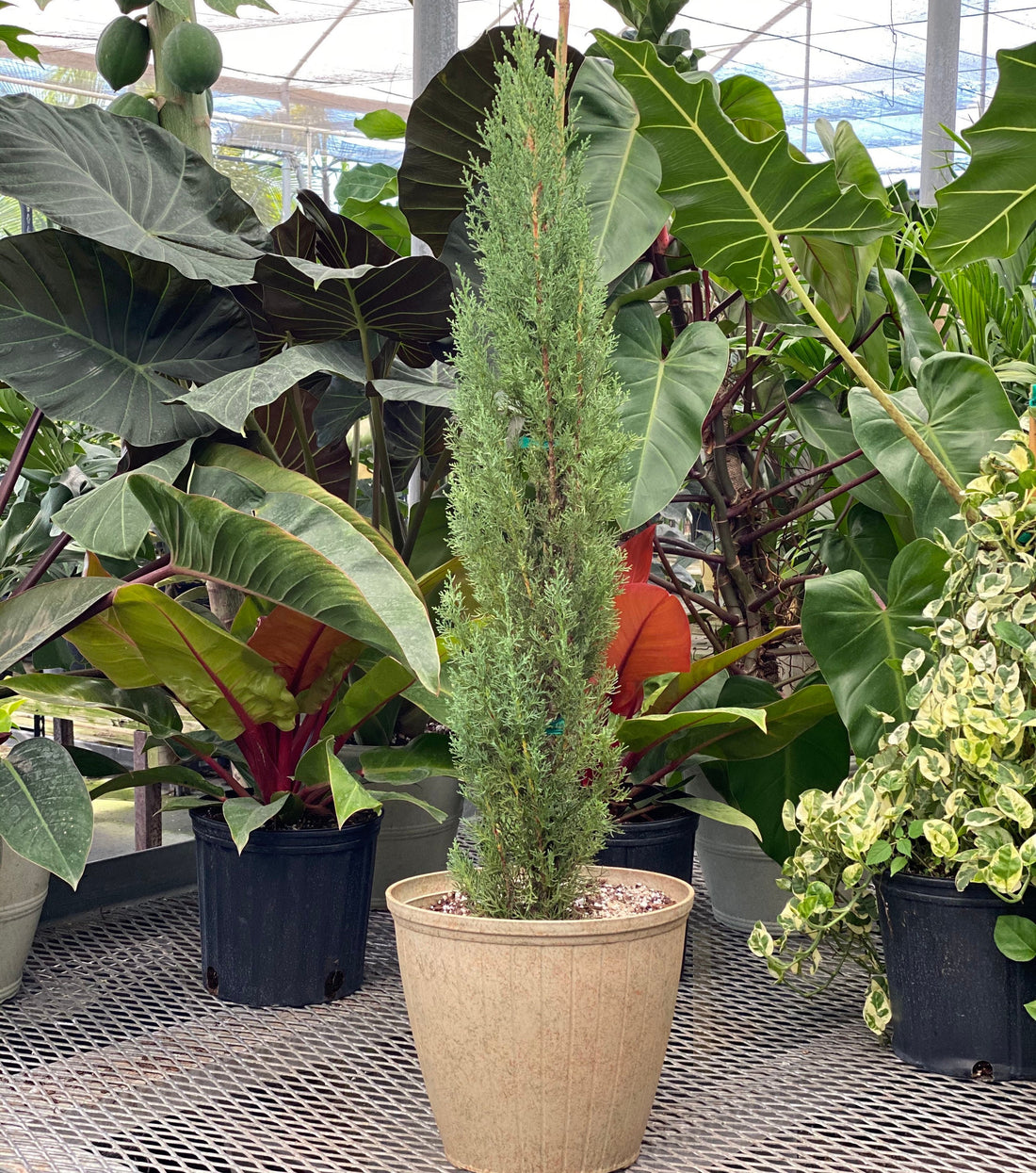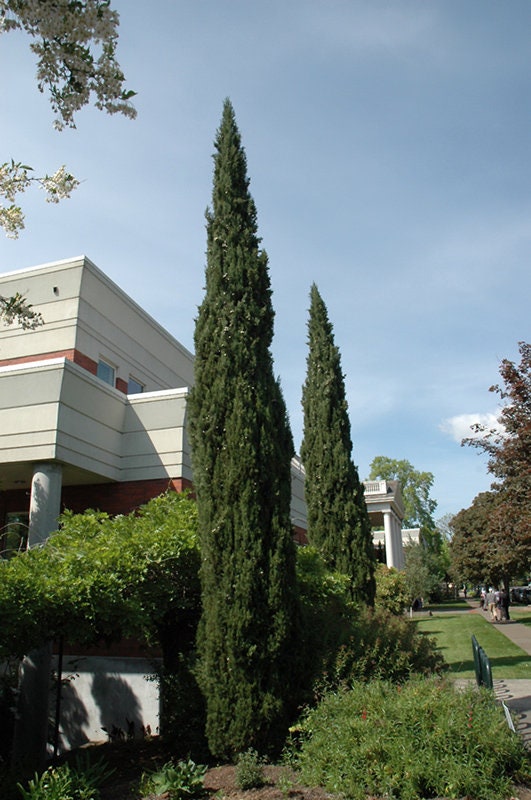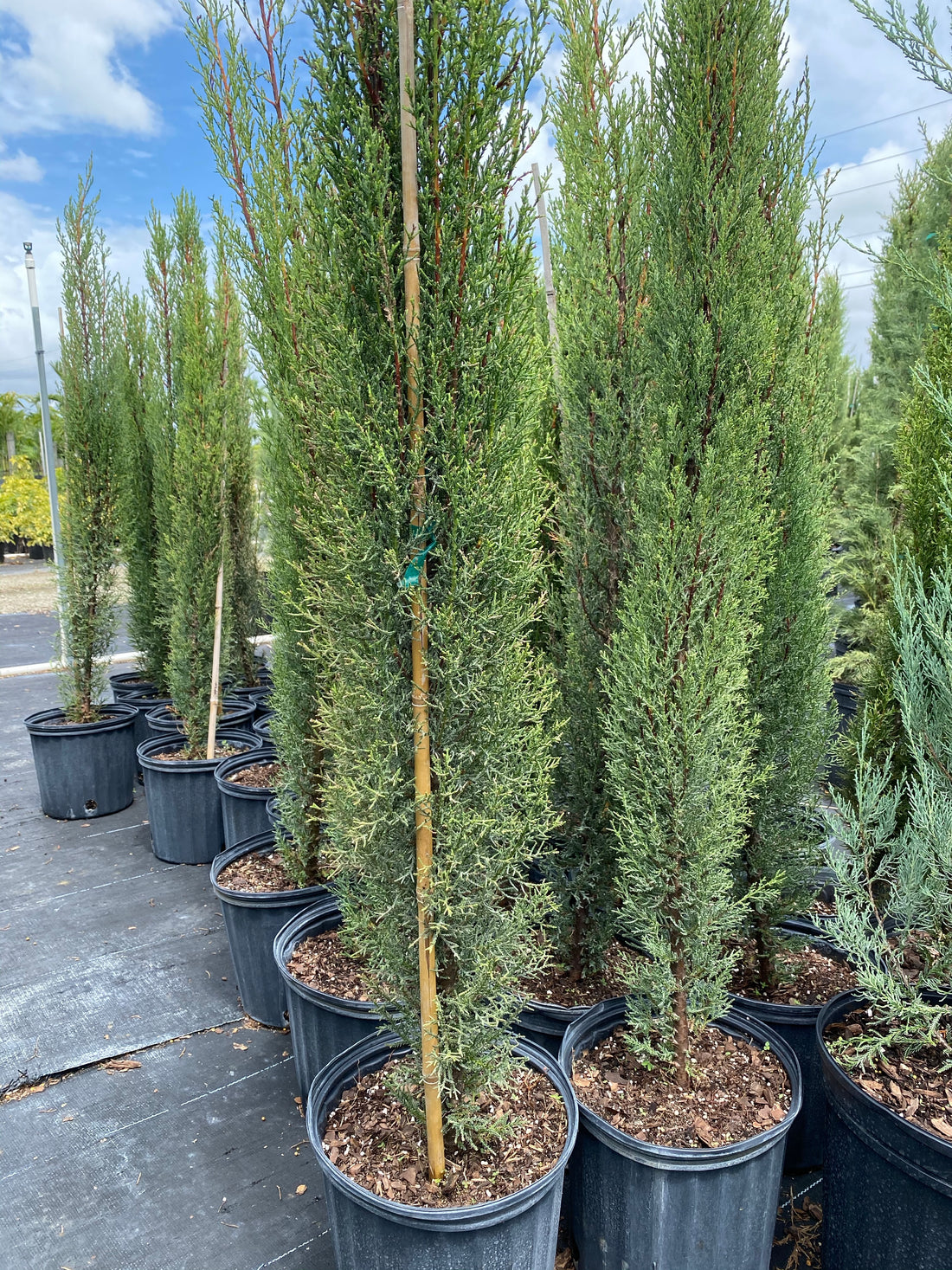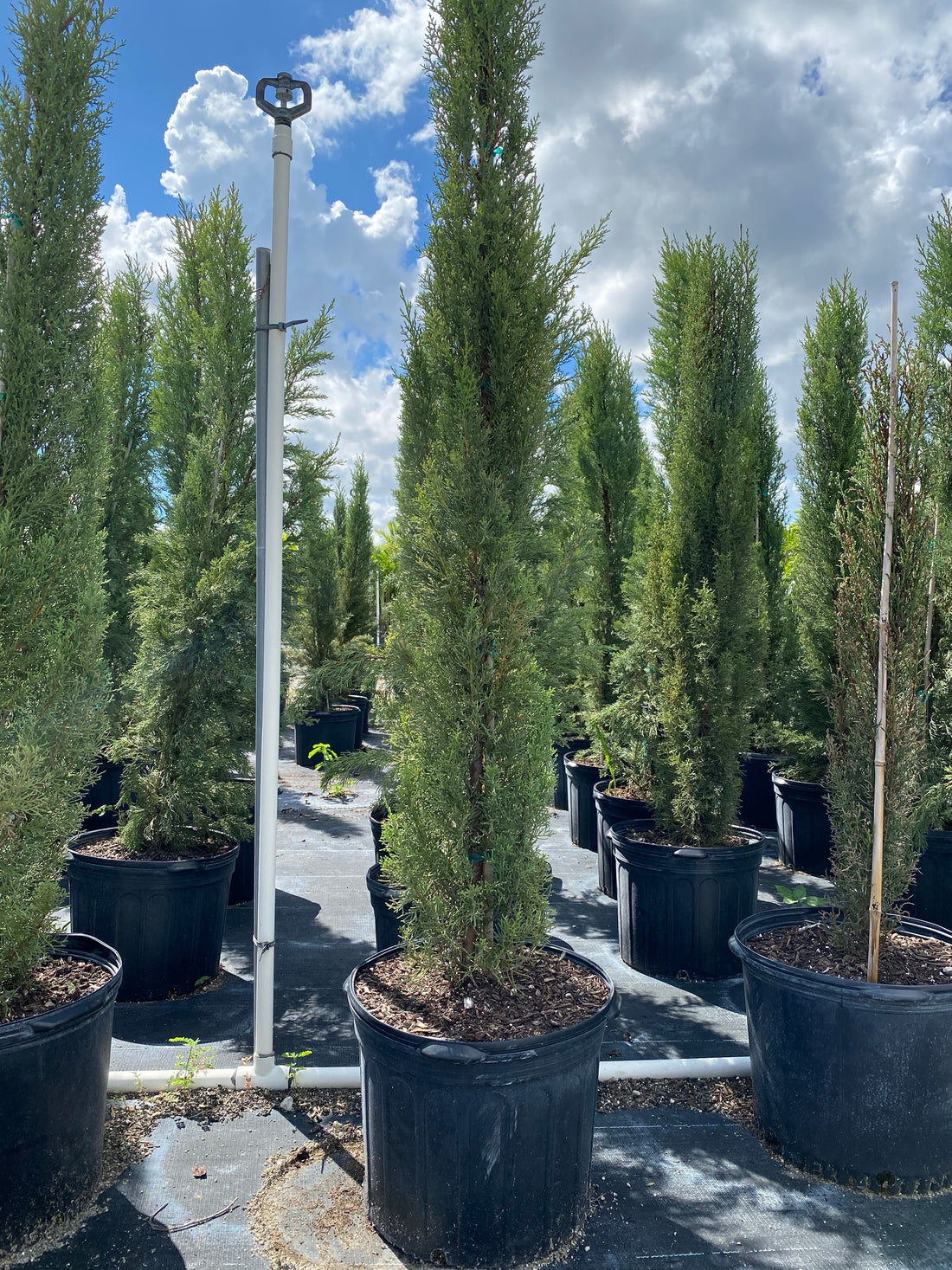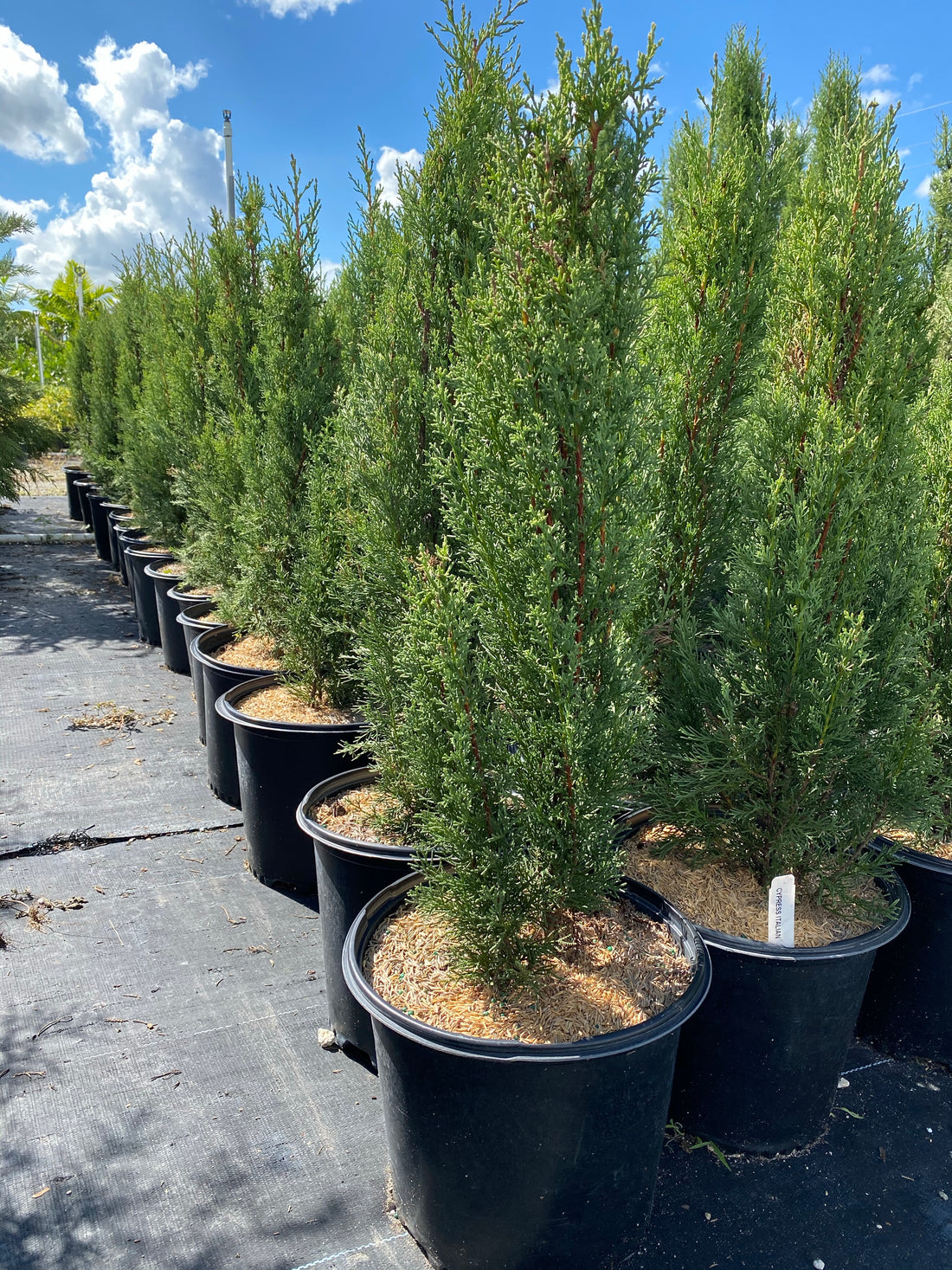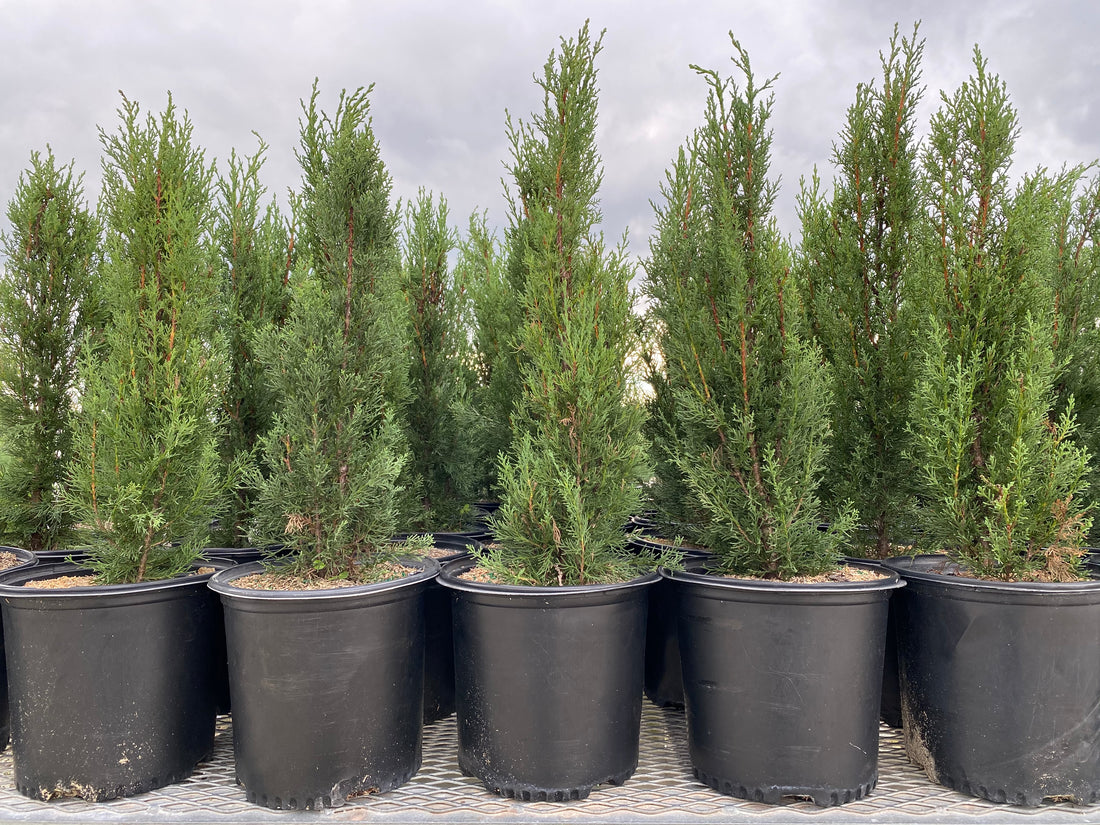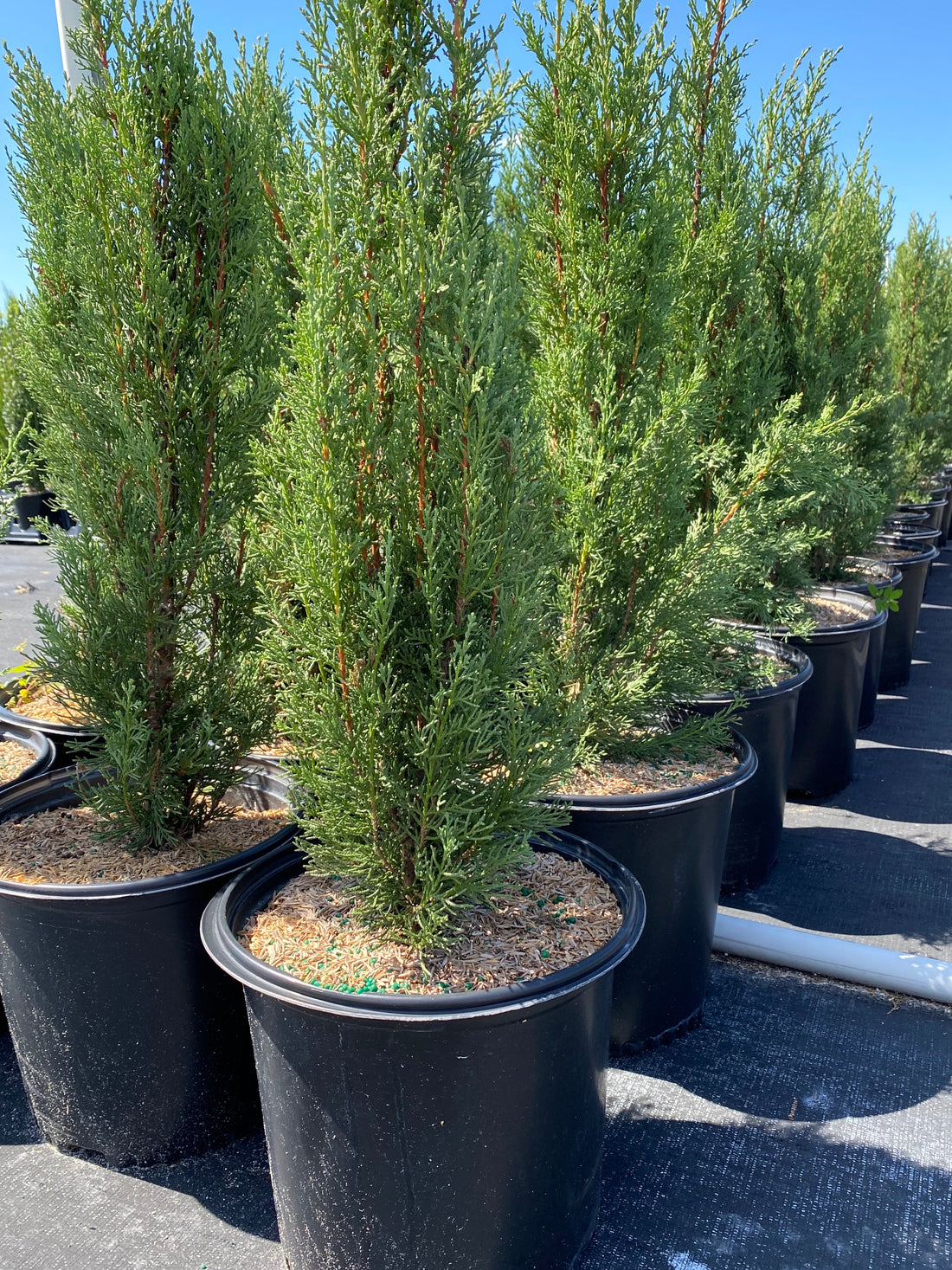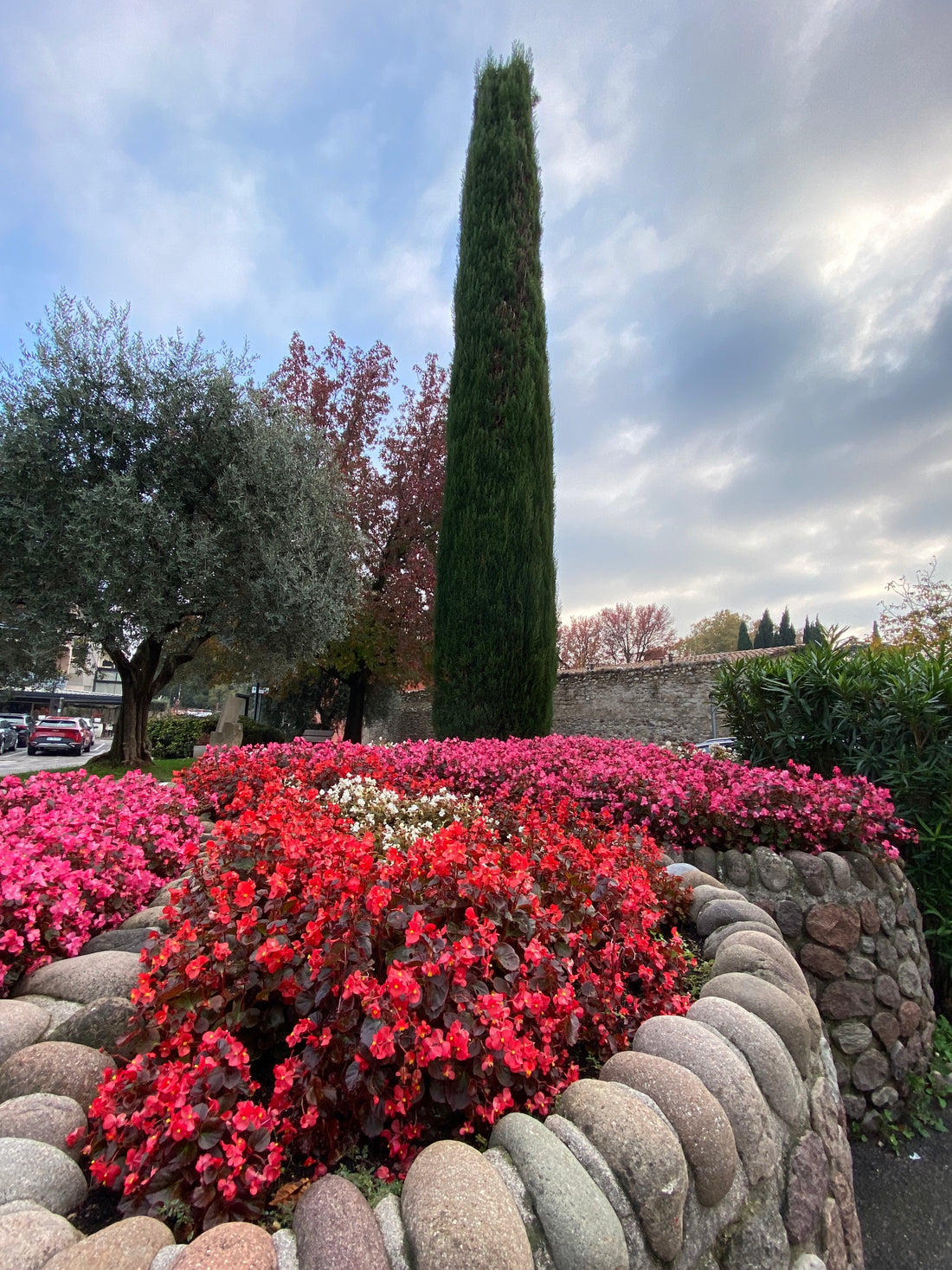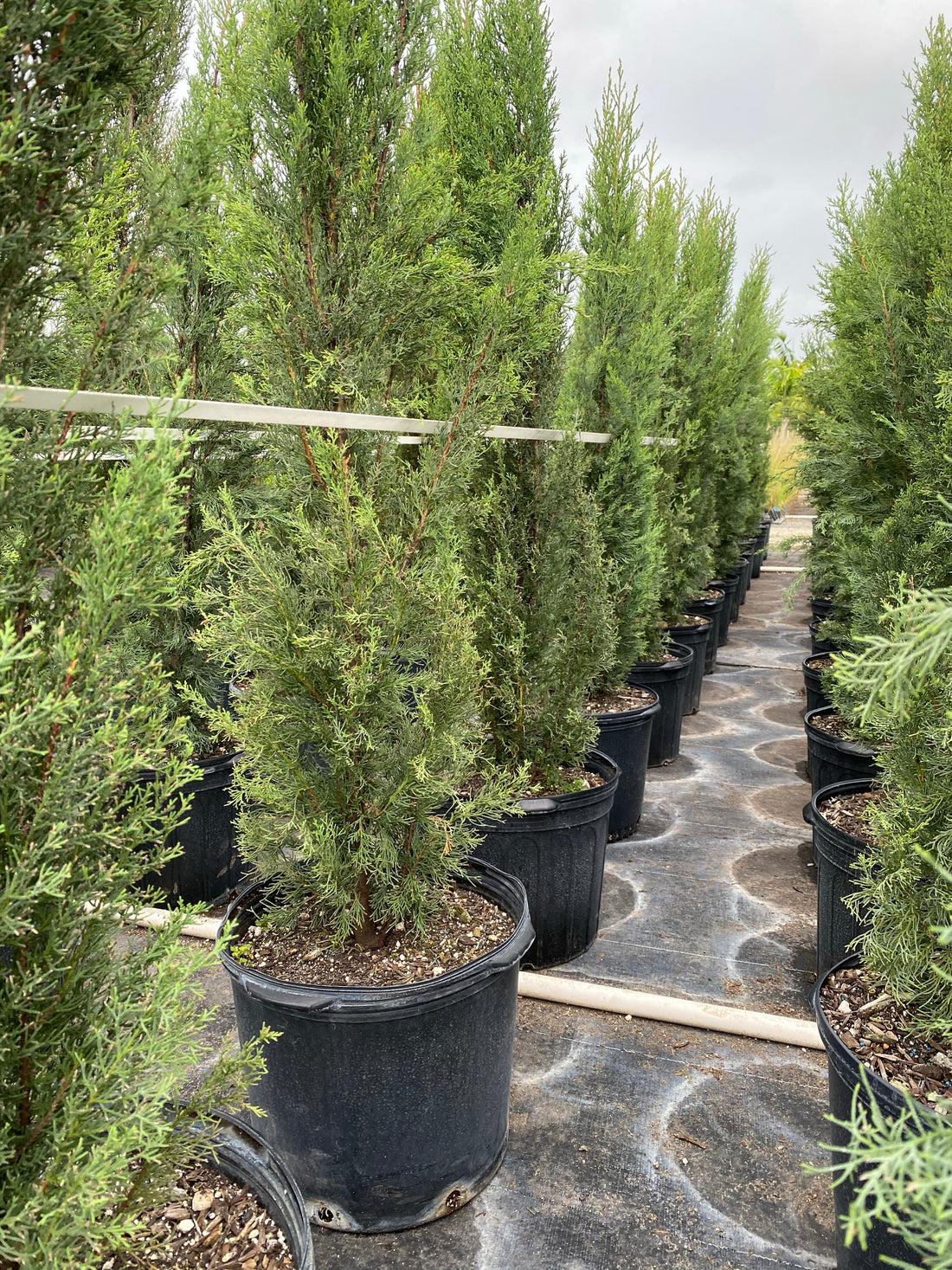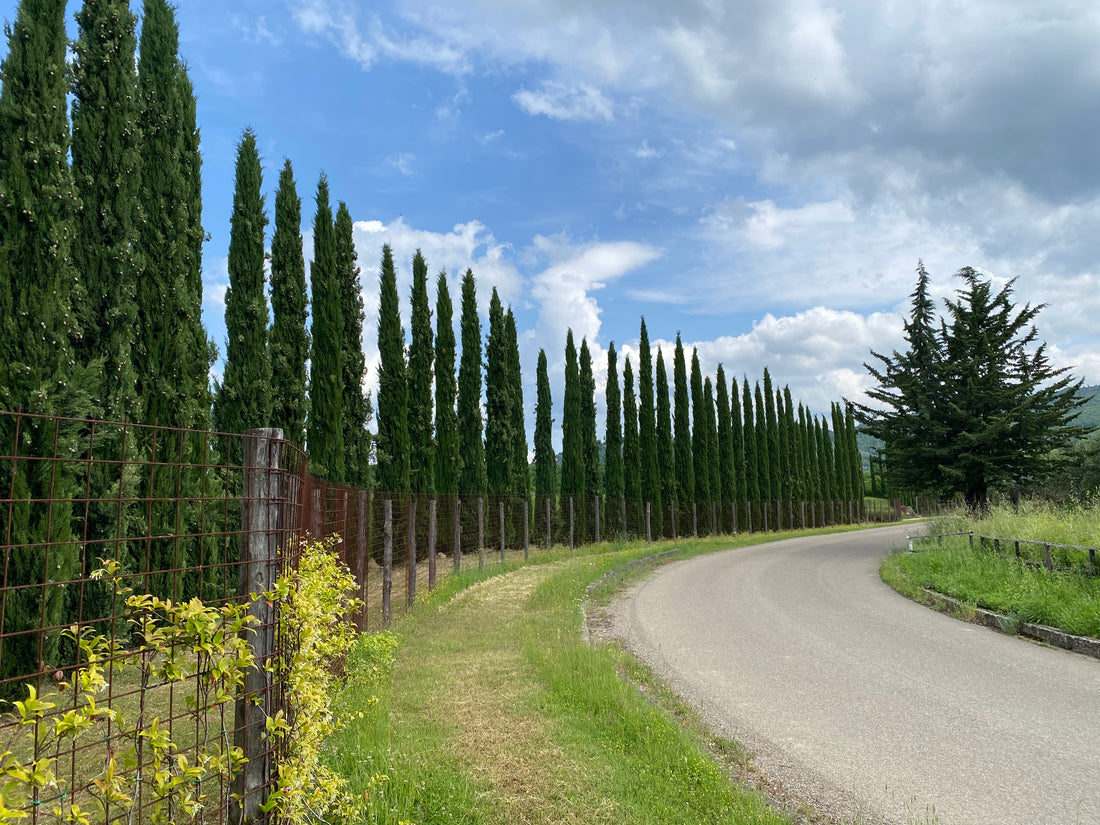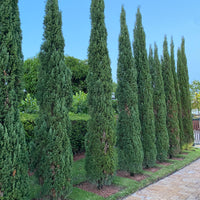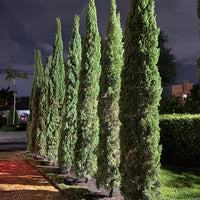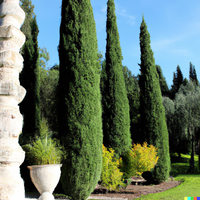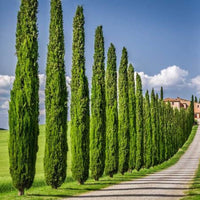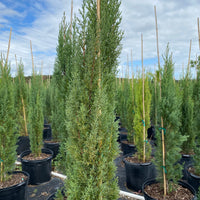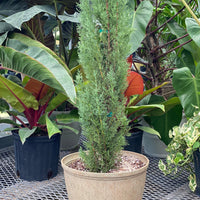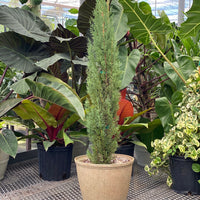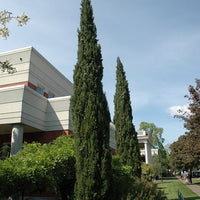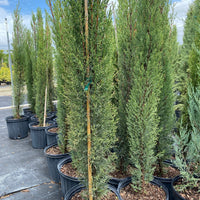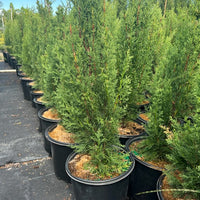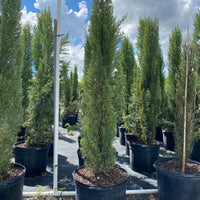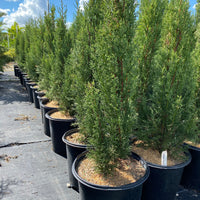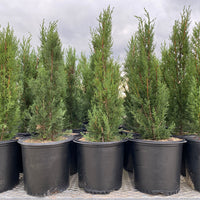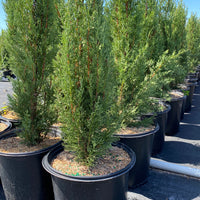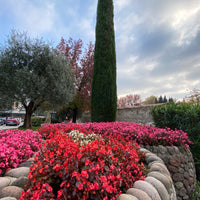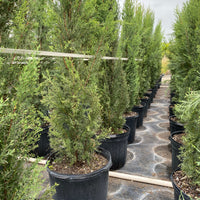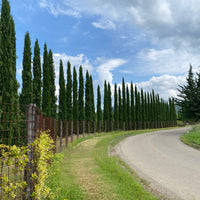 Italian Cypress, Mediterranean Cypress
Top Tree to Increase Property Value and Create an Elegant Look
The Italian cypress tree is an elegant and stately evergreen tree that is native to the Mediterranean region. It has a tall, narrow, columnar shape that can grow up to 40 feet tall and 5 feet wide, fast growing tree in nature, up to 3ft per year. Its dark green, needle-like leaves are arranged in vertical rows and provide a striking contrast to its reddish-brown bark. The tree produces small cones that are about 1 inch long and contain several small, winged seeds. Its dense foliage and tall, slender shape make it a popular choice for use as a formal hedge or as a vertical accent in garden design. The Italian cypress tree is also highly valued for its aromatic wood, which is used in the construction of musical instruments and furniture.
---
Product Details
Free Shipping on Select orders, 100% satisfaction Guarantee. Most orders ship within 1-3 days from the day order is received, once your order is shipped, you'll receive an email with tracking information. 
Plant Hardiness Zones and Details

| | |
| --- | --- |
| GROW ZONES: | 6-11 Outdoors.  |
| GROWTH RATE: | 3ft/Year. |
| MATURE HEIGHT: | 40-60 ft. |
| MATURE WIDTH: | 4-5 ft. |
| LIGHT: | Full Sun. |
| WATER: | Regularly. |
| FOLIAGE: | Green-Blue. |
| USES: | Accent, Privacy Hedge, Landscaping. |
| GROWTH FORM: | Columnar. |
| SOIL CONDITIONS: | Well drain organics mixes. |
| DOES NOT SHIP TO: | AZ. |
Plant Benefits and Key Features
• Lets use the power of plants to lift the spirit, calm the mind and clean the air
• Plants can reduce stress and anxiety by spending time close to nature caring for them
• Great choice to increase property value with a low maintenance evergreen
• Create your own living fence, less expensive than traditional barriers, great choice near entrances or lining driveways
• Drought Tolerant and Resistant to ice, freezing conditions and Pest, Easily grown in a wide range of soils
DESIGN IDEAS AND LANDSCAPE USES
Italian cypress trees typically grow in USDA Hardiness Zones 7-11, which include areas with mild to warm climates. However, some cultivars may be more tolerant to cold temperatures and can be grown in Zones 6 with proper care and protection during winter. If you are considering planting an Italian cypress tree, it's important to choose a variety that is suitable for your climate and to provide it with the proper care and maintenance to ensure its health and growth.
Frame Entrances
Italian Cypress trees can be used to enhance the appearance of entryways, borders, line driveways, or as standalone trees in any part of the yard. They are known for making a dramatic and stately statement, especially near entrances, and are commonly used in Italian Villa landscaping. These trees are popular in the South and can provide year-round interest in a garden or landscaping.

Create a Hedge
Italian Cypress can grow so fast, you can Create an instant privacy hedge or living fence, As your trees grow, prune the tops at a desired height to gradually shape or design your own living fence

Interesting Facts About the Italian Cypress
Italian cypress trees are famous and widely grown in gardens around the world. They are one of the oldest trees, dating back 4,000 years. The wood is strong and fragrant, used for wine barrels, doors, and furniture. Spectacular doors made of this wood stood at St Peter's Basilica in Rome for over a thousand years, and when replaced in the 19th century, they were still strong.

Care & Maintenance

Care Guide
PLANTING:
Select an area with full sun.
Dig a hole that is twice as wide and just as deep as the root ball.

Remove the tree from its container and loosen any roots that are tightly packed.
Place the tree in the hole and backfill with soil, making sure to eliminate any air pockets.
Water the tree well to settle the soil.
SOIL:
Prefers well-drained soil.
Suitable for clay, alkaline, and compacted soils, avoid wet and soggy.
MULCH:
Spread a 2-3 inch layer of mulch around the base of the plant to conserve moisture and suppress weeds.
Mulch with hardwood or cypress.
LIGHT:
Thrives in full sun. 
Provide at least 6 hours of direct sunlight per day. 
WATER:
Water twice a week during the first 2-3 months.  
Once established, water only during extended periods of drought.
FERTILIZE:
Fertilize during early spring with a slow-release, well-balanced fertilizer.
PRUNING:
Pruning is not necessary. 
If left to grow naturally it may reach heights of up to 60 feet.
Warranty Policy
Backed by our 30 days Satisfaction Guarantee
We hope that you enjoy your new plants! We grow and care for our plants from cuttings, seeds or liners, we hand select the best quality available before shipping to your home or office. Please do not hesitate to contact us with any questions or concerns. Our friendly customer service team is here to help.
FAQs
Is it safe to ship plants by mail?
We Believe it is, let us prove it, our success rate sipping plant(s) online is well over 99%.
How do you measure height for ground cover junipers?
Approximate height is measured from the base of the plant to the top of the highest branch.
Are plant(s) purchased online guarantee?
All plants are guarantee for a period of 30 days, We offer a Satisfaction Guarantee Policy.
Can I order during winter months?
Yes you can, however most Tropical plants are sensitive to extreme cold conditions, once cold temperatures are expected to fall below freezing it will not be safe to ship life plants, we carefully manage shipping decisions during winter months and determine when is safe to ship, please be advise we may need to hold orders until conditions are appropriate to safely ship the plants.