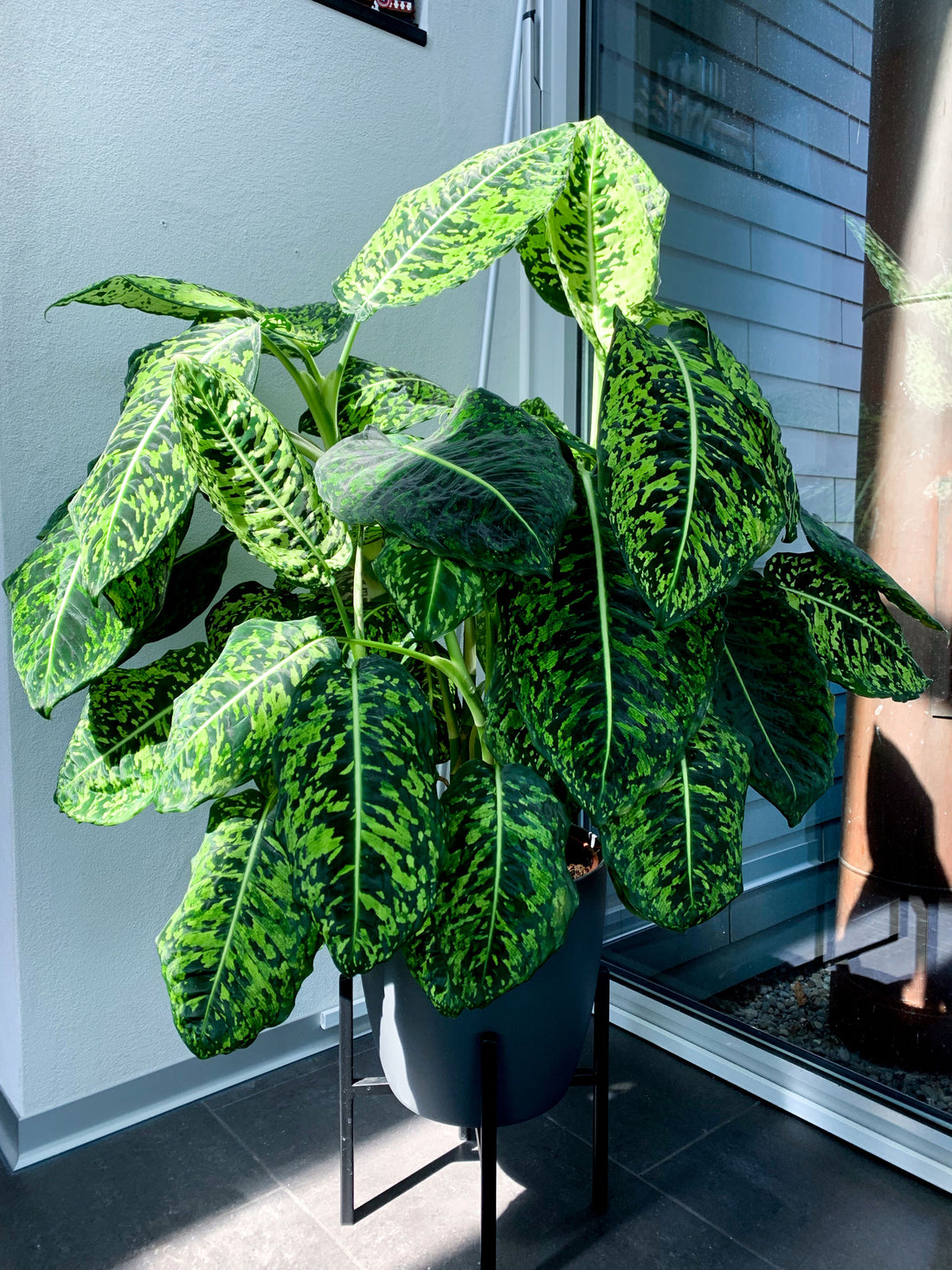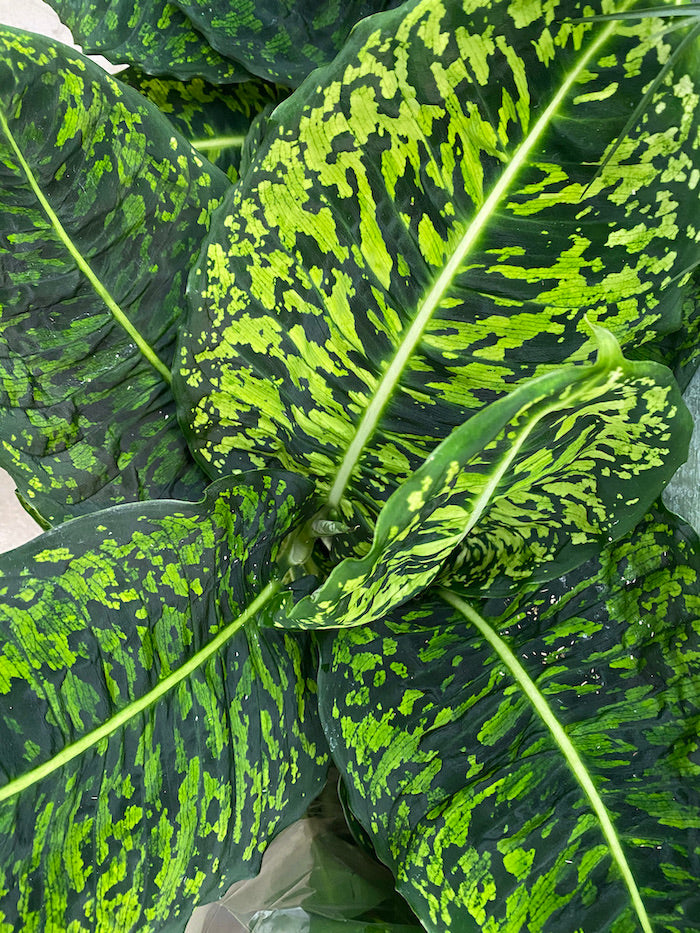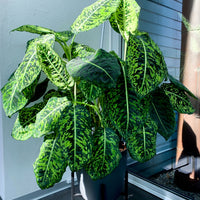 Dieffenbachia Reflector Dumb Cane Variegated
Save 10% with code FALL10
Dieffenbachia Reflector, Add Beauty to your Interior Decor with this tropical plant
Dieffenbachia Reflector, also known as dumb cane, camouflage plant, gorgeous foliage look hand painted with their contrasting dark green and light neon spots.

This plant likes well-draining moist soil, never soggy and allow the topsoil to dry out slightly before watering thoroughly. Prefers bright light indoors, shade to moderate indirect light outdoors, rotate the plant frequently to get even growth on all sides. Yellowing or browning leaves can be a sign of too much light, overwatering or too dry but normal leaf drop-off should be cut away taking care not to come in contact with the sap. 

The "Reflector" has a mottled pattern and the neon spots seems to reflect light. This is a slower growing house plant that can provide
 an inviting and charming look to any interior space.
Product Details
Plant Hardiness Zones and Specifications
Grow Zones: 4-9 Patio / 10-11 Outdoors under shade
Growth Rate: Slow
Mature Height: 3-4ft
Mature Width: 2ft
Growth form: Upright
Foliage Color: Green/White veins
Soil Conditions: Moist 
Care & Maintenance
HOW TO CARE FOR DIEFFENBACHIA
DISCLOSURE - Please note Dieffenbachia are susceptible to some yellowing and browning of the bottom leaves, stress from shipping and natural growth will cause the bottom fronds to yellow before browning, some level of maintenance is needed, trimming the frond once they begin to brown is needed, you may prune the frond from the bottom section of its own stem about an inch from the main trunk, this will also help the plant remain vibrant and promote new growth while exposing the main trunk.
PLANTING AND CARE - Planting recommendations, select an area with plenty of shade, they are easily grown in a wide range of soils with good drainage, avoid wet soggy soils. When it's time to plant your tree, Dig a hole approximately twice as wide as your new plant's root ball and deep enough so that the top of the root ball is parallel with the ground level, this is very important, planting the tree deeper than the original top soil line may severely damage the tree. Place the plant in the hole and ensure that it is situated upright, use the excavated soil to back fill around the root ball, tamp down to ensure air pockets are eliminated, thoroughly soak with a hose as you fill in the dirt. Take great care to not leave any gaps or air spaces around the root ball. A 2-3 inch layer of organic hardwood mulch is strongly recommended, it will help retain moisture and discourage weed growth. Apply the mulch over the entire planting area.
LIGHT - Indoors place in bright light, Outdoors place under Shade or in indirect light.
WATER - Dieffenbachia like a slightly moist soil, we suggest to utilize a soil probe initially to determine humidity levels and when to water, you can also feel the top inch on soil to the touch, if drying out go ahead and water your Plant.
FERTILIZING – No need to fertilize right away, We fertilize our plants during the production phase with slow release fertilizer which can last an additional 2-3 months supplying residual nutrients to the plant. Once you do decide to fertilize You may use a fertilizer formulated for interior plants, preferably a slow release fertilizer 180 days duration, fertilize during spring or fall base on label instructions.
PRUNING the Dieffenbachia is not necessary, if left to grow naturally lower bottom leaves will gradually collapse and dry out, once they dry leaves can be pulled or remove if desired.
MAINTAINING the Dieffenbachia is simple, they require little or no upkeep, they are disease and pests resistance which eliminates the need for spraying chemicals which can be very harsh to our environments.

INSECTS OR DESEASES - Here's another plus, Dieffenbachia is not regularly affected by pests, however in the event that scale, mealy bugs, or mites are found to affect the plant, they can be controlled by applying horticultural neem oil that can be sprayed directly onto the insects, A second and third treatment, when using oils, will be necessary. Space out the sprays at 2 weeks intervals to break up the mealybug life cycle.
FAQs
Is it safe to ship plants by mail?
We Believe it is, let us prove it, our success rate sipping plant(s) direct to consumer is well over 99%,

Are plant(s) purchased online guarantee?
All plants are guarantee for a period of 30 days, We offer a Satisfaction Guarantee Policy.

How do you measure height for plants?
For indoor plants we measure approximate height from the bottom of the pot to the top of the plant.

Satisfaction Guarantee
Warranty Policy - Backed by our 30 days Satisfaction Guarantee Policy.
We hope that you enjoy your new plants, Every plant we ship is GUARANTEE for a period of 30 DAYS from the day it is received. our main objective is to ensure a great customer experience and deliver great quality plants for your enjoyment. We love our plants and we hope that you will as well, in the event your plant(s) do not arrive in healthy conditions we ask that you share images supporting the reason(s) and we will provide a replacement plant at no cost to you.

In order to ensure that plant(s) purchased from our shop will thrive for years to come is important to follow a few simple steps. Plants shipped online are in complete darkness for several days, is normal for plants to stress during this process, do not repot plant for indoor use for 4 weeks, we recommend dropping the plant as is in its existing pot in a deco planter of your choice, allow your new arrival to gradually climatize to their new environment, humidity levels, lighting and temperatures.

Please do not hesitate to contact us with any questions or concerns. Our friendly customer service team is here to help.

Enjoy your Plants
Eureka Farms Team.