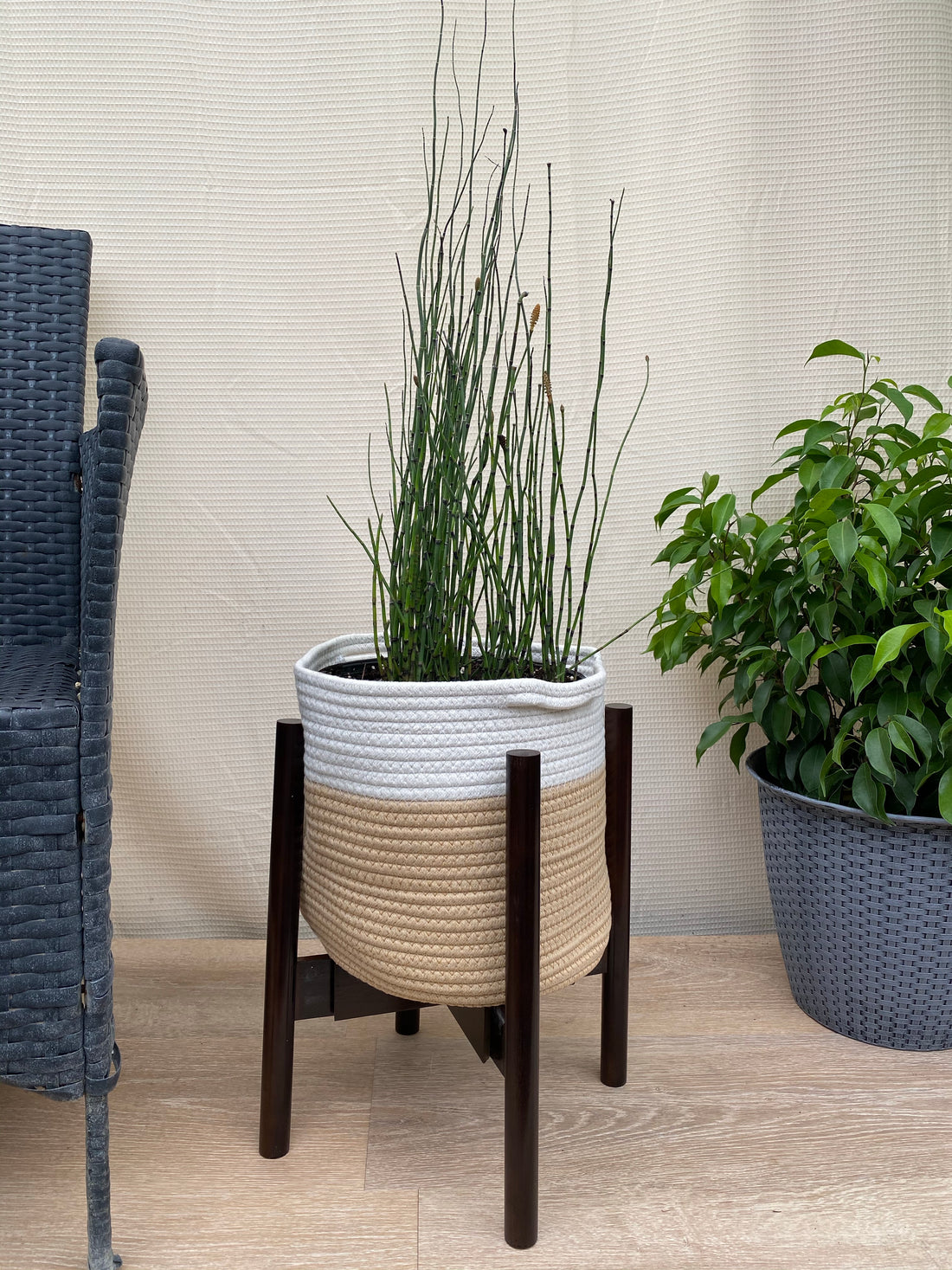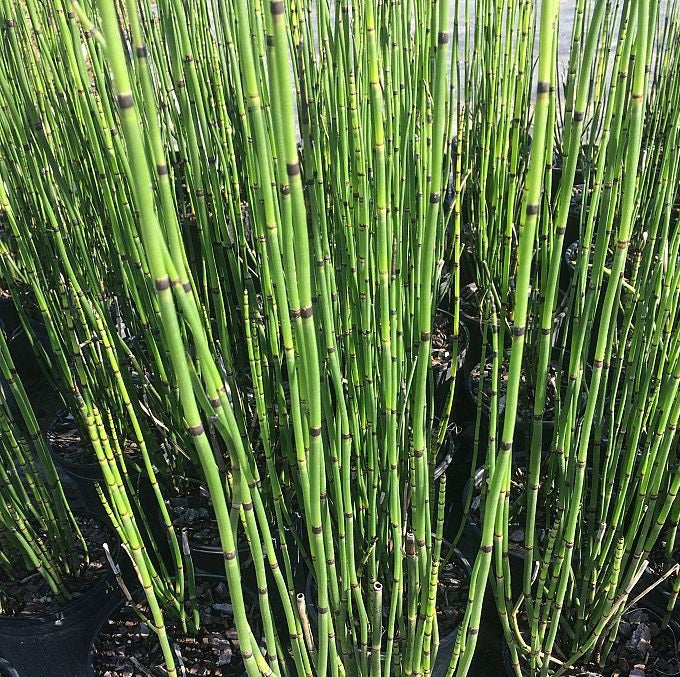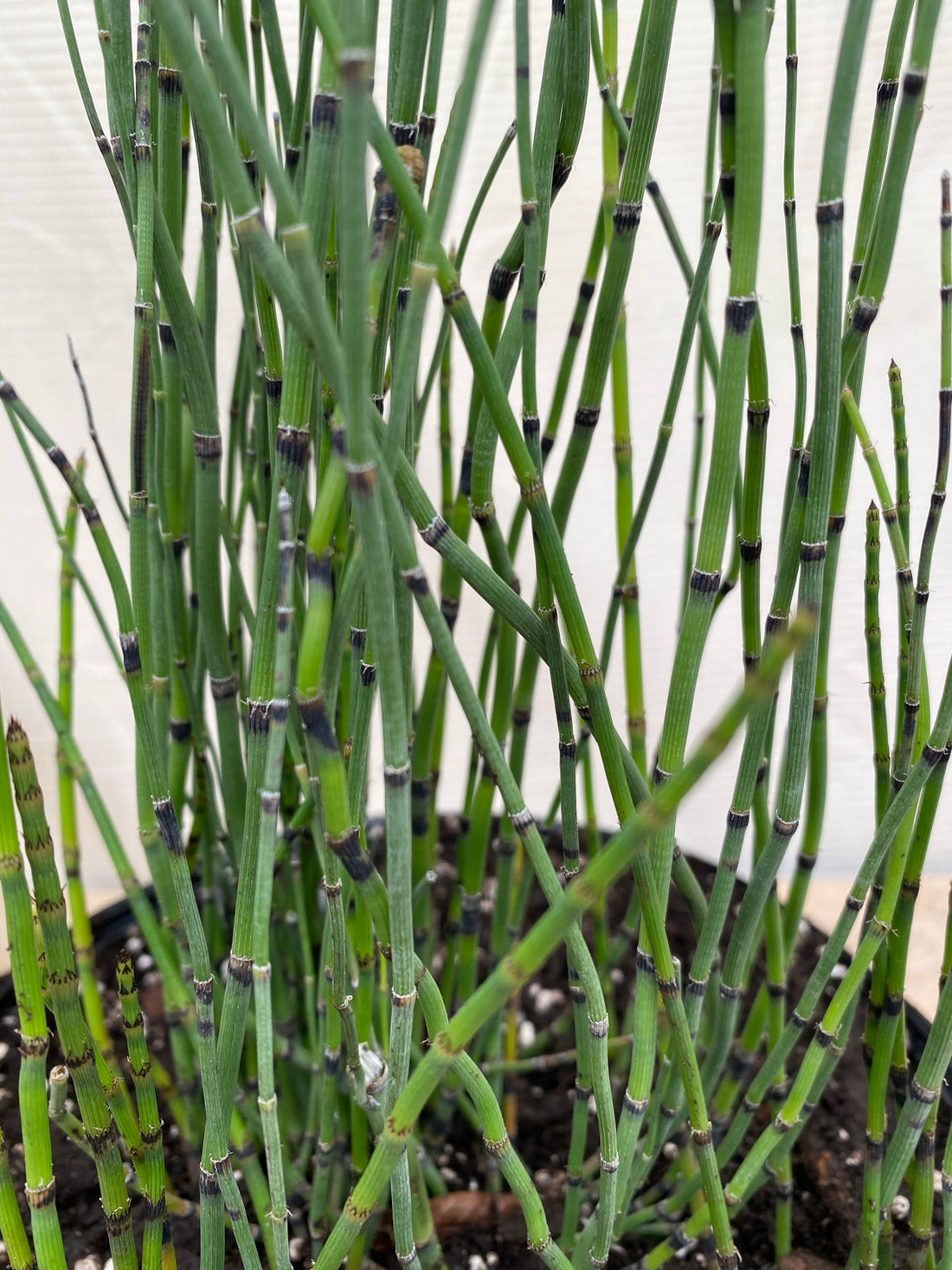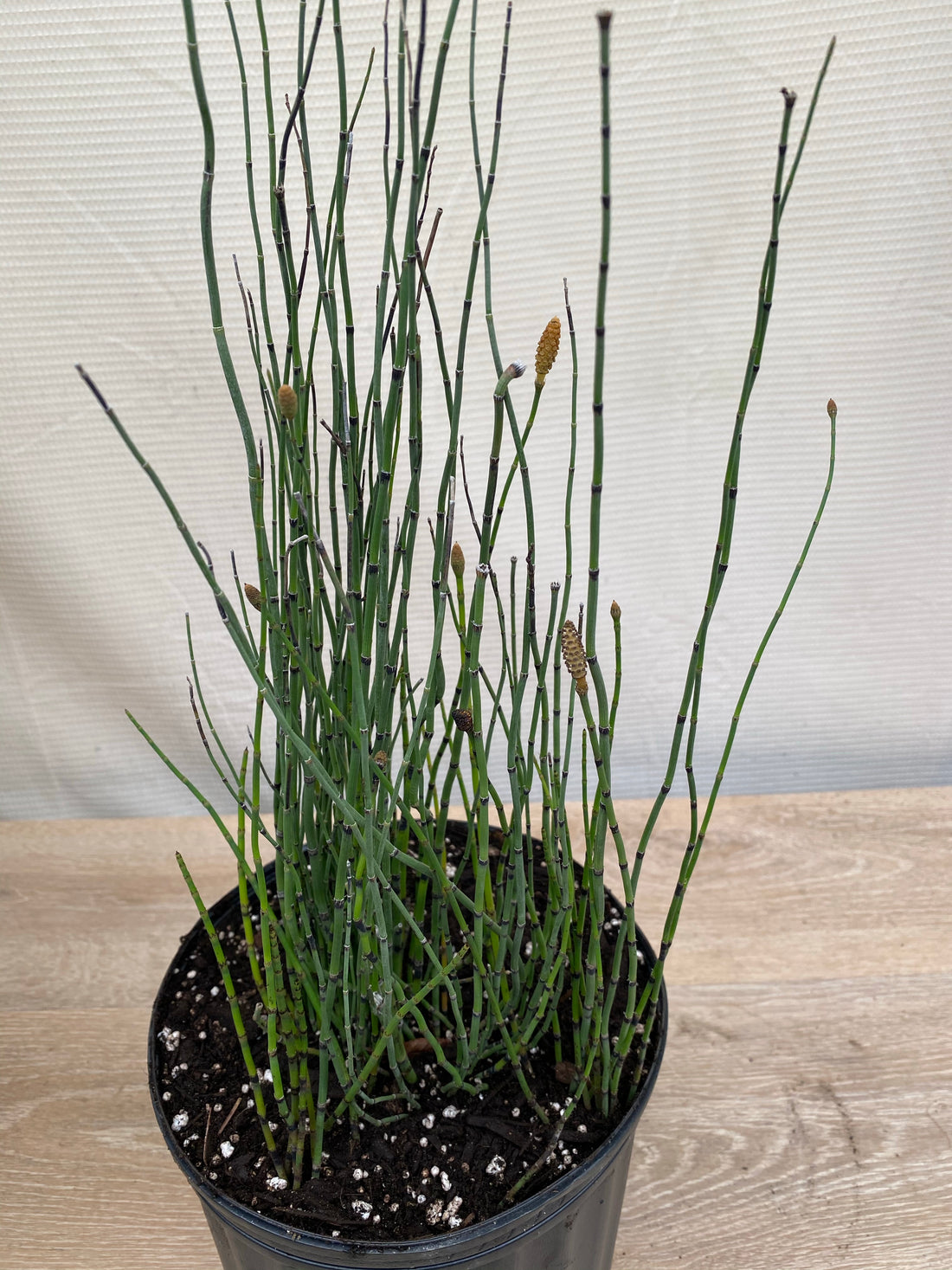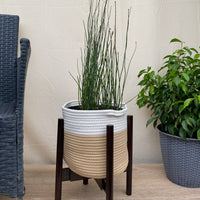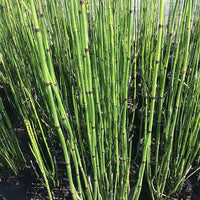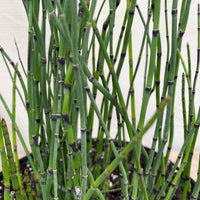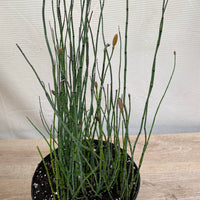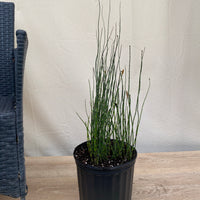 Horsetail Reed, Equisetum Hyemale
Save 10% with code FALL10
---
Horsetail Reed, Equisetum Hyemale, Bring indoors to uplift the spirit, calm the mind, and clean the air.
Horsetail Reed, (Equisetum hyemale), also called rough horsetail or scouring rush, is a clustering non flowering perennial very similar in nature to ornamental grasses. Growth habit is upright, its vertical green stems create a display similar to bamboo palms, this is one of the easiest indoor plant trees to grow. Horsetail Reed also does well outdoors snugged alongside a sun drenched patio or nearby water feature for a lush tropical feel. 
---
Product Details
Free Shipping on Select orders, 100% satisfaction Guarantee. Most orders ship within 1-3 days from the day order is received, once your order is shipped, you'll receive an email with tracking information. 
Growing Zones: 4-11 outdoors

| | |
| --- | --- |
| Growth Rate: | Slow |
| Mature Height: | 4-5 ft. |
| Mature Width: | 2-3 ft |
| Sunlight: | Full sun or Partial Shade |
| Foliage Color: | Green Stems with brown node rings as Bamboo Palm |
| Uses: | Decorative Plant indoors / Outdoors |
| Soil Conditions: | Well Drain |
| Does Not Ship To: | AZ |
Description
Horsetail Reed is known as an Ancient Grass is a Visually Pleasing Choice for Narrow Planting Spots

Horsetail Reed is very attractive plant, aesthetically pleasing and well-structured, naturally offers a highly attractive form and color. It will furnish your indoor or outdoor space with an architectural shape that looks like it was taken straight from the pages of Alice in Wonderland. Plant features are becoming very popular in modern interior design for homes, both indoors and outdoors, also true for spaces like hotels lobbies, main entrances, corporate lobbies and offices, the inclusion of plants make space feel more attractive, exciting and comfortable, creating a well balance peaceful ambiance of styles that can both calm the senses and invigorate the mind simultaneously, adorning with live plants and natural elements is a great choice to create a relaxing atmosphere while at home, reducing the day to day stresses from modern life, weather is traffic congestions or stressful daily routines, living sculptures can be the answer to some of this challenges, design your space with tropical plants in mind.
Care & Maintenance
Care Guide
MY NEW PLANT ARRIVED - Thank you for trusting Eureka Farms with your recent purchase, our main objective is to ensure a great customer experience and deliver great quality plants for your enjoyment. Plants shipped online are in complete darkness for several days, is normal for plants to stress during this process, do not repot for 2-4 weeks, we recommend dropping the plant in its existing pot as is in a deco planter of your choice, allow your new arrival to gradually climatize to their new environment, humidity levels, lighting and temperatures.
DISCLOSURE
Please note Horsetail Reed are susceptible to some yellowing and browning of the bottom leaves, stress from shipping and natural growth will cause the bottom fronds to yellow before browning, some level of maintenance is needed, trimming the frond once they begin to brown is needed, you may prune the frond from the bottom section of its own stem about an inch from the main trunk, this will also help the plant remain vibrant and promote new growth while exposing the main trunk.
HOW TO CARE FOR HORSETAIL REED - Below see details on how to keep your new arrival healthy, happy and beautiful. If you're a fan of indoor plants the Horsetail Reed is a great addition to any collection, is simple and easy to care for, thrives in neglect, like many other palm varieties such as Chinese Fan Palm, Cat Palm, Date Palm, Majesty Palm or Bamboo Palm, If you're looking to expand your indoor tree collection consider a Palm, anyone of this tree will add a touch of grace and elegance to your home.

WATER MANAGEMENT FOR HORSETAIL REED - Horsetail Reed do enjoy frequent watering, plants purchased for indoors use can be watered less frequent, however frequency of watering will depend on the size of the plant, humidity levels and rate of growth. One of the most common mistakes in the care of indoor plants is overwatering, indoor plants are far more tolerant to underwatering than overwatering, Improper watering can result in fungal issues and root rot. It is recommended to monitor your houseplants and water them when they need it, rather than on a schedule. When watering plants the objective is to maintain the soil moist but never soggy, a moisture meter is a great tool to utilize to reduce the guesswork, We recommend to sample the top soil an inch deep every 3-4 days, if you notice is still moist hold off on watering until it dries further, since most plants water needs may be different this is a good way to determine each individual plant water requirements.
Water Recommendations base on pot size, we suggest to utilize a soil probe initially to determine humidity levels and when to water.
6 inch Pot plants, every 5-7 Days, 10-12 inch Pot plants, every 7-12 days

LIGHT - Horsetail Reed thrives in bright indirect light, they can adapt to lower lighting conditions, however if bright light is available it is optimal and will encourage a higher rate of growth. If outdoors it should remain in shaded areas, direct sun exposure will scorch its delicate leaves. You can place the Horsetail Reed near a window where the plant can receive the brightest available light, east, south, and west facing windows are the best options, we recommend to rotate the plant occasionally, this will allow the plant to receive bright light from different angles, it can minimize leaf drops from within the canopy and allow the plant to maintain even healthy growth all year round.

HUMIDITY - Regular Misting is recommended, Many of our houseplants come from the tropics, where humidity is very high, generally the air in our homes is dry, occasional misting houseplants is a very simple and effective way to boost humidity, an easy solution to the risk of overwatering your plants. Always pay attention to the color and texture of the leaves on your plant. Generally Plants with brown or dry leaf tips will benefit from regular misting to keep the plant happy and thriving, preferably in the mornings to allow the foliage to completely dry out during the day.

FERTILIZING – No need to fertilize right away, We fertilize our plants during the production phase with slow release fertilizer which can last an additional 2-3 months supplying residual nutrients to the plant. Once you do decide to fertilize You may use a fertilizer formulated for interior plants, preferably a slow release fertilizer 180 days duration, fertilize during spring or fall base on label instructions.

CLEANING, REGULAR MAINTENANCE - Horsetail Reed tree leaves are large elongated stemming from individual fronds, exercise care when cleaning since leaves are very tender. Simply add a few drops of dish soil to a cup of water, wet a soft cloth and manually wipe off dust off the leaves, is a simple solution that is inexpensive and works well without damaging the plant.

INSECTS OR DESEASES - Here's another plus, Horsetail Reed is not regularly affected by pests, however in the event that scale, mealy bugs, or mites are found to affect the plant, they can be controlled by applying horticultural neem oil that can be sprayed directly onto the insects, A second and third treatment, when using oils, will be necessary. Space out the sprays at 2 weeks intervals to break up the mealybug life cycle.

PLANT BENEFITS AND KEY FEATURES
We believe in the power of plants to lift the spirit, calm the mind and clean the air.  Plants can Filter indoor air by absorbing toxins, and removing harmful chemicals. Reduce stress and Fatigue by simply enjoying and caring for your plants.