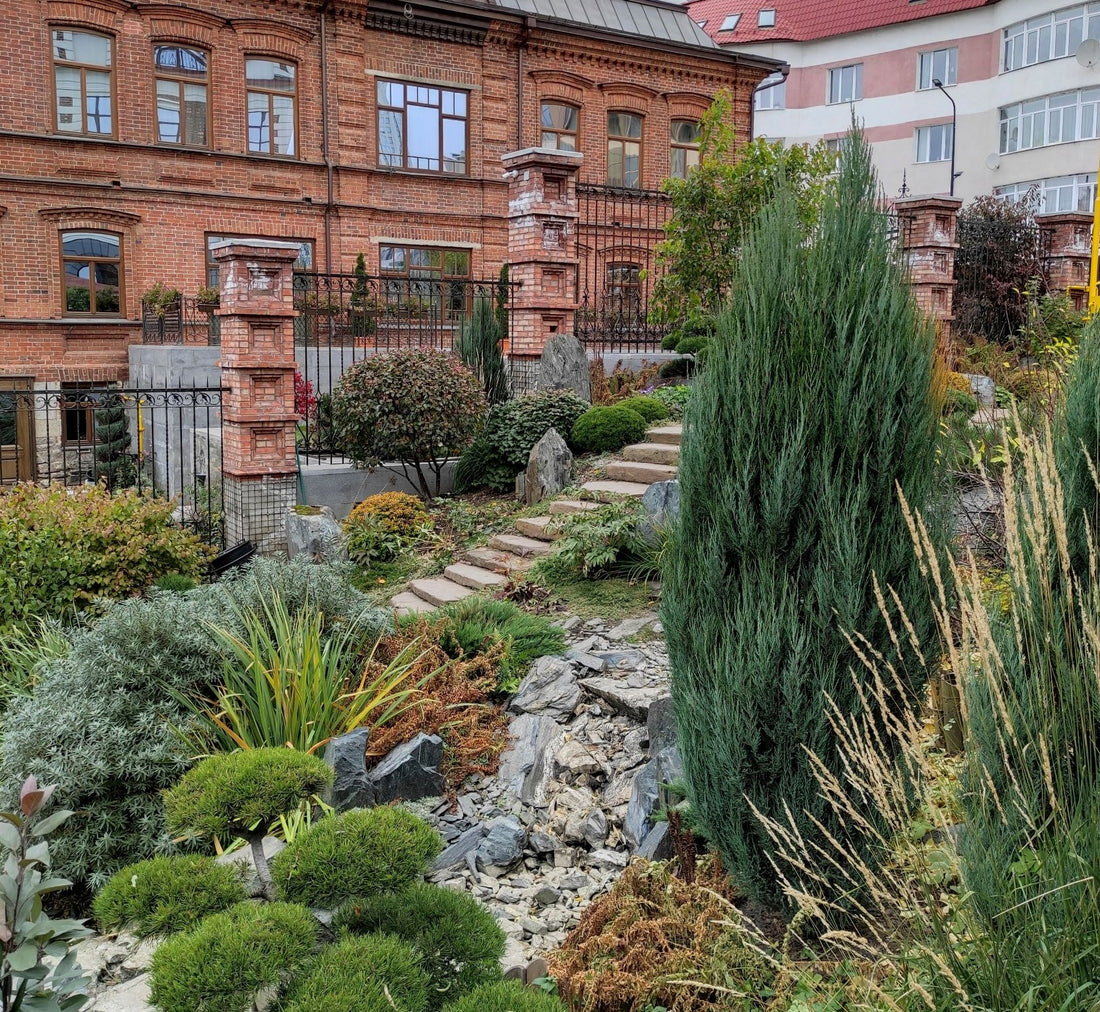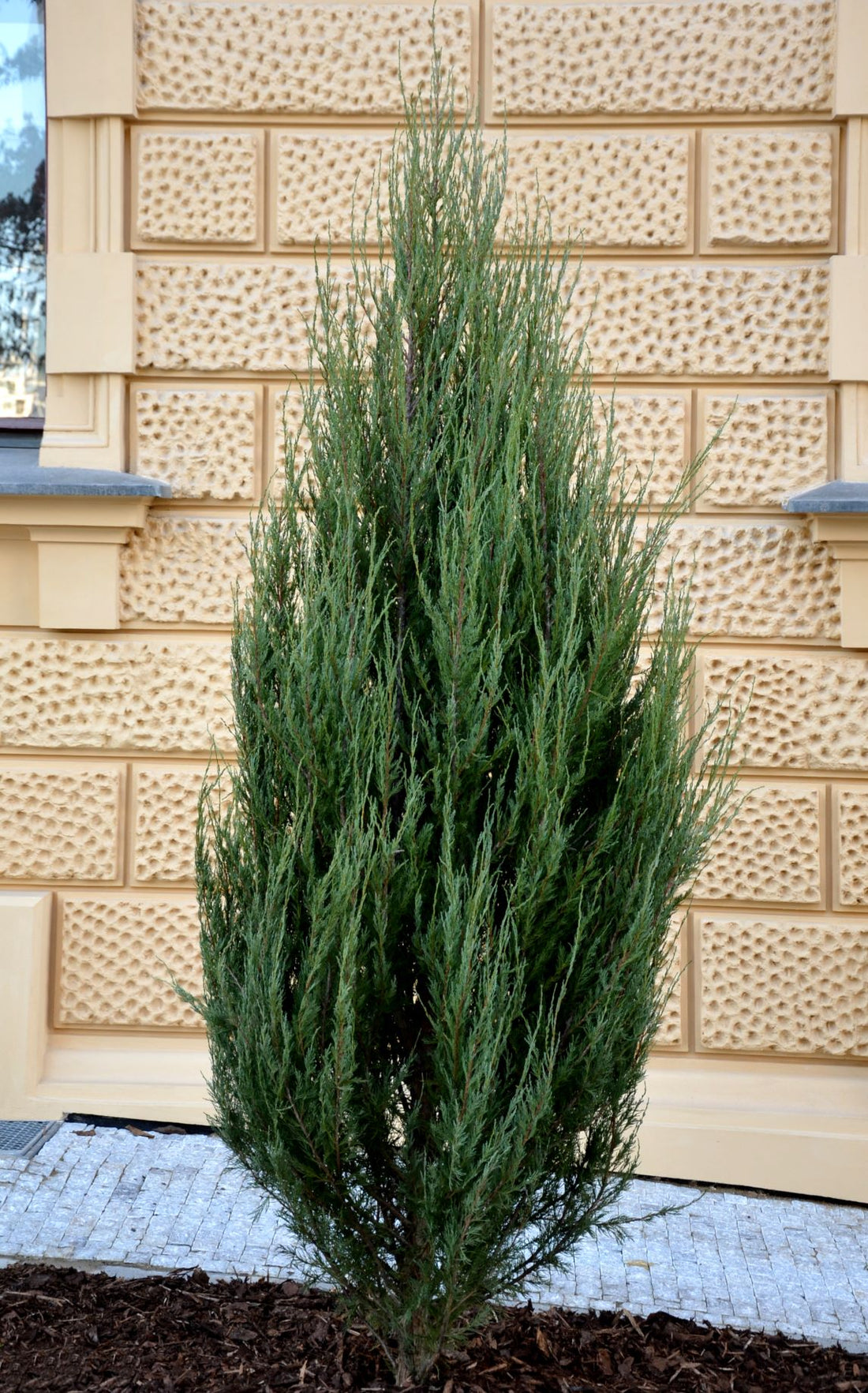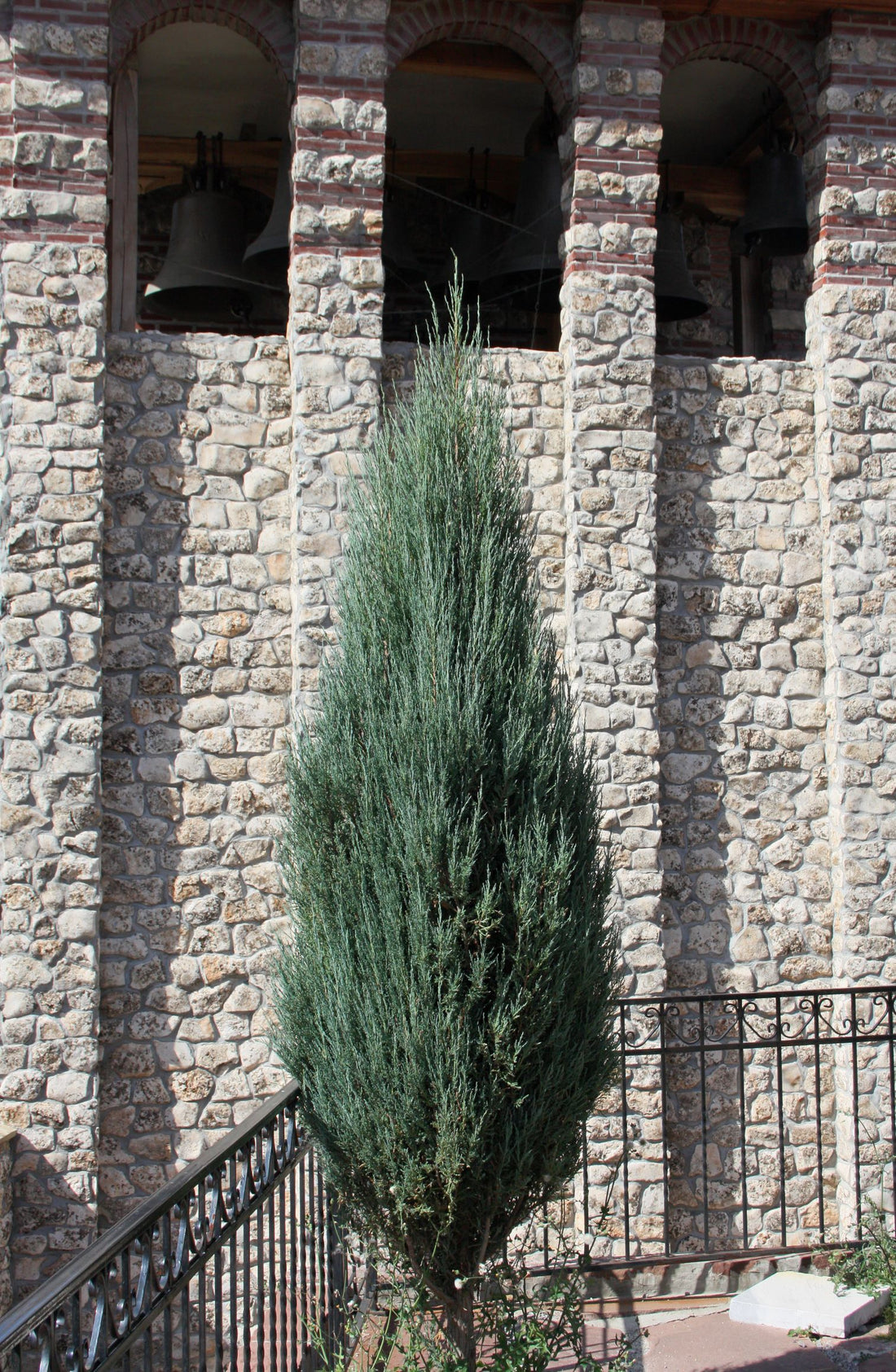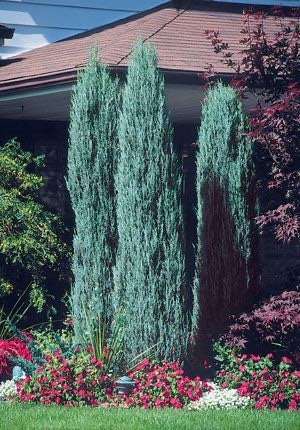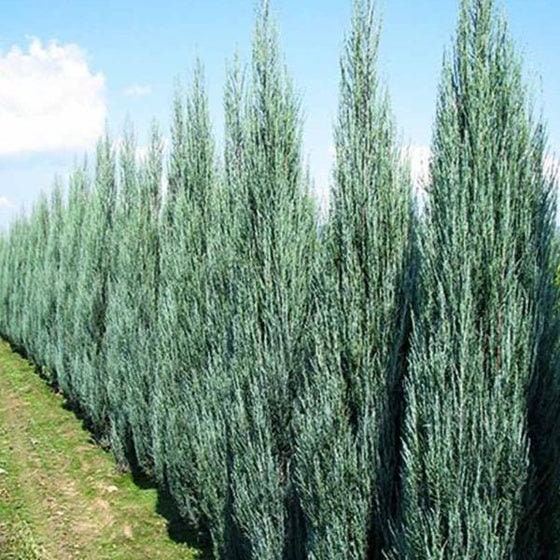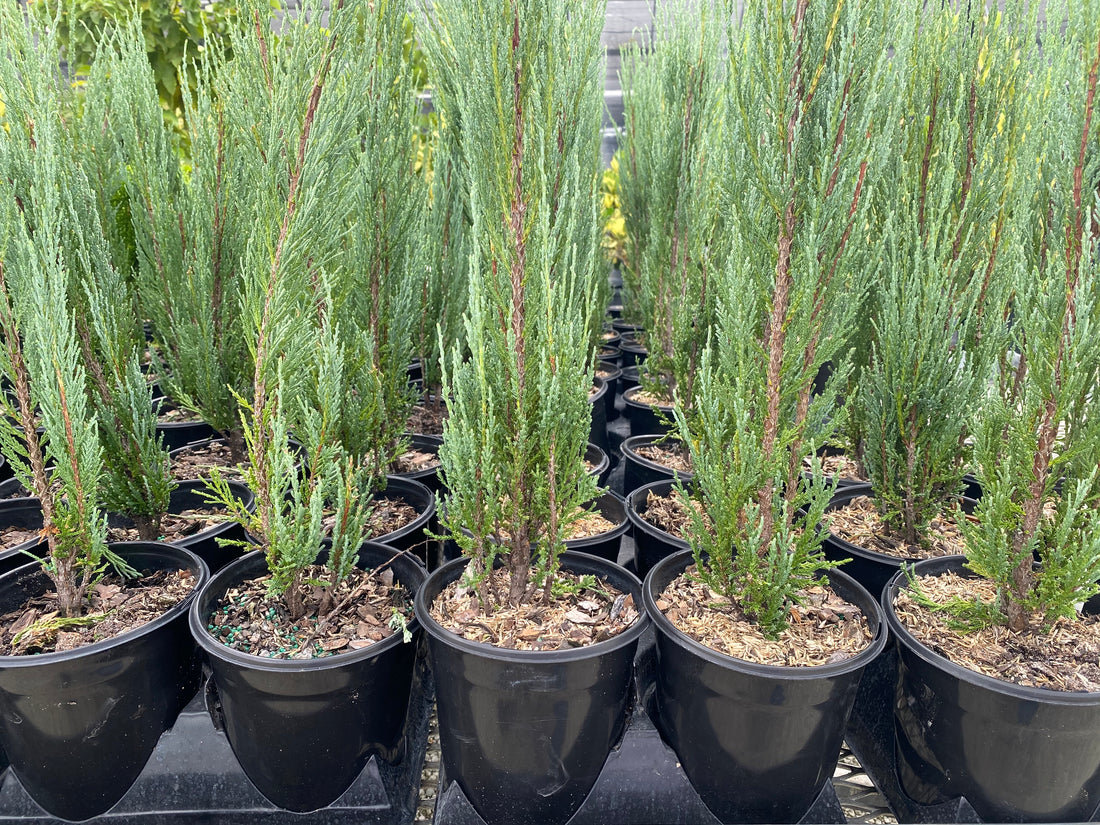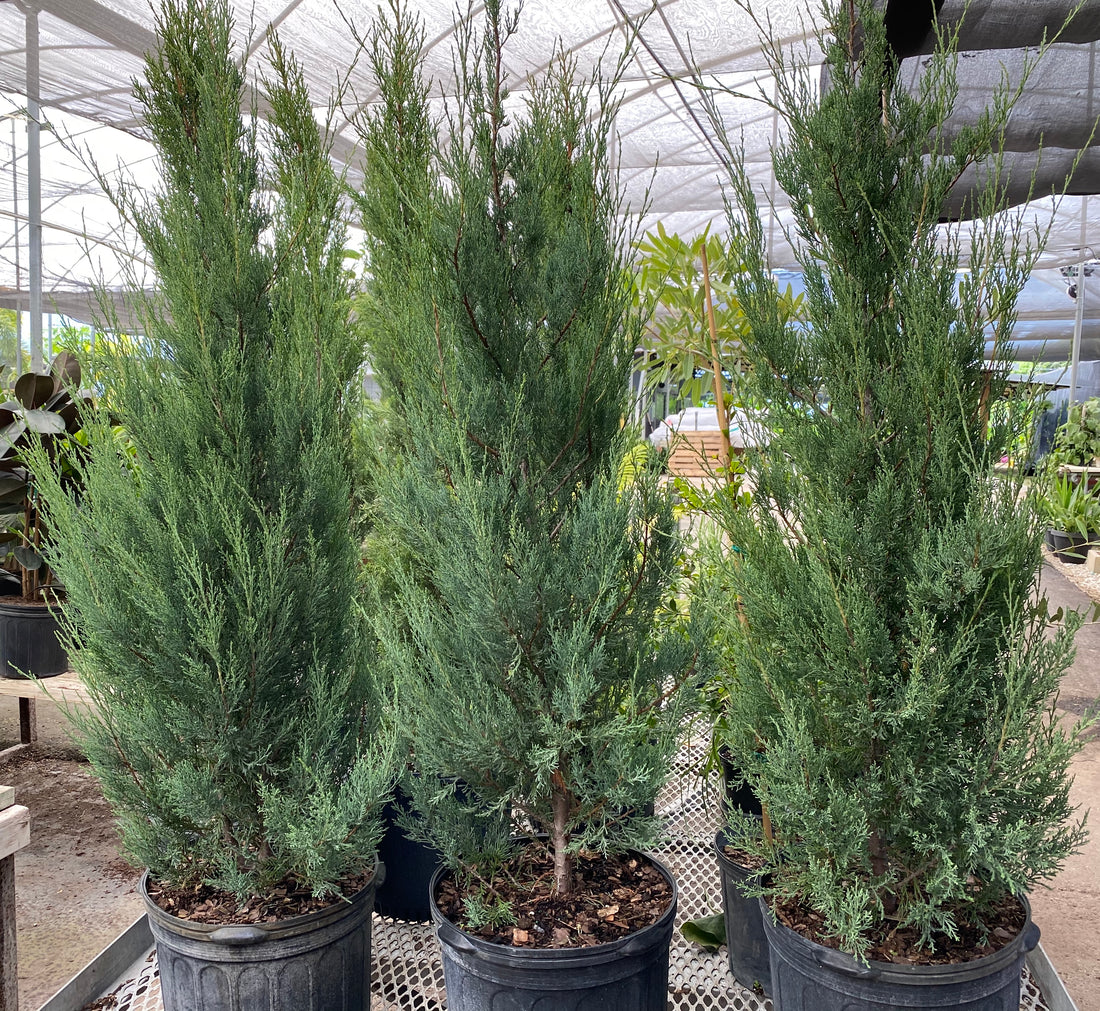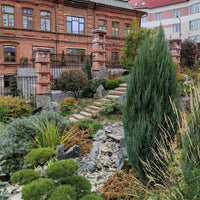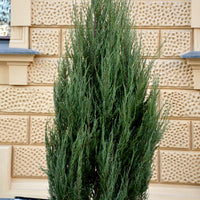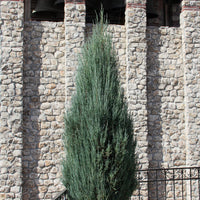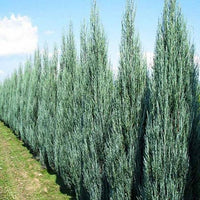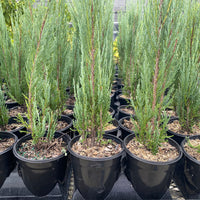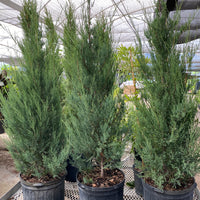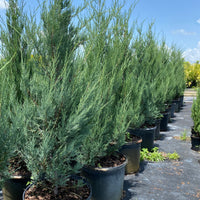 Skyrocket Juniper Tree Rocky Mountain
Save 10% with code FALL10
Narrow Columnar Tree for Accent and Privacy, Offers Dramatic Foliage Color Year Round, North American Native Selection Benefits Birds and Wildlife

The Skyrocket Juniper (Juniperus Scopulorum) is a great option for formal landscapes as a vertical accent or screen. With its narrow and upright shape prized for its foliage, it's perfect for smaller spaces and creates a silvery blue-green color blend. It also serves as a privacy hedge, creating a living fence. Additionally, caring for these trees can lift your spirit, calm your mind, and clean the air. This easy-to-care-for tree doesn't require pruning and maintains its pyramidal shape as it matures.
For amazing structure, fantastic color, and incredible space-saving versatility, setup your landscape with the amazing Skyrocket Juniper! The slim profile and high style will easily find a home in your landscape! Hurry and order today from Eureka Farms!
---
Product Details
Free Shipping on Select orders, 100% satisfaction Guarantee. Most orders ship within 1-3 days from the day order is received, once your order is shipped, you'll receive an email with tracking information. 
Plant Hardiness Zones and Details

| | |
| --- | --- |
| BOTANICAL NAME: | Juniperus scopulorum 'Skyrocket' |
| GROW ZONES: | Cold Hardy 4-9 Outdoors |
| GROWTH RATE: | Fast 2ft/Year |
| MATURE HEIGHT: | 15-20ft |
| MATURE WIDTH: | 2-3ft |
| SUN EXPOSURE: | Thrives in Full Sun to partial shade |
| WATER: | Regularly until established |
| FOLIAGE COLOR: | Green-Blue, Prized for its Foliage |
| FALL COLOR: | Evergreen |
| USES: | Wind Barrier, Privacy Screen, Wildlife Habitat, Landscape |
| GROWTH FORM: | Columnar, Pyramidal |
| SOIL CONDITIONS: | Well-drained soil |
| DOES NOT SHIP TO: | AZ. |
Additional Description
Looking to add some elegance to your landscape? The Skyrocket Juniper is the perfect solution! With its striking narrow columnar form and silver-blue foliage, this evergreen shrub or small evergreen coniferous tree is sure to turn heads.
Growing up to 15 feet in height, the Skyrocket Juniper only spreads to a neat and tidy 2-3 feet at maturity, making it ideal for areas where space is limited. Tolerant of both moist and dry locations, this hardy Juniper is perfect for xeriscaping and displays high tolerance to urban pollution.
Not only is this plant easy-care and cold-hardy throughout USDA growing zones 4 to 9, but it is also a great option for those looking for low water needs in their landscaping. So, if you're looking for a compact yet stunning addition to your landscaping, the Skyrocket Juniper is definitely worth considering!
Plant Benefits and Key Features
• We believe in the power of plants to lift the spirit, calm the mind and clean the air
• Plants can reduce stress and anxiety by spending time close to nature caring for them
• Great choice to increase property value with a low maintenance evergreen
• Drought Tolerant and Resistant to ice, freezing conditions and Pest, Easily grown in a wide range of soils
• Dramatic Foliage Color, Easy Care, North American Native Selection, Benefits Birds and Wildlife
Design ideas for the landscape, Ground Cover for Color Contrast

Plant features are becoming very popular in modern landscape design for homes, also true for spaces like backyards, main entrances, and landscape in general. The inclusion of plants make space feel more attractive, exciting and comfortable, creating a well balance peaceful ambiance of styles that can both calm the senses and invigorate the mind simultaneously, adorning with live plants and natural elements is a great choice to create a relaxing atmosphere while at home, reducing the day to day stresses from modern life. This thin columnar Juniper fits into very difficult places such as narrow side yards between homes. A super windbreak plant in both cold or hot climates. A hardy alternative to Italian Cypress in Mediterranean-inspired landscapes. Try planting in matched pairs or on four corners of a central courtyard. Makes a super vertical accent in mixed conifer gardens.
Beautify your garden space with the Skyrocket Juniper


Care & Maintenance
Care Guide
PLANTING:
Choose a location with well-draining soil.

Dig a hole twice the size of the plant's root ball.

Remove the tree from its container and loosen any roots that are tightly packed.
Place the tree in the hole and backfill with soil.

Tamp down the soil and water thoroughly.
SOIL:
Prefers well-draining soil.
Suitable for clay, alkaline, and compacted soils, avoid wet and soggy.
MULCH:
Mulch the base of the tree with 2-3 inches of organic matter, such as leaves, bark, or wood chips.
Apply the mulch over the entire planting area. 
LIGHT:
WATER:
Water regularly during the first growing season to establish a deep and strong root system. 
Once established, water only during extended periods of drought.
FERTILIZE:
Fertilize during early spring with a slow-release, granular fertilizer.
PRUNING:
Pruning is not necessary. 
It will maintain its columnar growth habit naturally.
Warranty Policy
Backed by our 30 days Satisfaction Guarantee

We hope that you enjoy your new plants! We grow and care for our plants from cuttings, seeds or liners, we hand select the best quality available before shipping to your home or office. Please do not hesitate to contact us with any questions or concerns. Our friendly customer service team is here to help.
FAQs
Is it safe to ship plants by mail?
We Believe it is, let us prove it, our success rate sipping plant(s) online is well over 99%.
How do you measure height for ground cover junipers?
Approximate height is measured from the base of the plant to the top of the highest branch.
Are plant(s) purchased online guarantee?
All plants are guarantee for a period of 30 days, We offer a Satisfaction Guarantee Policy.
Can I order during winter months?
Yes you can, however most Tropical plants are sensitive to extreme cold conditions, once cold temperatures are expected to fall below freezing it will not be safe to ship life plants, we carefully manage shipping decisions during winter months and determine when is safe to ship, please be advise we may need to hold orders until conditions are appropriate to safely ship the plants.