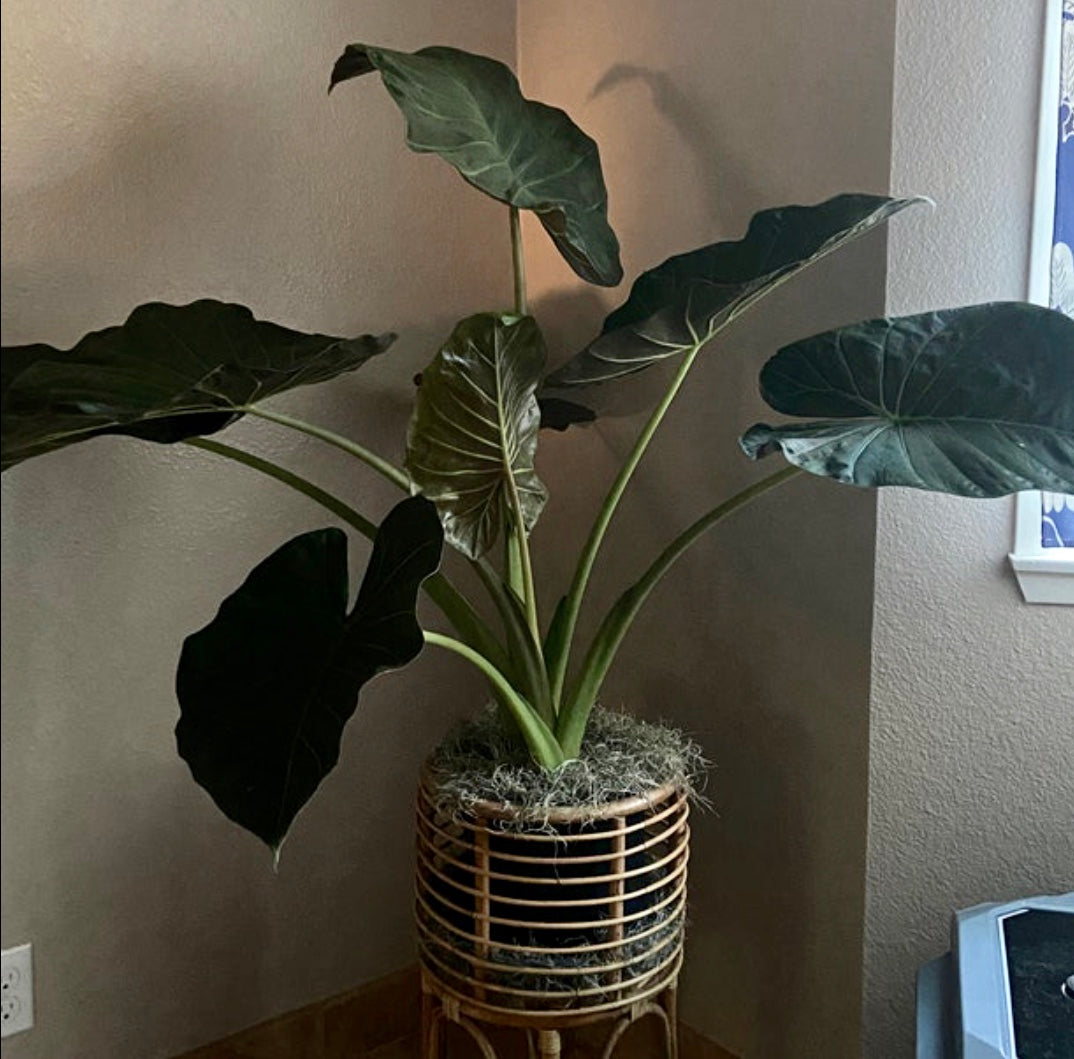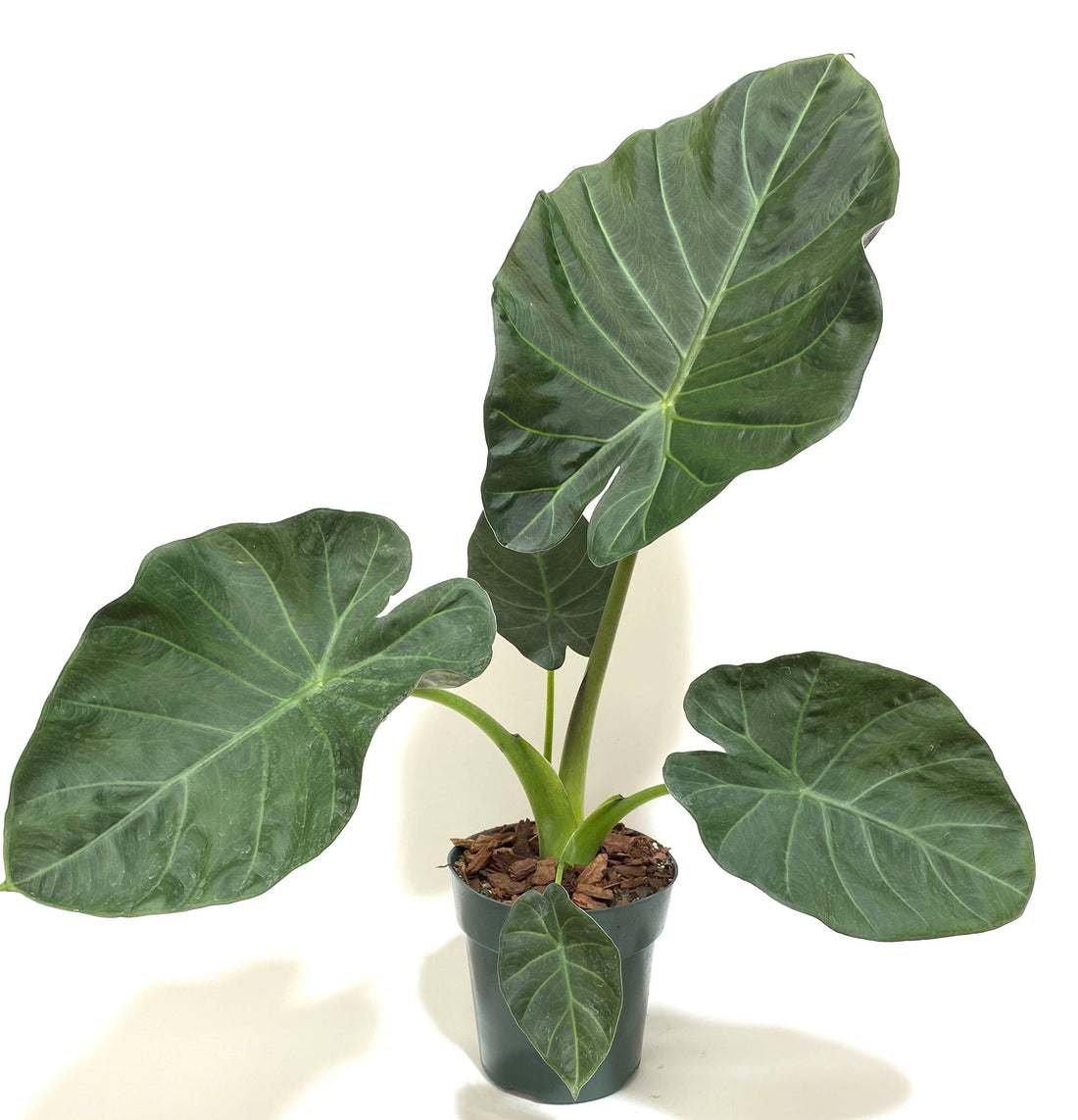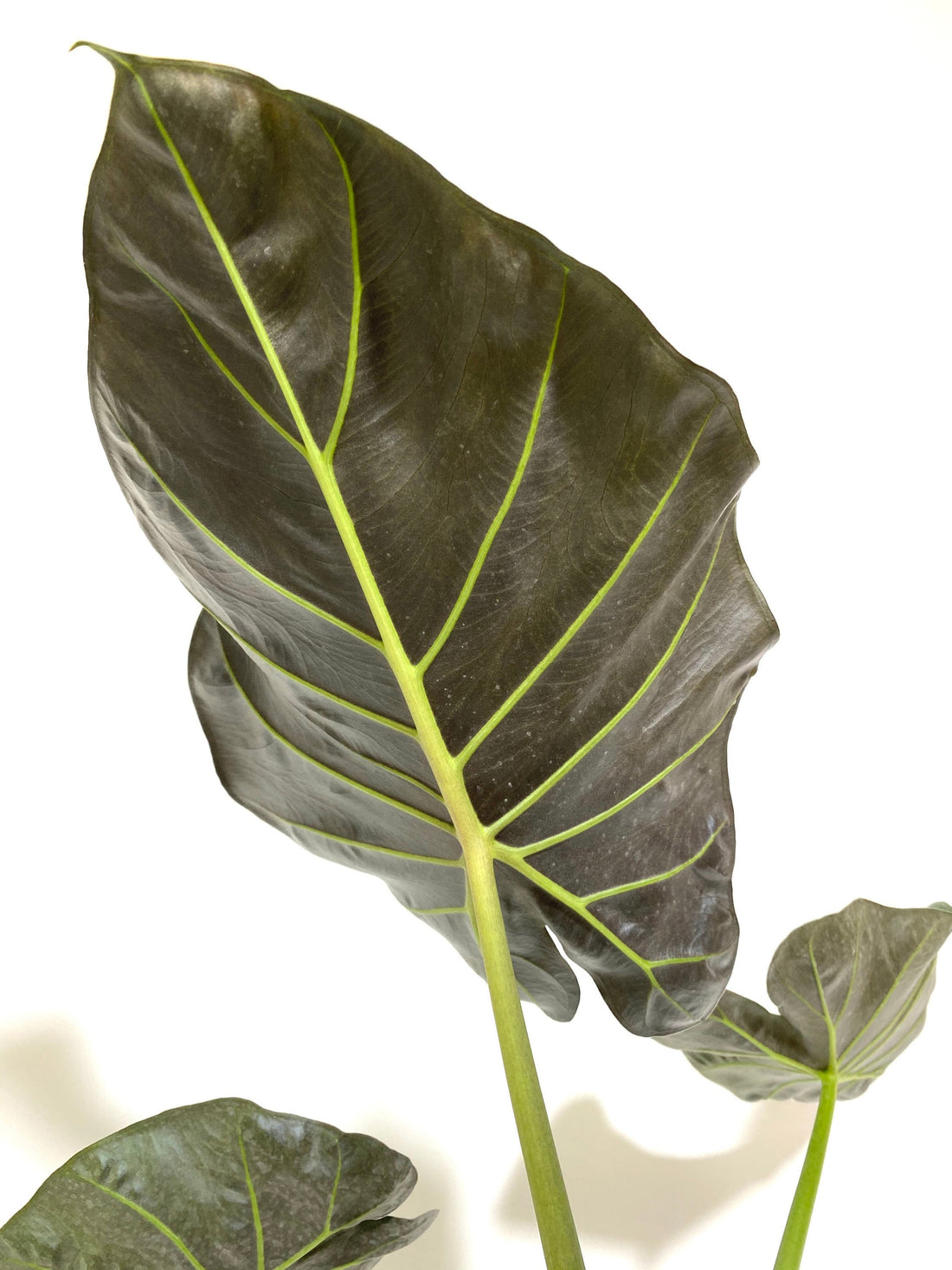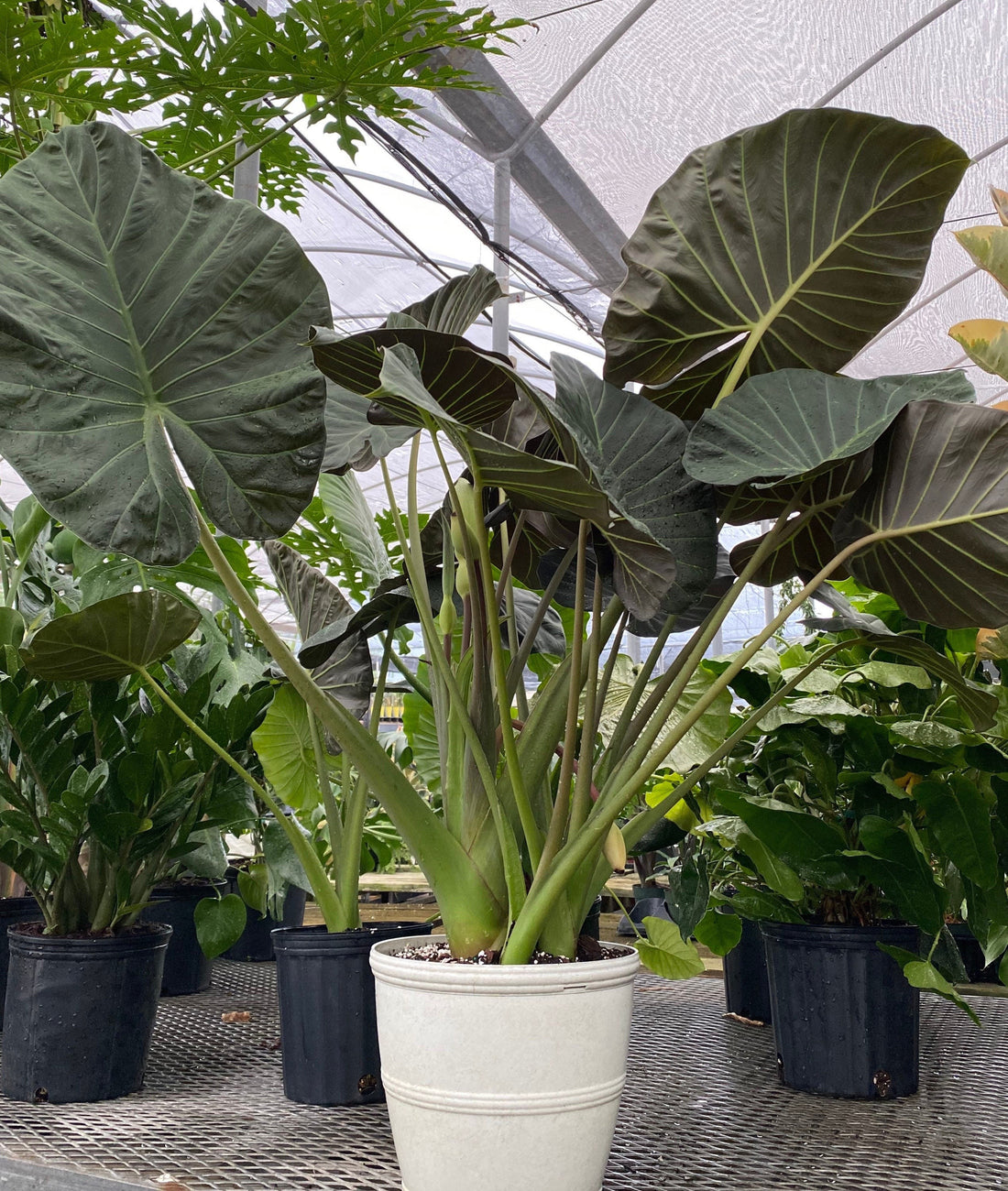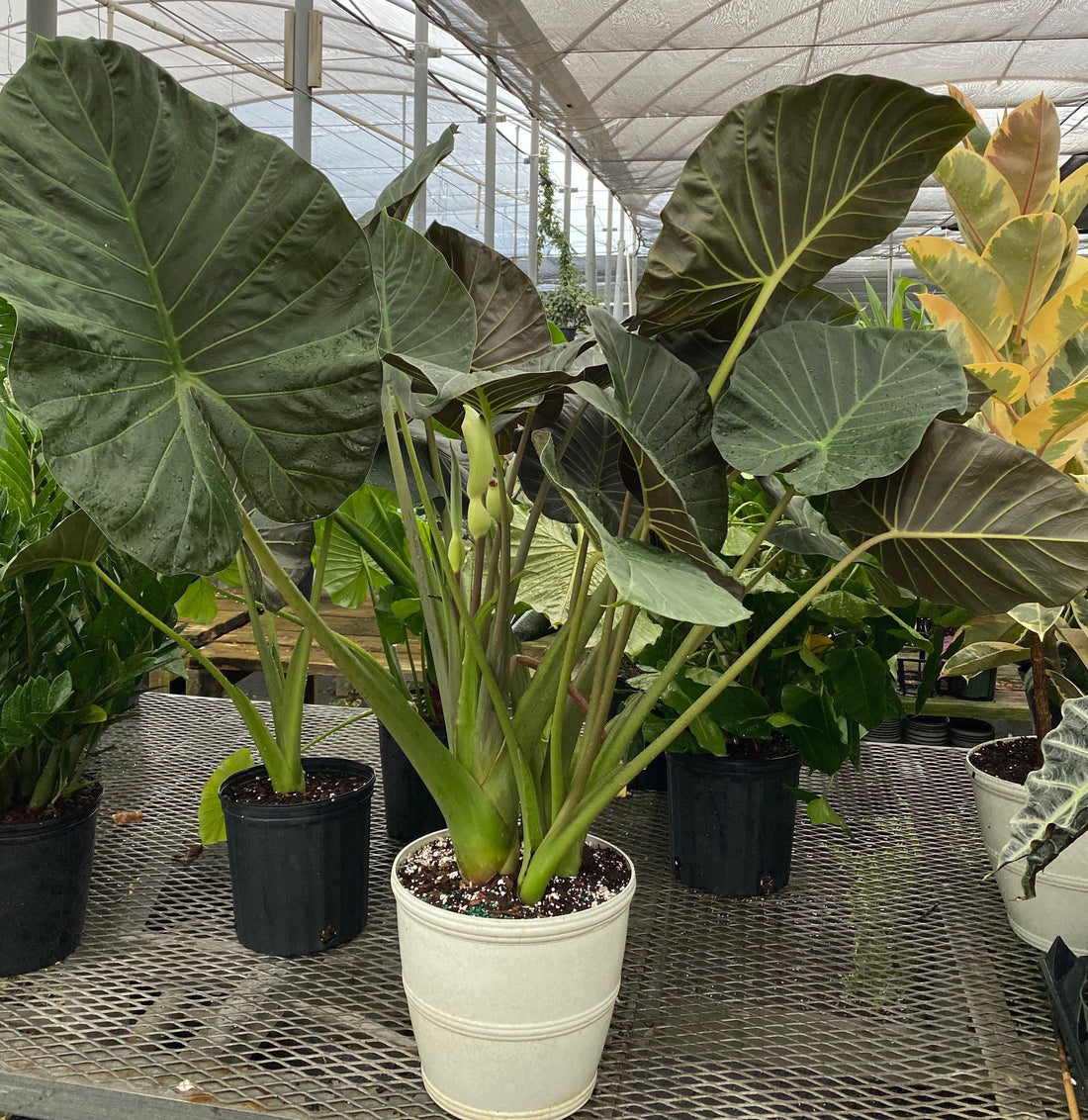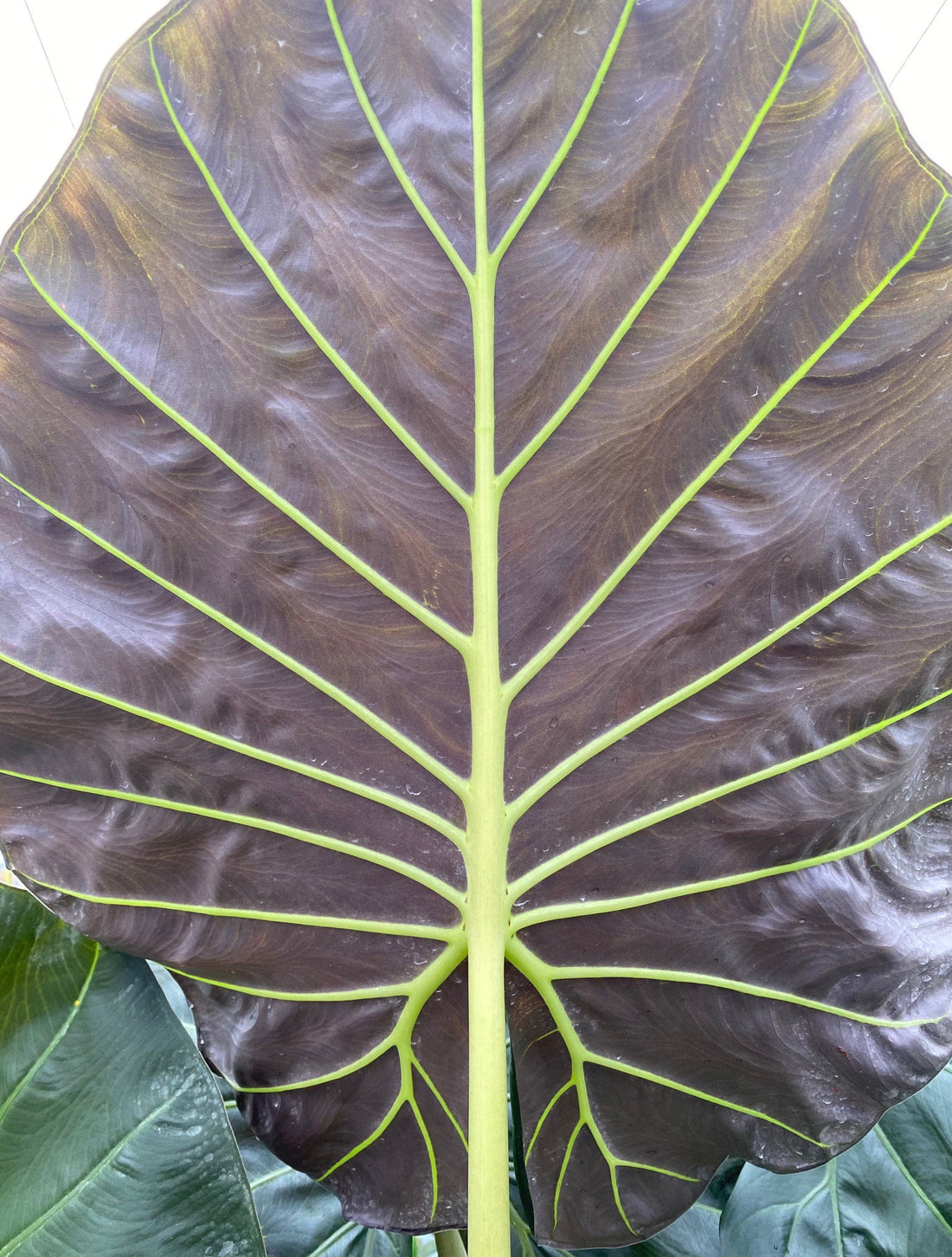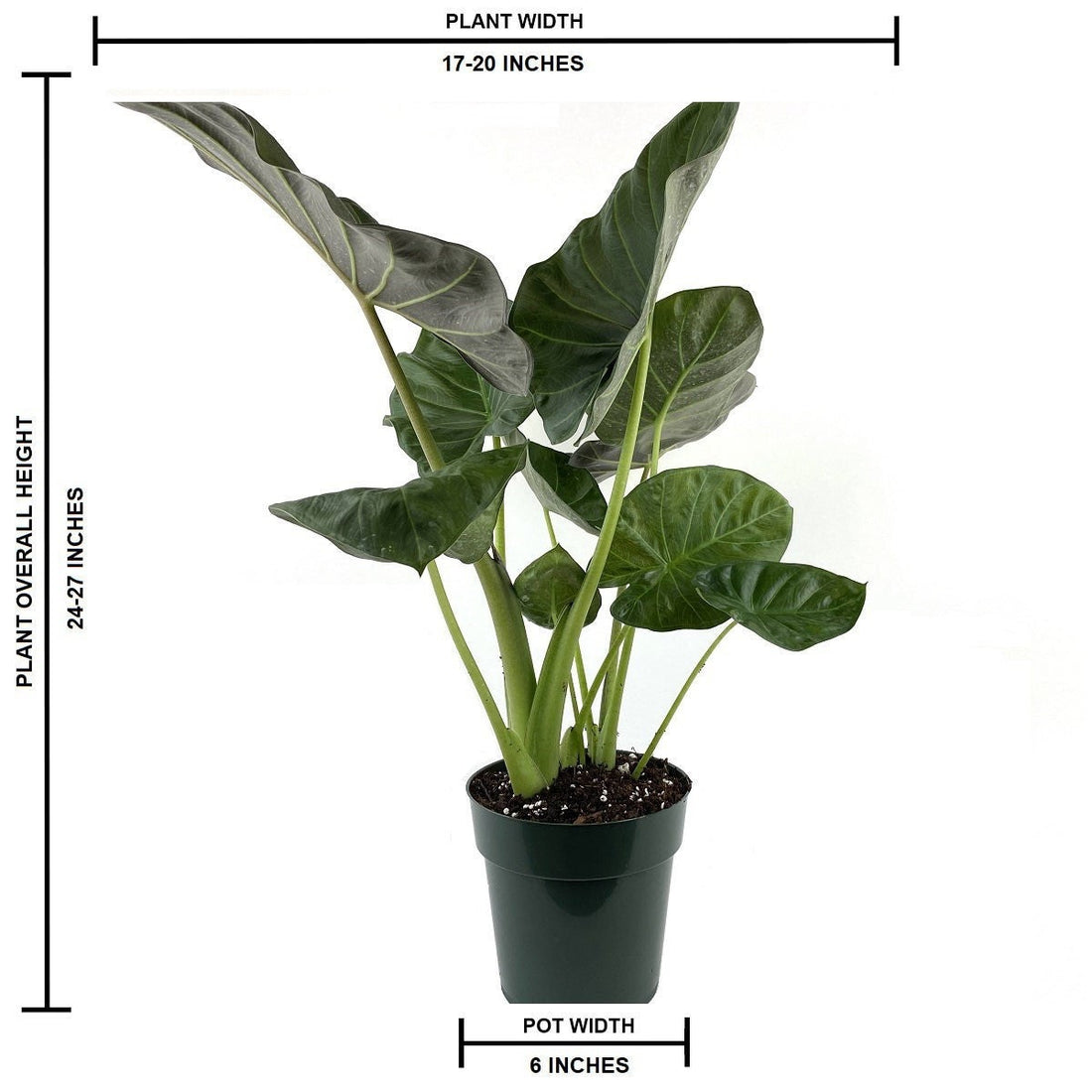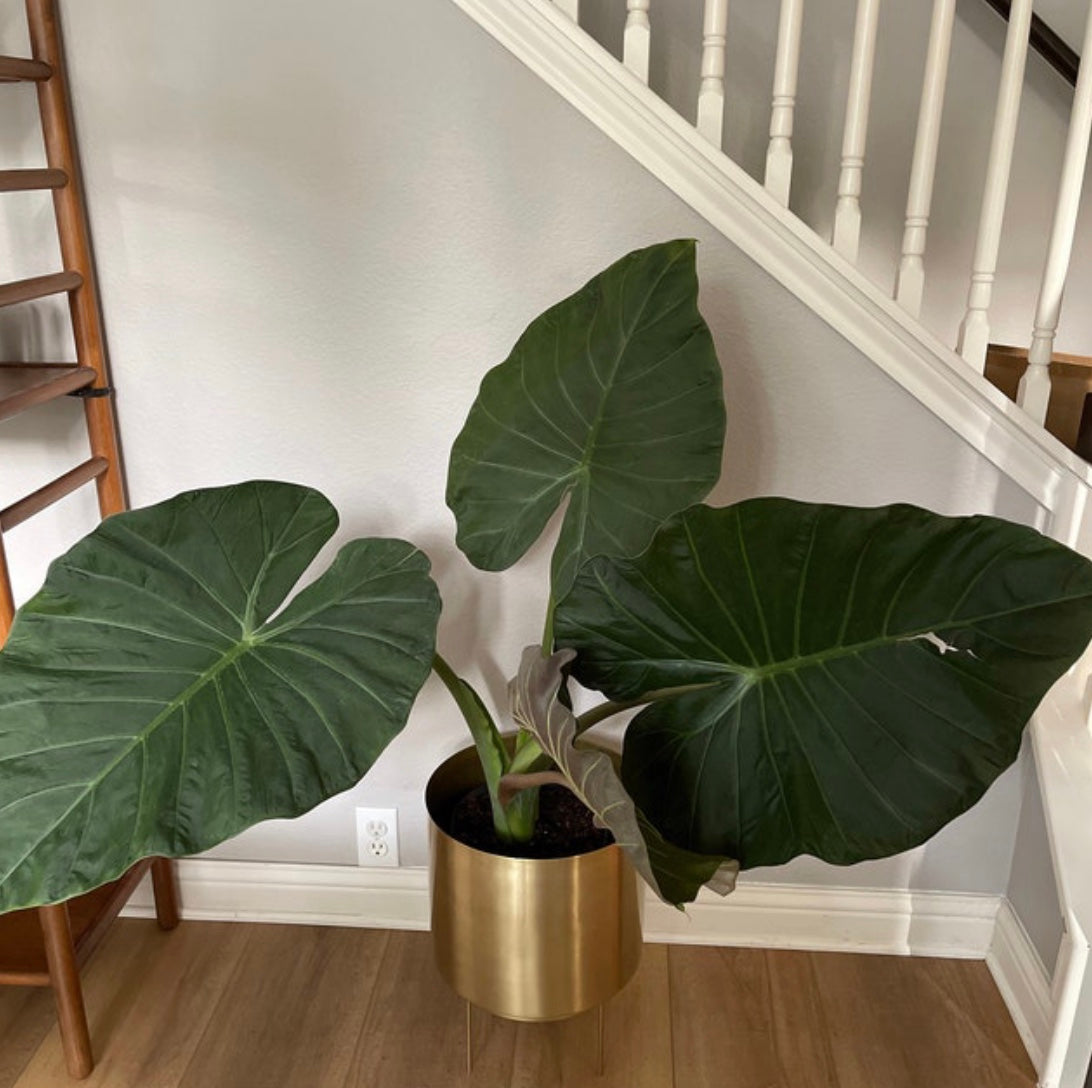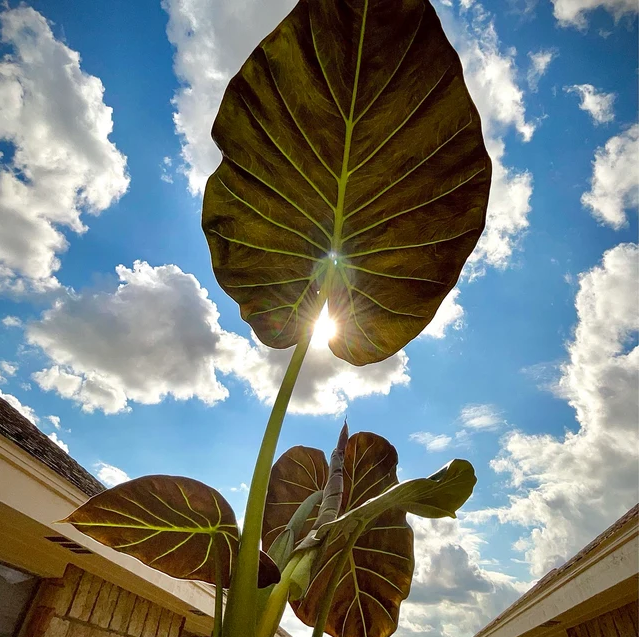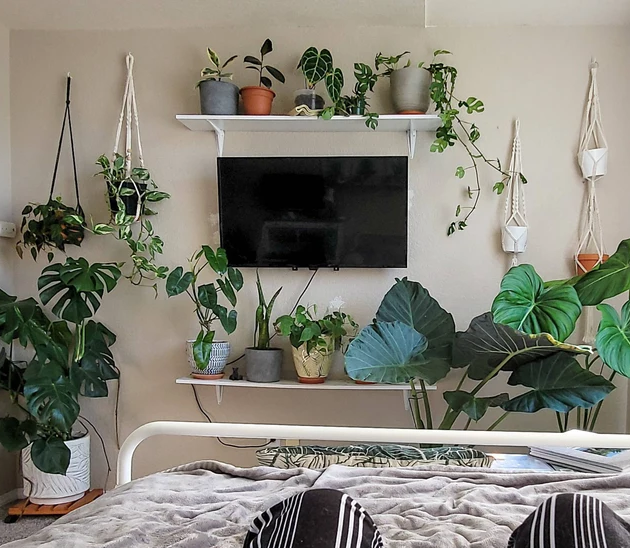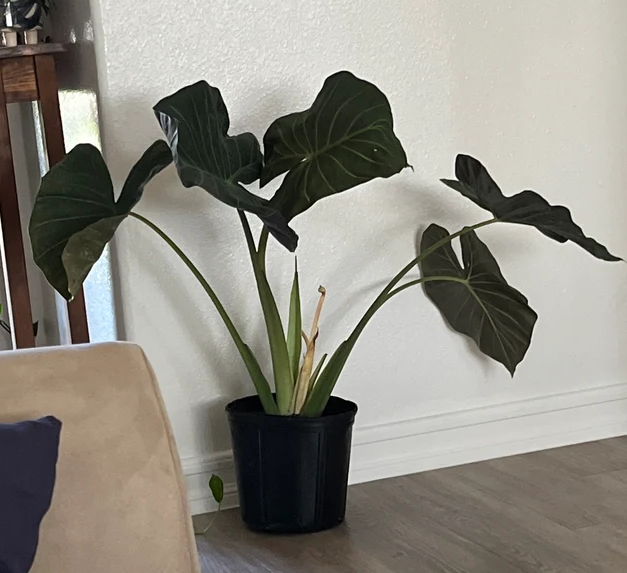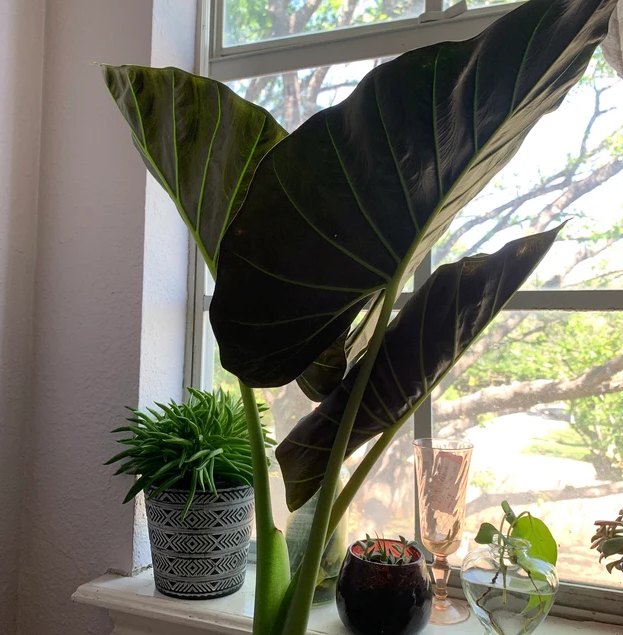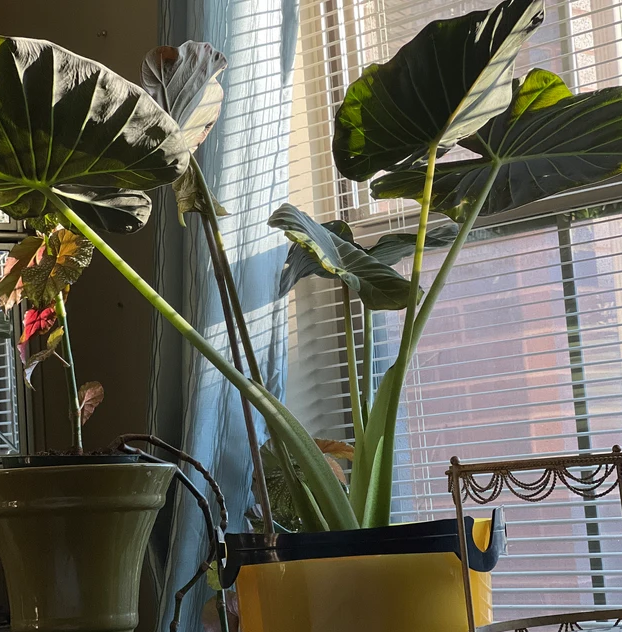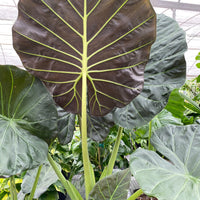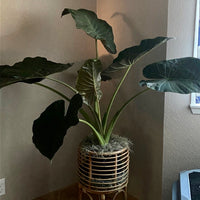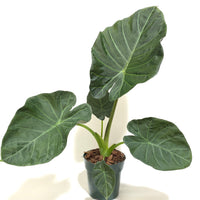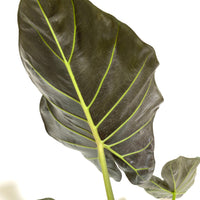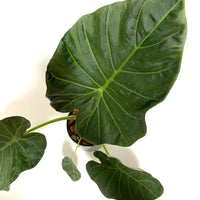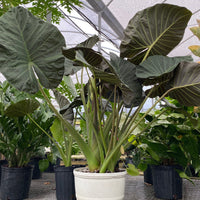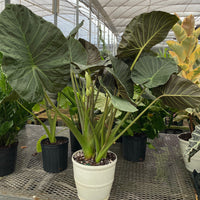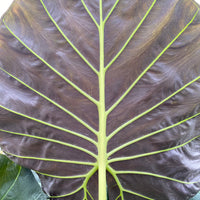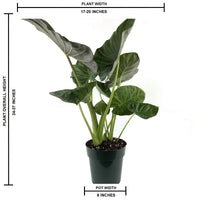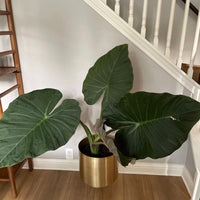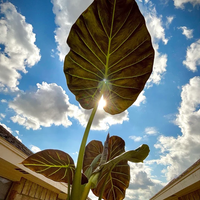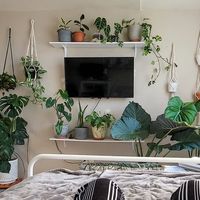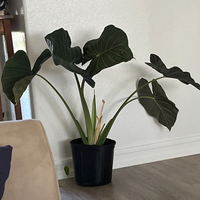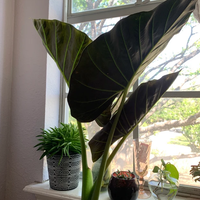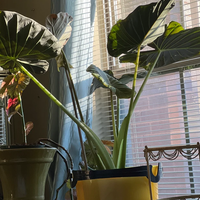 Alocasia Regal Shields, Elephant Ears Live Tropical Plant
Alocasia Regal Shields, Bring the Rainforest Indoors and Purify the air with a Beautiful Elephant Ear Plant
Alocasia Regal Shields Elephant Ear features eye-catching tropical foliage with textural leaves that have bronze green topside blushed with dark purple under side, veins that are a lime green color that run along the inner section of the leaves, this is a tropical plant in the Aroid family, closely related to Philodendrons. 
---
Product Details
```````````````````````````````````````````````````````````````````````````Free Shipping on Select orders, 100% satisfaction Guarantee. Most orders ship within 1-3 days from the day order is received, once your order is shipped, you'll receive an email with tracking information. 
Plant Hardiness Zones and Details

| | |
| --- | --- |
| Grow Zones: | 4-9 Patios / 10-11 Outdoors |
| Growth Rate: | Moderate |
| Mature Height: | 6-9 ft. |
| Mature Width: | 5-6 ft. |
| Light: | Bright Indirect |
| Foliage: | Bronze leaves with yellow veins |
| Uses: | Interior Foliage, Accent Plant, Complements other plants |
| Characteristics: | Exotic foliage |
| Soil Conditions: | Prefers well draining organic soil |
| Does Not Ship To: | AZ |
Description

The tropical and exotic look of the foliage is truly unmatched, leaves are impressively large, heart-shaped, bursting from a thick green stalk, will make you feel like you are in a tropical paradise in your own indoor space. Elephant Ear's oversized leaves provide a Jurassic feel, and it grows to be 3 to 4 feet tall. Pot in a nice deco container on a patio or deck, they will thrive in humid, shady conditions with moist soil. likes medium to bright indirect sunlight for best performance, The leaves blends of colors is what really sets this species apart and what makes it so desirable. Philodendron McColley Finale are low maintenance giving them the ability to easily adapt to most environments, indoors or outdoors in shaded areas. 
Care Guide

Disclosure - Please note Alocasia's are susceptible to some yellowing of the lower leaves from transit, this is normal, they will bounce back within weeks and will continue sending out new shoots.
HOW TO CARE FOR ALOCASIA REGAL SHIELDS
Light, if is bright enough to read is bright enough for plants, if outdoors place in indirect sun light under Shade.

Water about a cup of water every 5-7 days. Water slowly to allow the soil moist evenly.
Humidity, most Tropical plants can benefit from regular moisture, a humidifier or regular misting is recommended regularly during winter months.
PLACEMENT AND TEMPERATURE - Selecting the right location for your plant indoors or outdoors is very important, micro climates can affect the health of the plant, make sure the plant does not receive air draft from near by AC/Heating vents, or warm air if close to a freezer, the foliage will dehydrate faster than it can hydrate from moisture in the air or in the soil, eventually turning brown and dropping, when plants are properly watered and care for and still display signs of wilting or seem sad it may help to relocate the plant to a different area for brighter indirect light. Please note most tropical plants are from the tropics, proper moisture is required for their health and survival, we highly recommend to bring your tropical plants indoors when temperatures are expected below 45s during winter months or above 90 during summer months, extreme weather can severely damage the plant.
REPOTTING - Elephant Ears Plant can grow exceptionally well in pots for long periods of time, consider repotting every 2 years to a 2-3 inch wider pot, organic well draining potting mixes is recommended.

FERTILIZING – No need to fertilize right away, We fertilize our plants during the production phase with slow release fertilizer which can last an additional 2-3 months supplying residual nutrients to the plant. Once you do decide to fertilize You may use a fertilizer formulated for interior plants, preferably a slow release fertilizer 180 days duration, fertilize during spring or fall base on label instructions.

CLEANING, REGULAR MAINTENANCE - Elephant Ear Plant leaves are very large and easy to clean, use caution when cleaning them to avoid damage. Simply add a few drops of dish soap to a cup of water, wet a soft cloth and manually wipe off dust off the leaves, is a simple solution that is inexpensive and works well without damaging the plant.

How to Prune Elephant Ears Plant
Elephant Ears requires regular maintenance, pruning lower bottom leaves may be needed at some point to maintain the plant clean and healthy, Lower leaves will gradually yellow and decay, collapsing over time, this is a normal process as new shoots pop and form into new leaves.

INSECTS OR DESEASES - The good news is that healthy, well-cared-for Alocasia  plants are generally resistant to infestations, in the event that scale, mealy bugs, or mites are found to affect the plant, they can be controlled by wiping the infested area with a soapy solution, add a few drops of dish soap in a cup of water and wipe off the affected areas with a soft cloth, It can take several intermittent cleanings to rid the plant of the pests.
Horticultural oils can be sprayed directly onto the insects, A second and third treatment, if using oils, will be necessary. Space out the sprays at 3 week intervals to break up the mealybug life cycle. Both of these treatments together will be very effective.
Satisfaction Guarantee
Backed by our 30 days Satisfaction Guarantee

We hope that you enjoy your new plants! We grow and care for our plants from cuttings, seeds or liners, we hand select the best quality available before shipping to your home or office. Please do not hesitate to contact us with any questions or concerns. Our friendly customer service team is here to help.
FAQs
Is it safe to ship plants by mail?
We Believe it is, let us prove it, our success rate sipping plant(s) online is well over 99%.
How do you measure height for Alocasia Plants?
For Alocasia plants, we advertise approximate height from bottom of the pot to the top of the plant.
Are plant(s) purchased online guarantee?
All plants are guarantee for a period of 30 days, We offer a Satisfaction Guarantee Policy.

Can I order during winter months?
Yes you can, however most Tropical plants are sensitive to extreme cold conditions, once cold temperatures are expected to fall below freezing it will not be safe to ship life plants, we carefully manage shipping decisions during winter months and determine when is safe to ship, please be advise we may need to hold orders until conditions are appropriate to safely ship the plants.