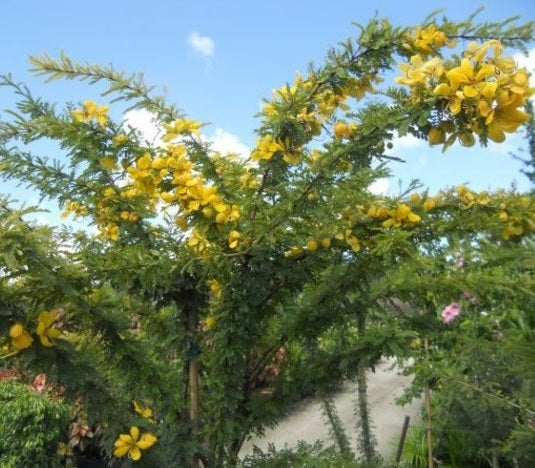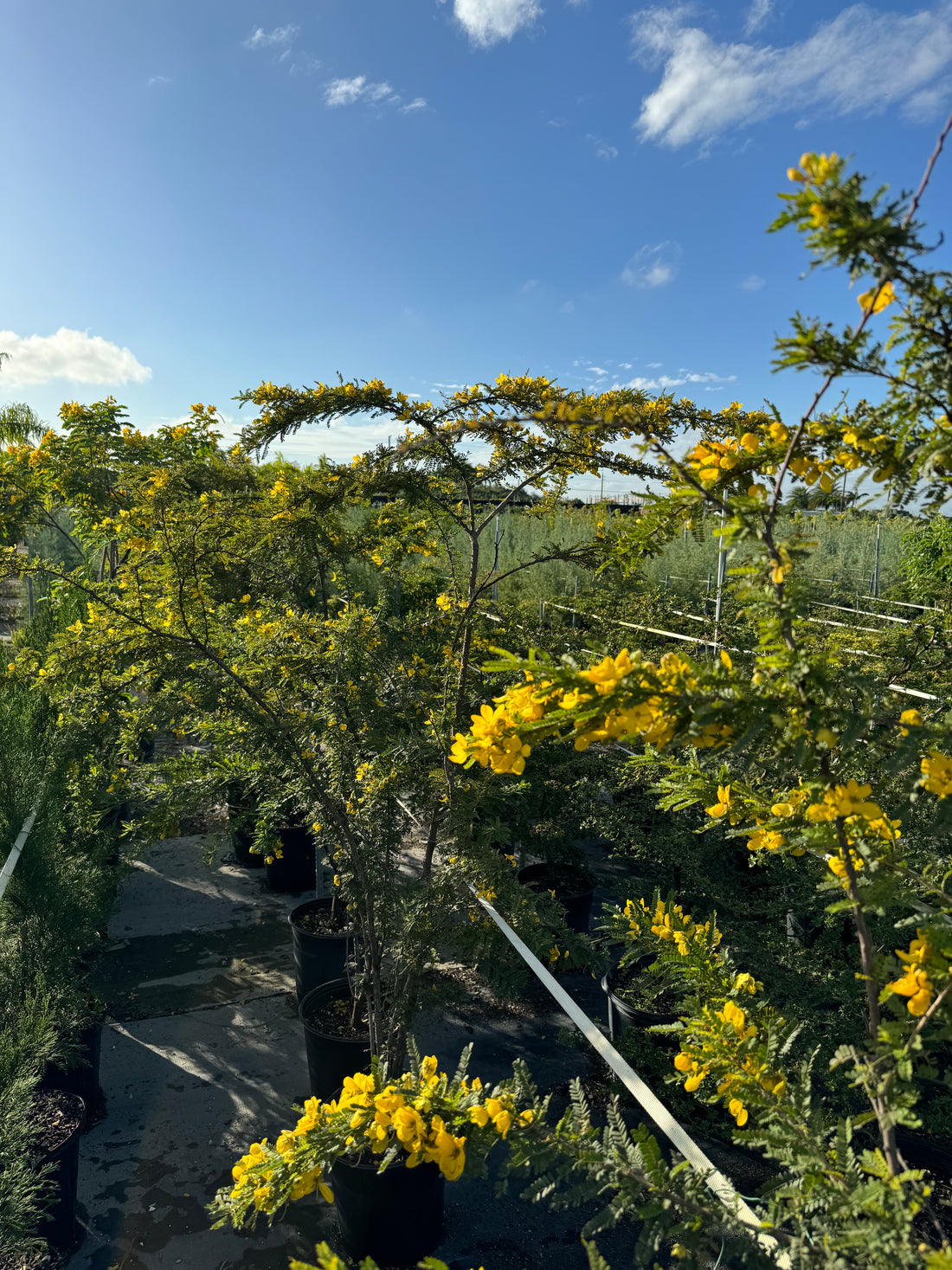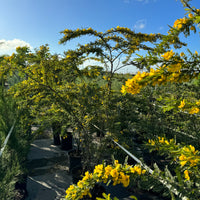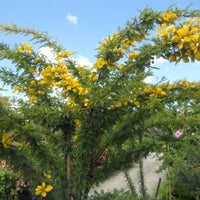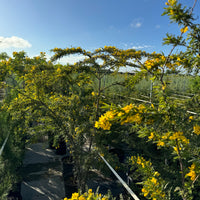 Desert Cassia Senna Polyphylla Tree
Save 10% with code FALL10
Looking for a special yellow flowering tree to bring life to your garden?
Look no further than Dessert Cassia Senna, Florida Native, also known as candle brush, and it's easy to see why, In late summer expect a display of golden yellow flowers that from in long clusters along the branches. 
It also happens to be the host plant (where butterflies lay their eggs) for the sulfur or yellow butterflies. It makes a great focal point for any garden, bright yellow flowers appear a couple times a year but have long life span, making it seem like it blooms all year. Likes full to partial sun and is drought tolerant. Leaves are tiny and feather-like.
Dessert Cassia Senna makes a great container accent plant that looks fantastic on patios, near entryways or tight spaces. You can also use it as a specimen or lawn tree.
Not only beautiful and vibrant, It will be the centerpiece of your yard, drawing in people's eyes with its stunning foliage that seems to allow just the right amount of sunlight through.
---
Product Details
Free Shipping on Select orders, 100% satisfaction Guarantee. Most orders ship within 1-3 days from the day order is received, once your order is shipped, you'll receive an email with tracking information.
Plant Hardiness Zones and Specifications
| | |
| --- | --- |
| Grow Zones: | 4-9 Patios / 9-11 Outdoors |
| Growth Rate: | Moderate |
| Mature Height: | 10-12 ft. |
| Mature Width: | 6-9 ft. |
| Light: | Thrives in Full Sun |
| Uses: | Small Shade Tree, Flower Tree |
| Characteristics: | Yellow Flowers |
| Soil Conditions: | Well Draining Organic Soil |
| Does Not Ship To: | AZ |
Description
But that's not all! Desert Cassia Senna trees are low maintenance so you don't have to worry about spending too much time caring for them. They'll create a majestic display with yellow flowers against it dark green leaves. A truly perfect addition for any garden!

Purchase a cassia Senna tree today online at our store - it'll quickly become one of your favorite plants in the garden!
Enjoy your trees
Ideal for backyards, place in full sun
Create a graceful landscape display with its bright lush foliage and yellow flowers
Fast-growing and easy to maintain
Care & Maintenance
Care Guide
PLANTING AND CARE - Dig a hole twice as large than the pot you purchased, Remove the tree from the grower pot, you may cut off the plastic pot if needed. Drop the plant level to the soil, Water the tree as you back fill soil to remove air pockets. Cover the new soil with mulch to retain moisture and keep weeds away. Cassia trees are container friendly, you may keep it in its existing container and replant once a year.

WATER MANAGEMENT - Water twice a week for the first growing season, once established rain water will suffice.

LIGHT - Full Sun, bright light is optimal and will encourage a higher rate of growth.
FERTILIZING – No need to fertilize right away, We fertilize our plants during the production phase with slow release fertilizer which can last an additional 2-3 months supplying residual nutrients to the plant. Once you do decide to fertilize You may use a slow release granular fertilizer 180 days duration, fertilize during spring or fall base on label instructions.
PRUNNING is recommended in order to maintain a desired shape and keep its branches evenly spaced, Pruning cassia trees helps strengthen the structure and keeps it looking neat.

INSECTS OR DESEASES - In the event that scale, mealy bugs, or mites are found to affect the plant, they can be controlled by applying horticultural neem oil that can be sprayed directly onto the insects, A second and third treatment, when using oils, will be necessary. Space out the sprays at 2 weeks intervals to break up the mealybug life cycle.
Satisfaction Guarantee
Backed by our 30 days Satisfaction Guarantee

We hope that you enjoy your new plants! We grow and care for our plants from cuttings, seeds or liners, we hand select the best quality available before shipping to your home or office. Please do not hesitate to contact us with any questions or concerns. Our friendly customer service team is here to help.
FAQs
Is it safe to ship plants by mail?
We Believe it is, let us prove it, our success rate sipping plant(s) online is well over 99%.
How do you measure height for trees?
Landscape trees approximate height is measured from the base of the plant to the top of the highest branch.
Are plant(s) purchased online guarantee?
All plants are guarantee for a period of 30 days, We offer a Satisfaction Guarantee Policy.