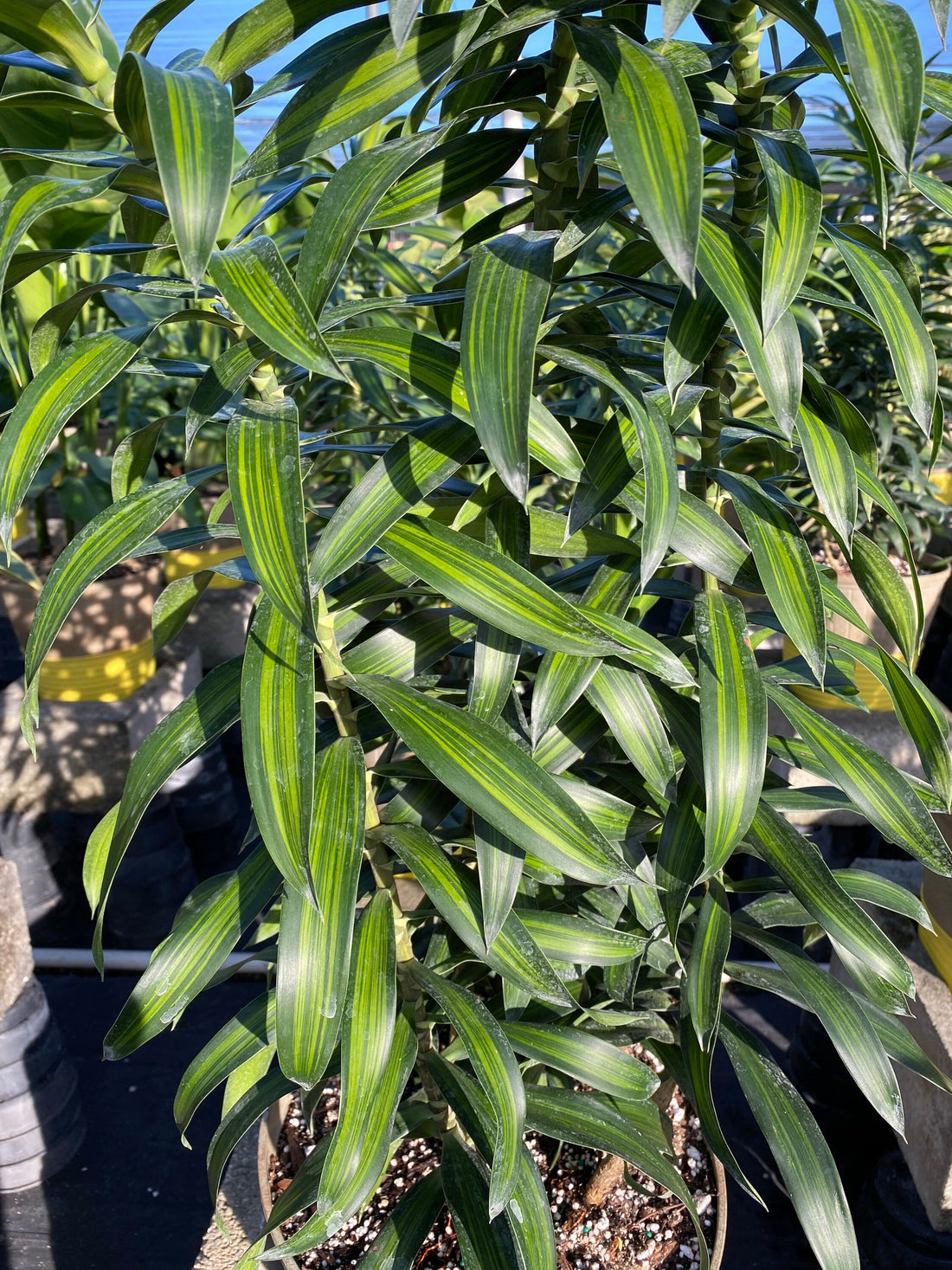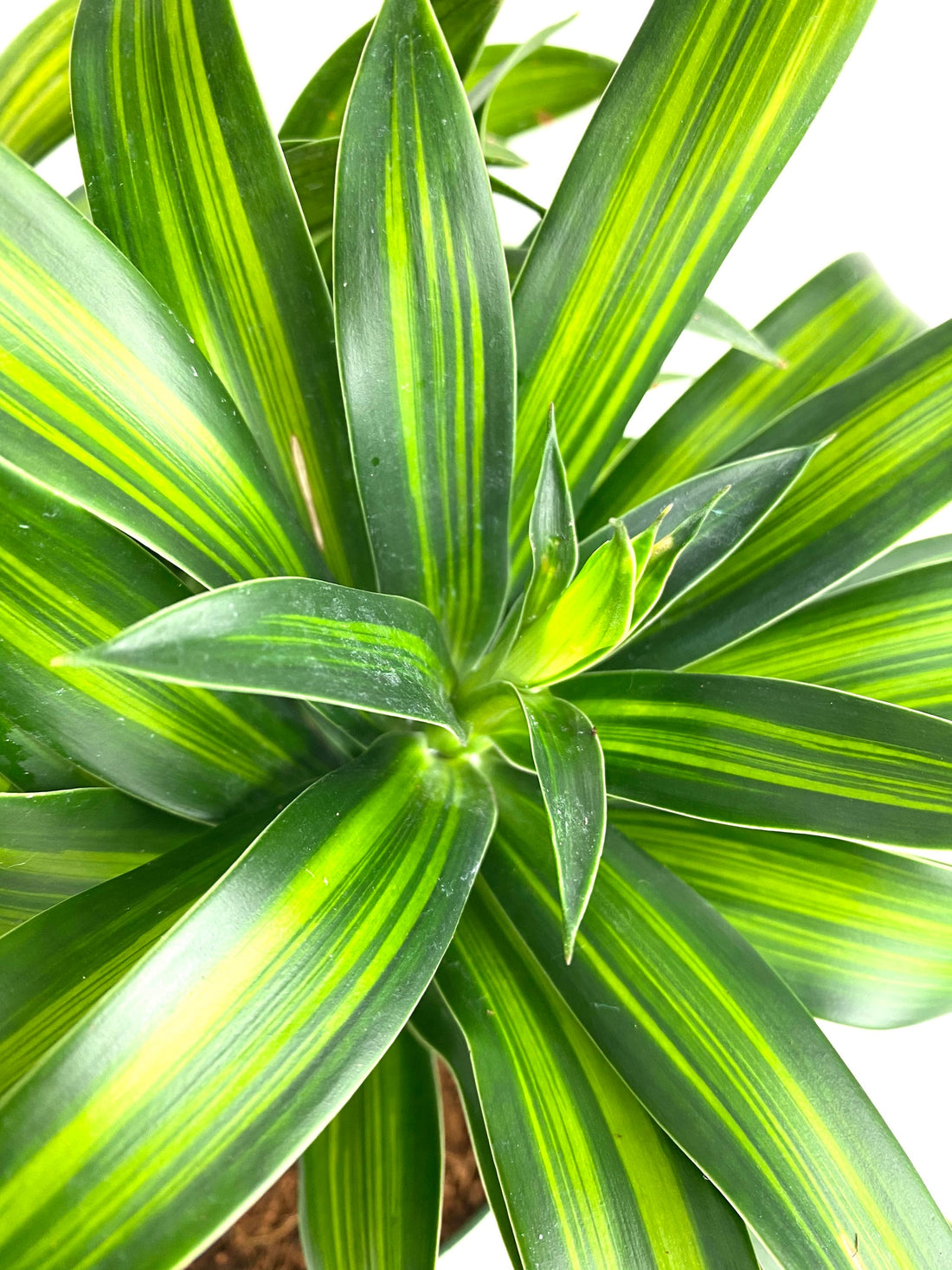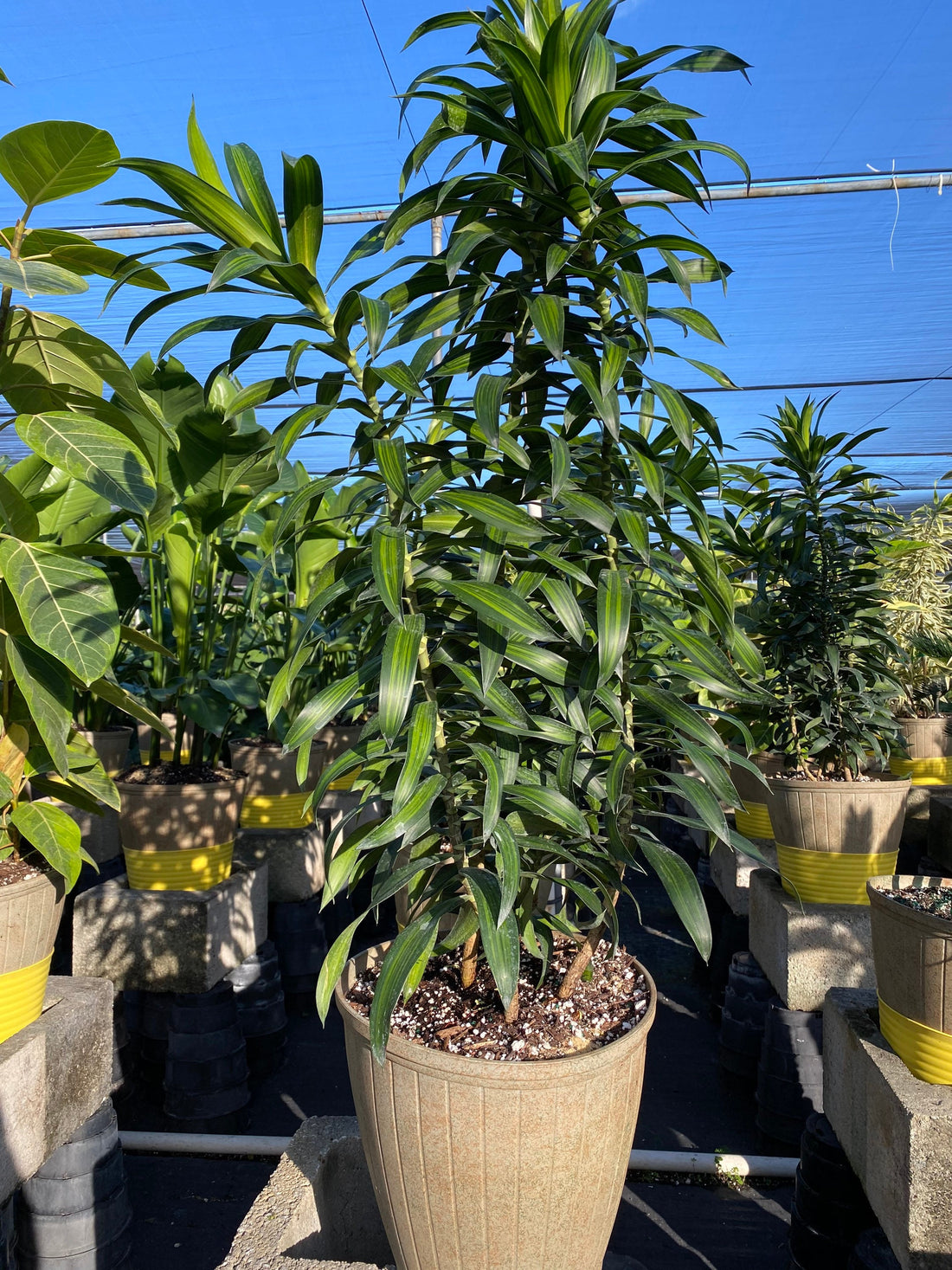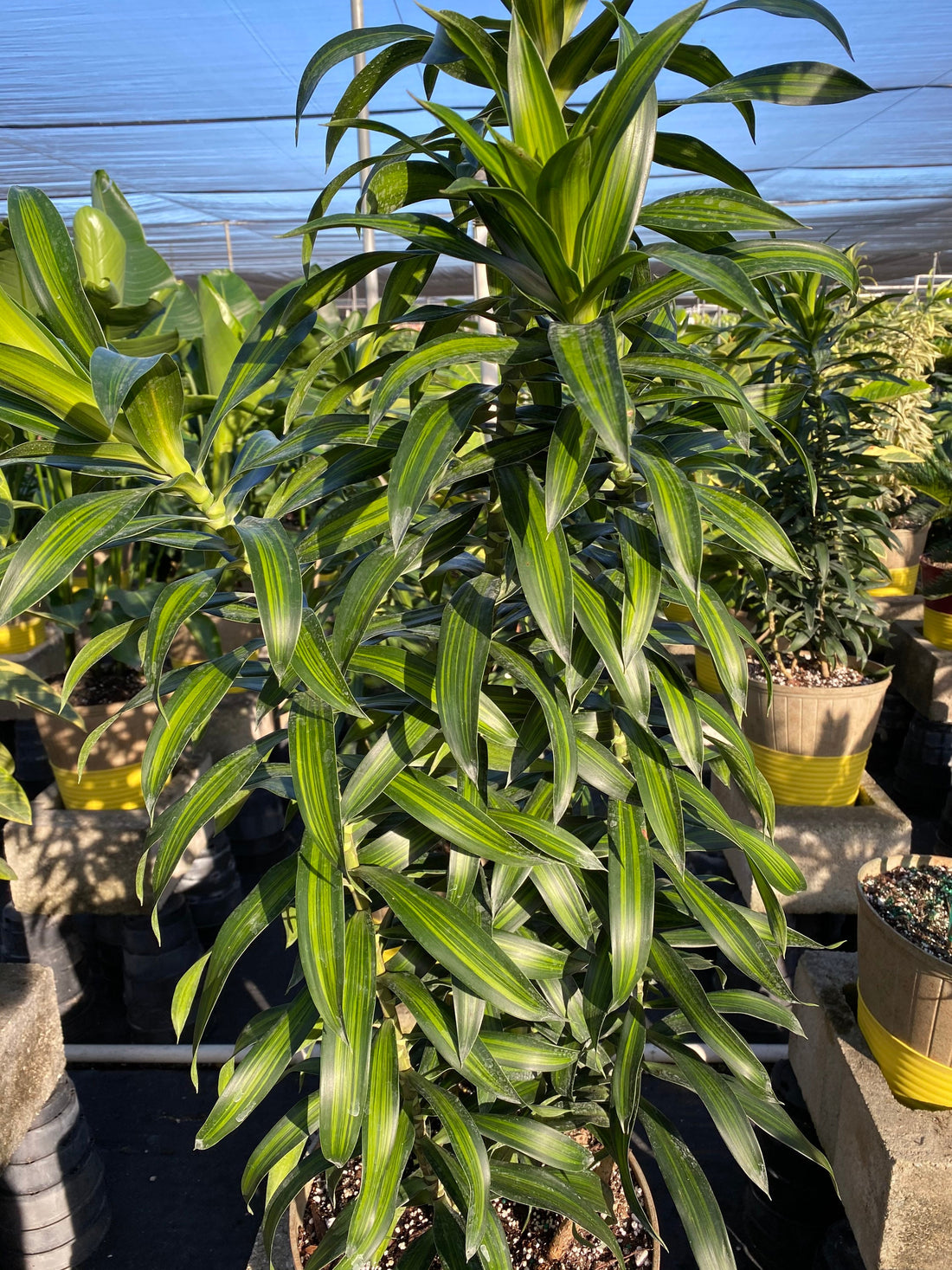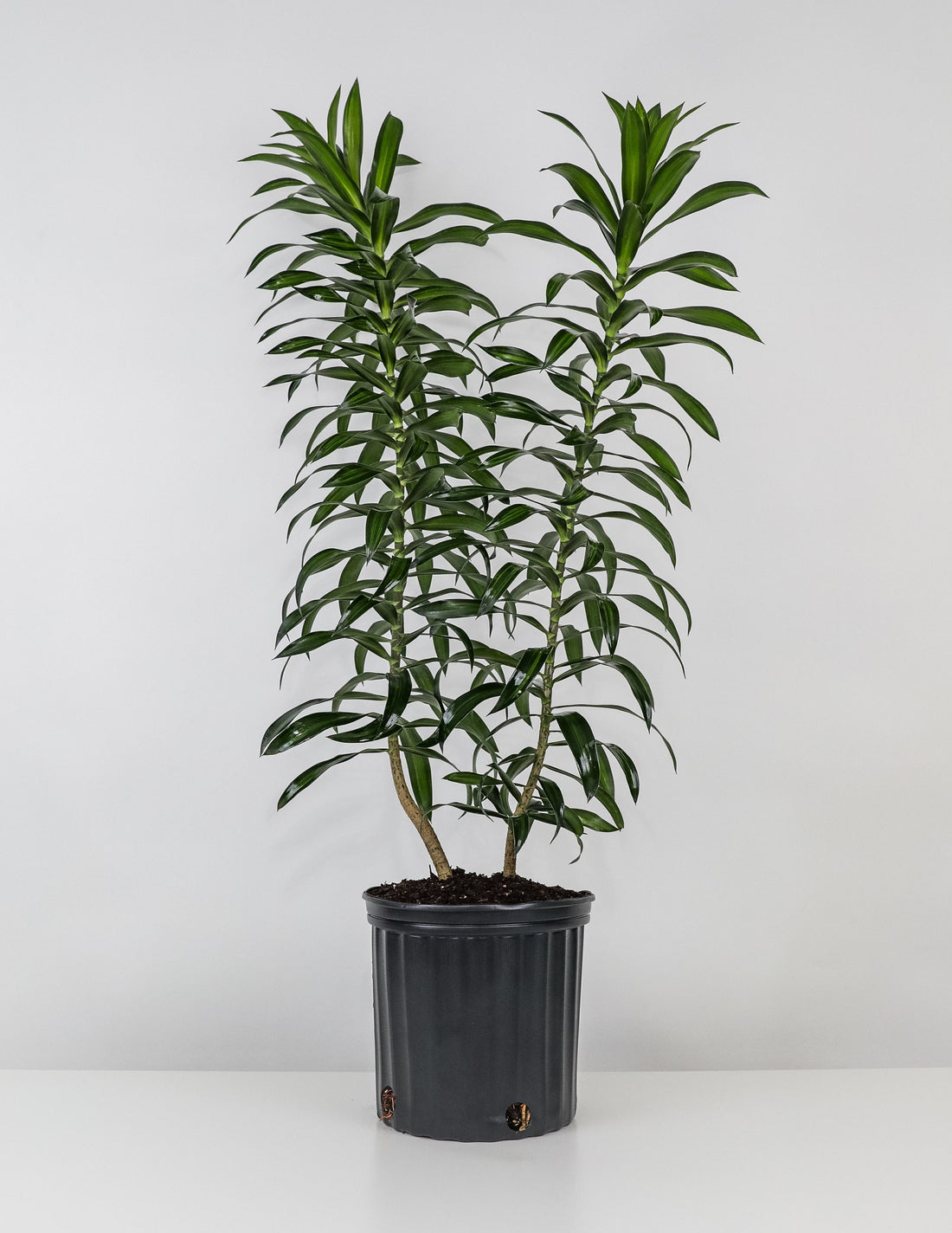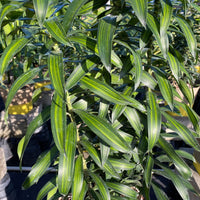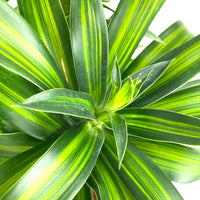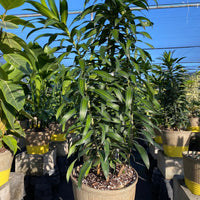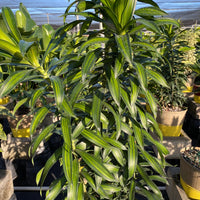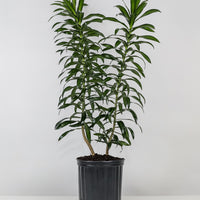 Dracaena Song of Jamaica, Dracaena Reflexa
Dracaena Song of Jamaica, low Maintenance , Drought Tolerant, Easy to Care for.
If you're looking for a plant that's both unique and attractive, then the Dracaena song of Jamaica is perfect for you! Also known as the dragon tree, this plant is sure to make a statement in any room. 
---
Product Details
Free Shipping on Select orders, 100% satisfaction Guarantee. Most orders ship within 1-3 days from the day order is received, once your order is shipped, you'll receive an email with tracking information. 
Plant Hardiness Zones and Details

| | |
| --- | --- |
| Grow Zones: | Indoors |
| Growth Rate: | Moderate |
| Mature Height: | 7-10 ft. |
| Mature Width: | 3-4 ft. |
| Light: | Bright Indirect |
| Foliage | Green with green Stripes |
| Uses | Interior Foliage, Accent Plant, Complements other plants |
| Characteristics | Arching leaves on thin woody trunks. |
| Soil Conditions: | Prefers well drain organic soil |
| Does Not Ship To: | AZ |
Description
Dracaena Song of Jamaica, also known as Dragon Tree Plant or Dracaena Reflexa, evergreen shrub with very unique growing habits, no two plants are alike, they tend to grow upright or sideways in search of sunlight, the leaves are narrow and short 3-4 inches in length, the color blends are green with light green stripes on the outer edges forming a very nice display of variegation.
Dracaena Song of Jamaica can be used as an accent tabletop or floor plant as stems grow in different directions spiraling sideways and up, it can tolerant low light conditions. This type of Dracaena is not only one of the most decorative but also easiest to care for. It tends to thrive in average room conditions and can even tolerate dry indoor air. 

The Dracaena song of Jamaica is native to the island of Jamaica, where it got its name. It's a member of the Dracaena family, which includes other popular houseplants like the snake plant and the corn plant. The Dracaena song of Jamaica is an evergreen with long, thin leaves that are shades of green, yellow, and brown. It can grow up to 10 feet tall, but most plants stay between 6-7 feet tall.

The Dracaena song of Jamaica is a low-maintenance plant that thrives in bright indirect light. It's also pretty tolerant of lower light conditions, making it a good choice for rooms that don't get a lot of natural light. Water when the top inch of soil feels dry, and be sure to allow the plant to drain after watering. The Dracaena song of Jamaica is also pretty drought-tolerant, so you don't have to worry about over-watering it.

If you're looking for a plant that's both stylish and easy to care for, then the Dracaena song of Jamaica is the perfect choice for you!

Additional Care and Maintenance Tips
Light, if is bright enough to read is bright enough for plants, if outdoors place in indirect sun light under Shade.

Water, allow the top 1-2 inch of Soil to dry out, may take 7-12 days, water slowly to allow the soil moist evenly.
Humidity, most Tropical plants can benefit from regular moisture, a humidifier or regular misting is recommended regularly during winter months.

Fertilizing, no need to fertilize right away, We fertilize our plants during the production phase with slow release fertilizer which can last an additional 2-3 months supplying residual nutrients to the plant. Once you do decide to fertilize You may use a fertilizer formulated for interior plants, preferably a slow release fertilizer 180 days duration, fertilize during spring or fall base on label instructions.
Repotting, Dracaena Plants can grow exceptionally well in pots for long periods of time, frequent repotting isn't as necessary compared to other plants. Generally you should repot your plant when it has become excessively rootbound that its roots are overgrown, you may not need to repot for 1-2 years, do maintain a feeding schedule, the longer is kept in its existing pot the more nutrients are needed to maintain the plant happy and healthy. 
Satisfaction Guarantee
Backed by our 30 days Satisfaction Guarantee

We hope that you enjoy your new plants! We grow and care for our plants from cuttings, seeds or liners, we hand select the best quality available before shipping to your home or office. Please do not hesitate to contact us with any questions or concerns. Our friendly customer service team is here to help.
FAQs
Is it safe to ship plants by mail?
We Believe it is, let us prove it, our success rate sipping plant(s) online is well over 99%.
How do you measure height for indoor plants?
For indoor plants we measure approximate height from the bottom of the pot to the top of the plant.
Are plant(s) purchased online guarantee?
All plants are guarantee for a period of 30 days, We offer a Satisfaction Guarantee Policy.

Can I order during winter months?
Yes you can, however most Tropical plants are sensitive to extreme cold conditions, once cold temperatures are expected to fall below freezing it will not be safe to ship life plants, we carefully manage shipping decisions during winter months and determine when is safe to ship, please be advise we may need to hold orders until conditions are appropriate to safely ship the plants.