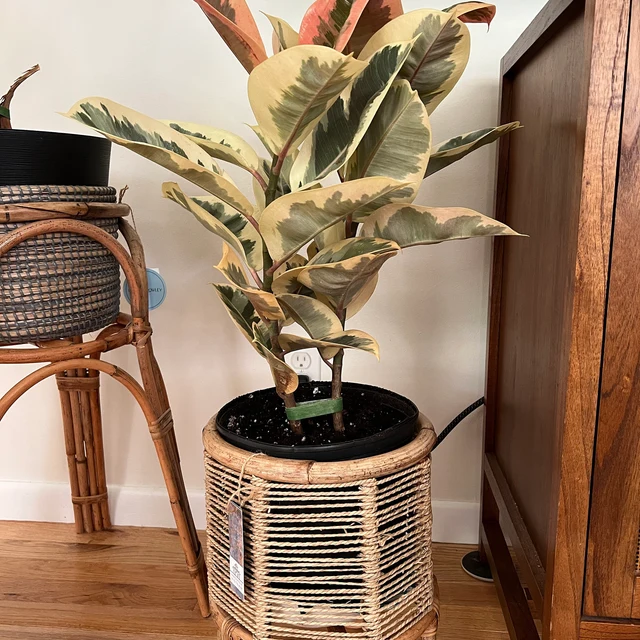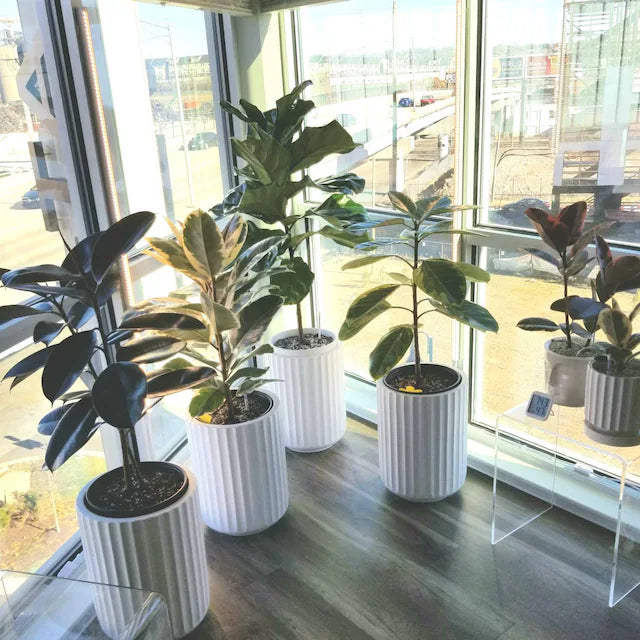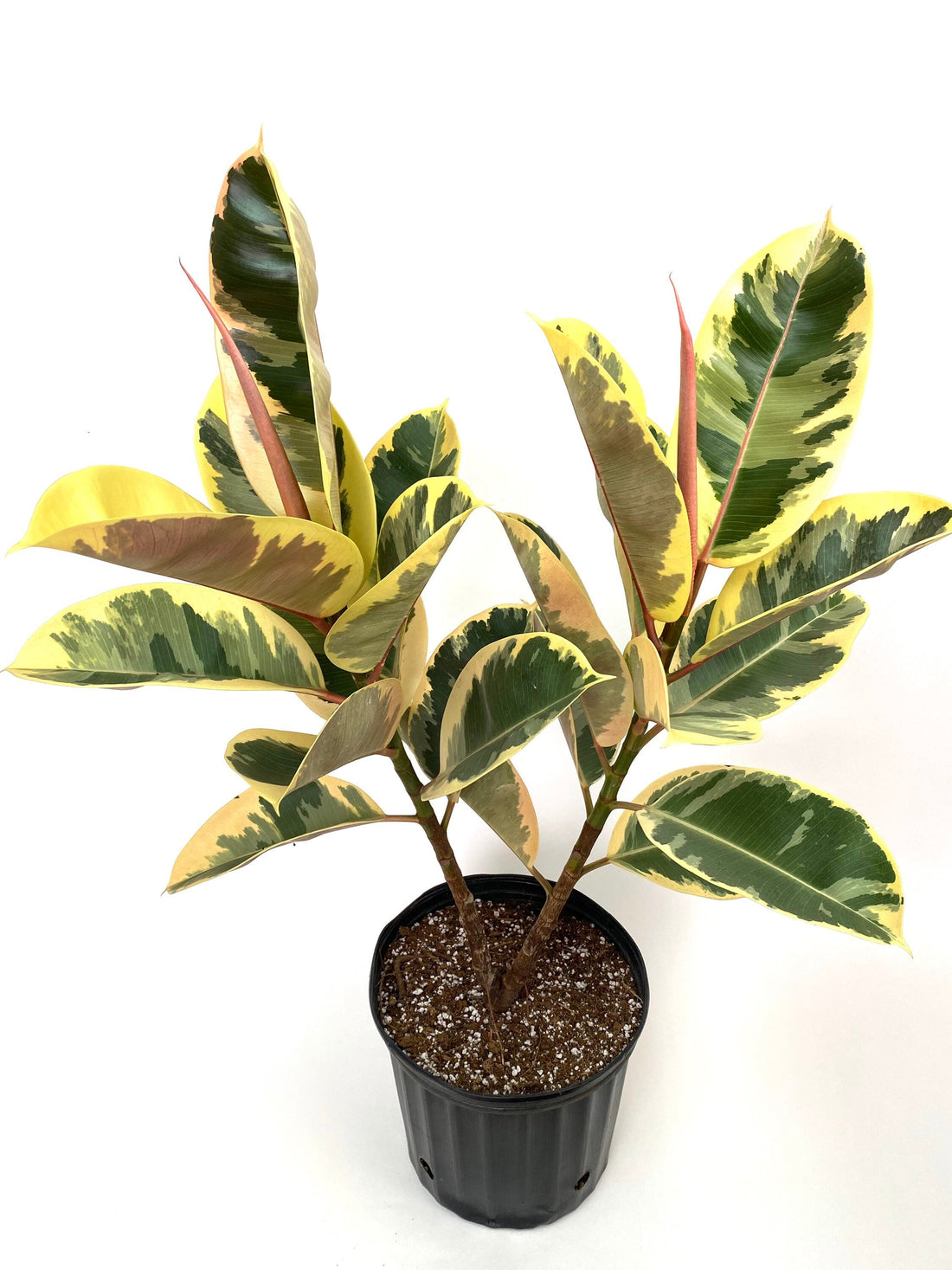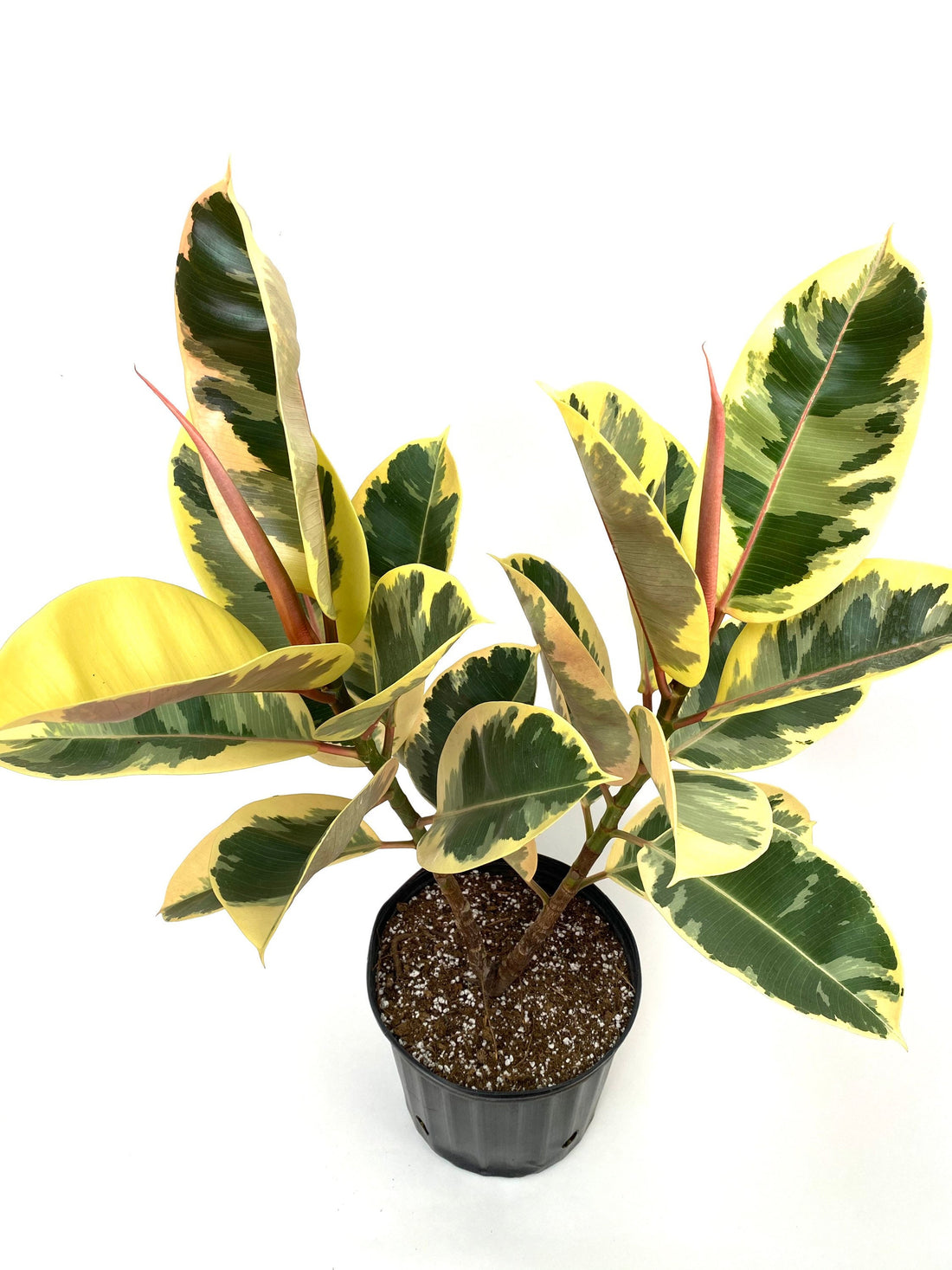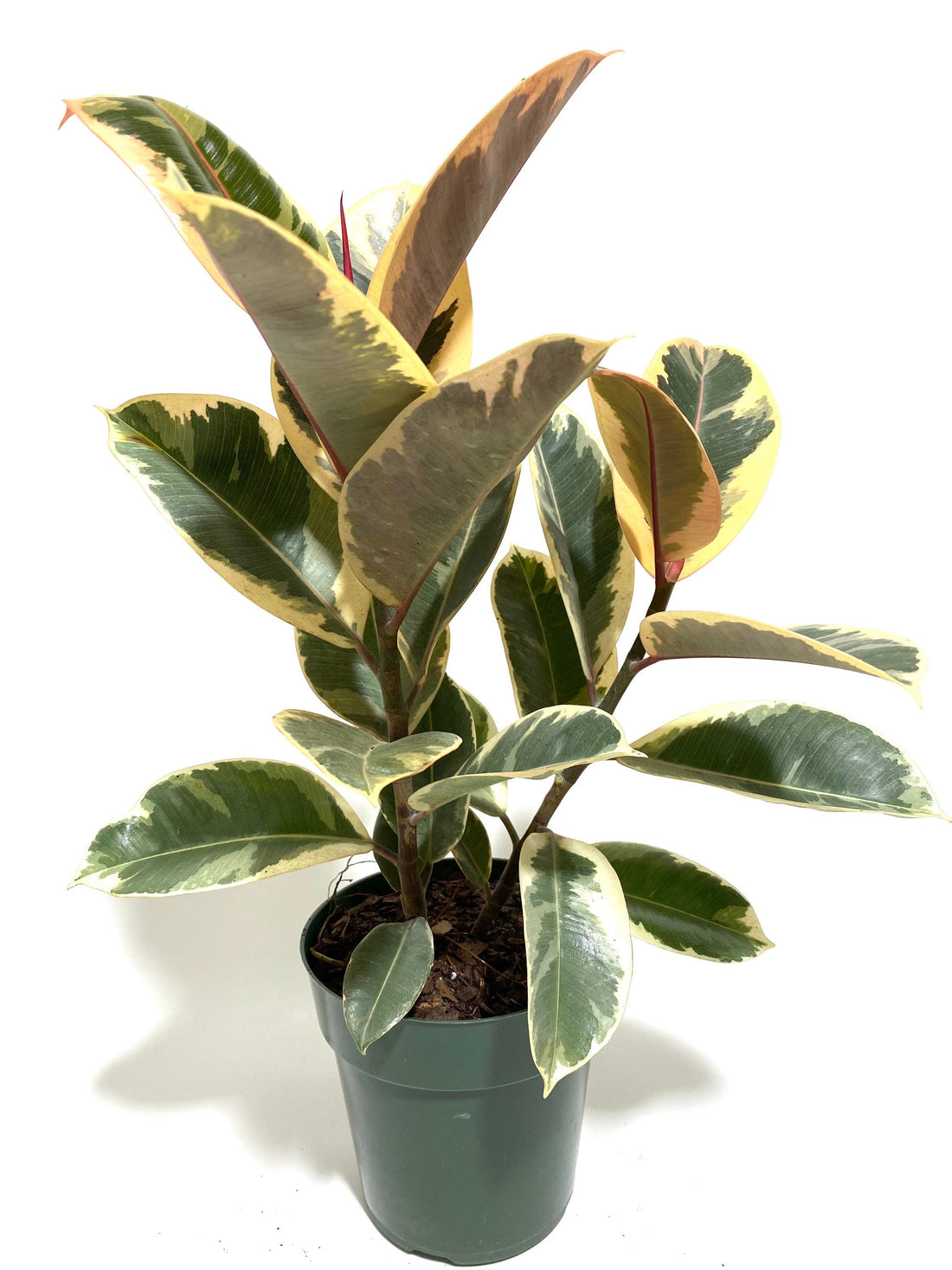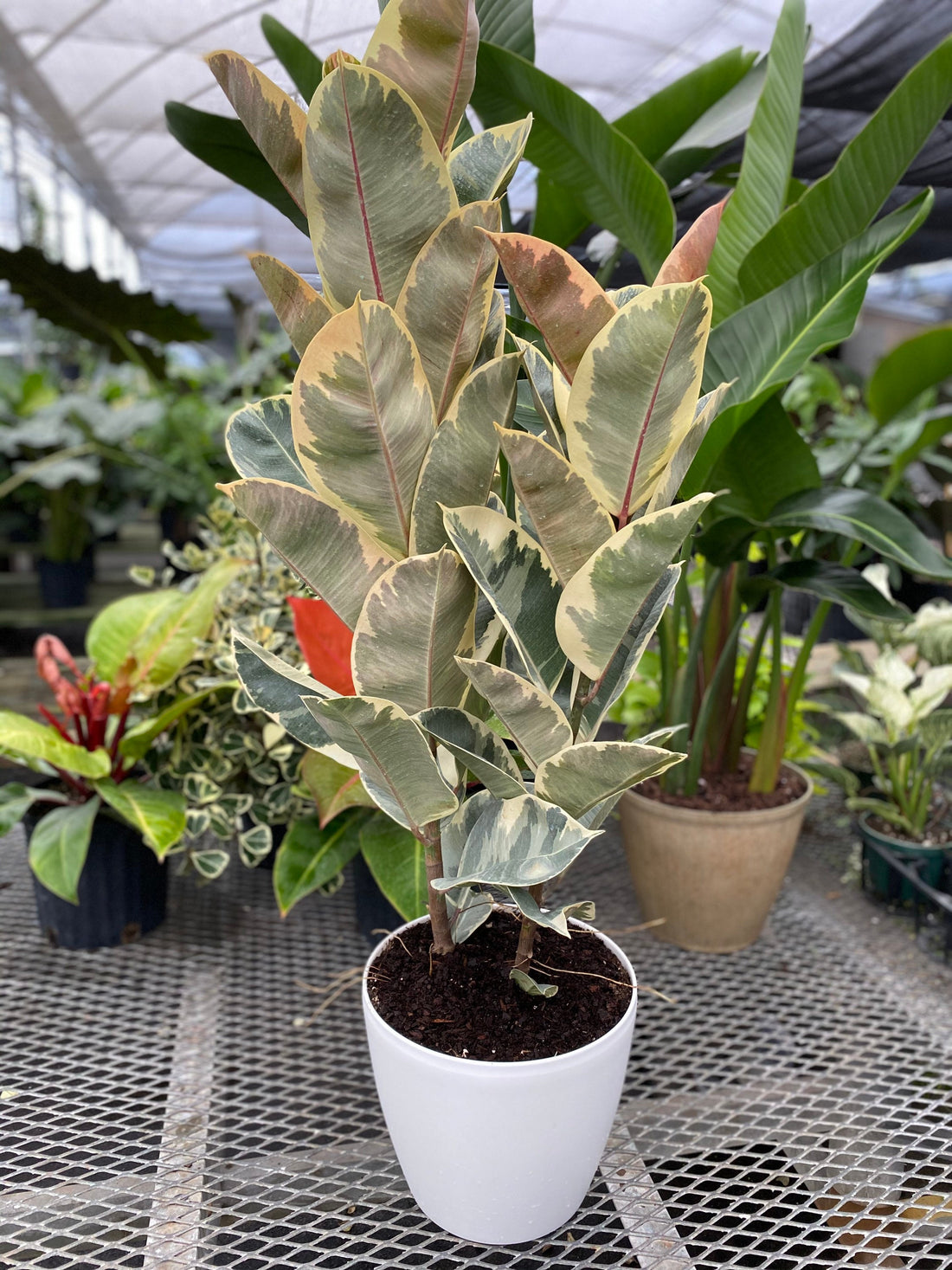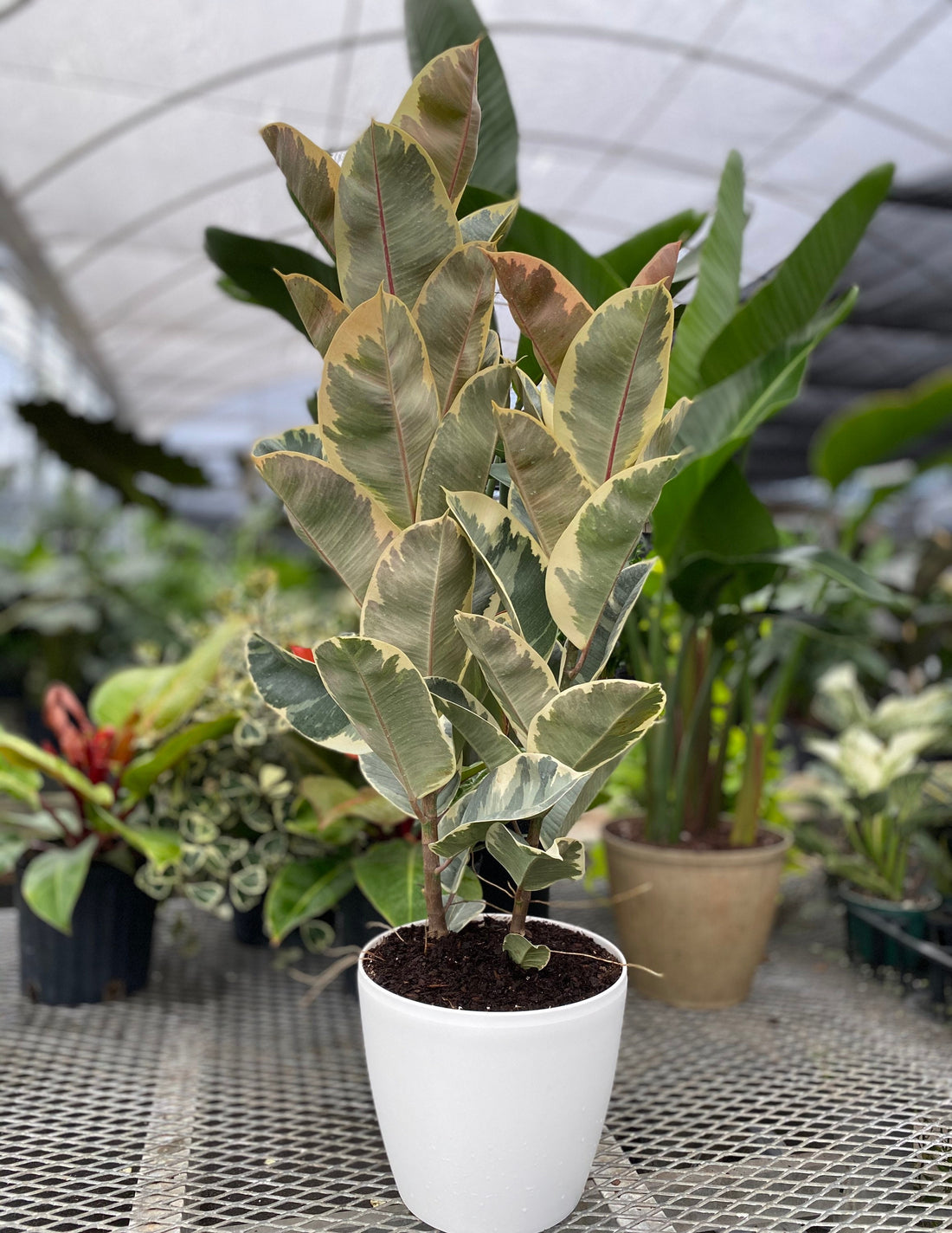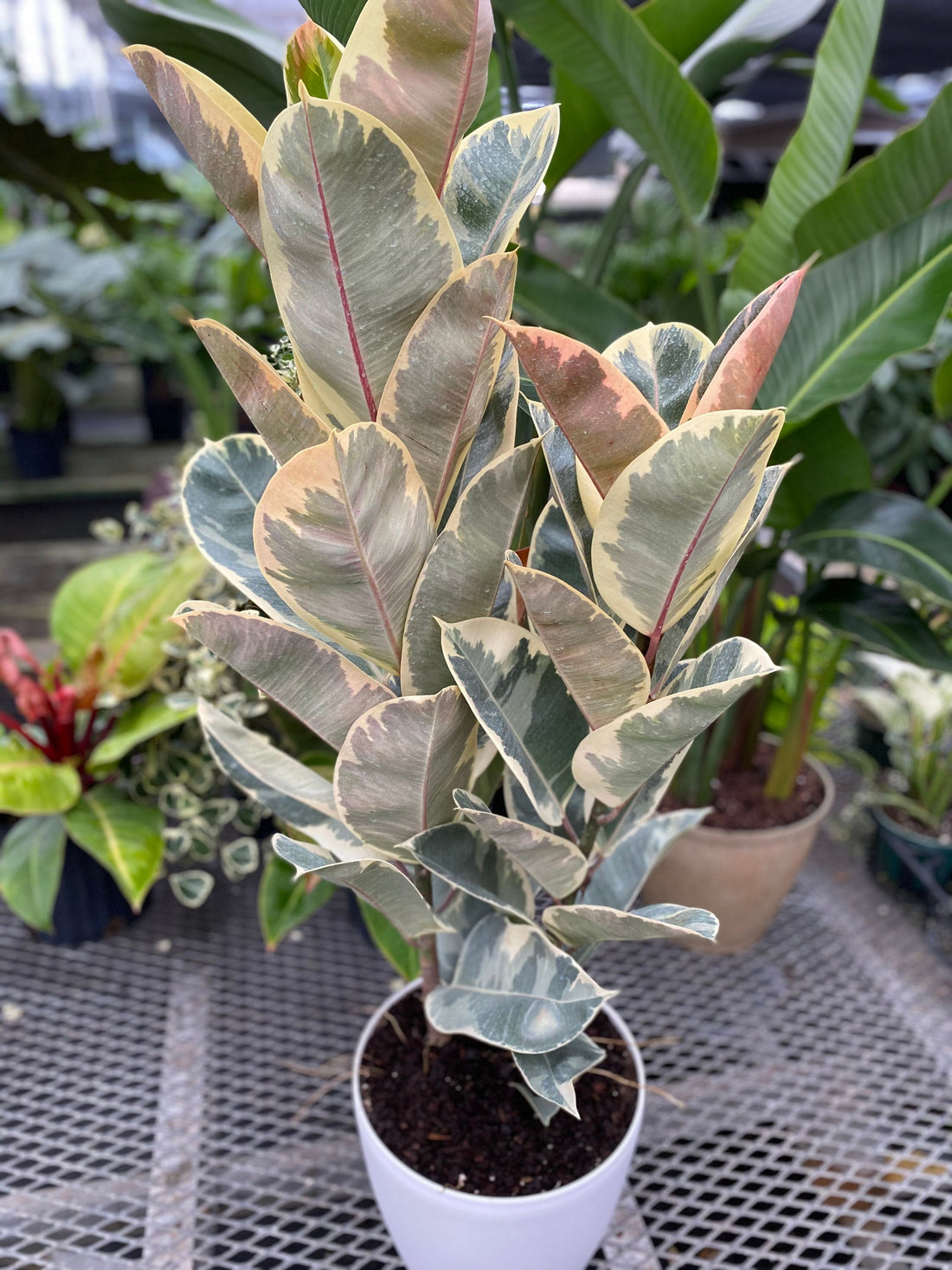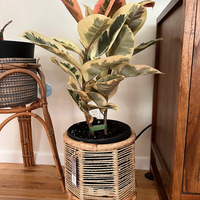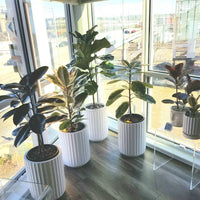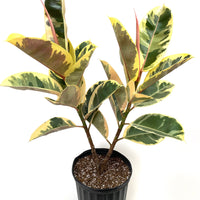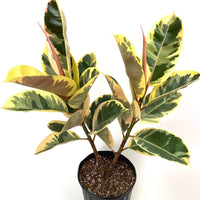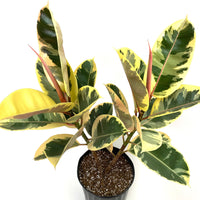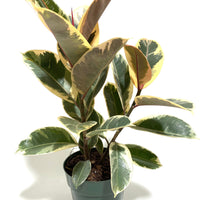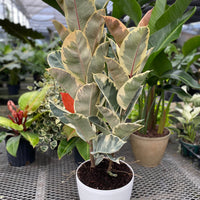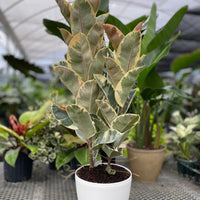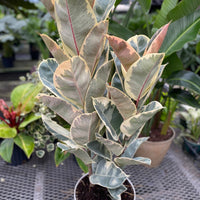 Ficus Tineke Tree Form Double, Variegated Rubber Tree
Create Instant Color and Texture with the Ficus Elastica Tineke Variegated, Stunning tree, Easy-to-Grow House Plant

Ficus Elastica Tineke Variegated, also known as Fiddle Leaf Fig, Rubber Tree or Indian rubber tree, is considered a species of plant in the fig genus and is commonly grown for its ornamental features for indoor, patio or offices and hotel lobbies. This variety differ from other rubber trees in their leaf color variegation, shades of pink, cream and green all in the same leaf, create a beautiful foliage blend, They look like they belong in a Joshua Tree airbnb, Their colors fit the landscape of the desert perfectly. The leaves also have a fun, fuzzy texture that you won't find in many other houseplants, Ficus Tineke is among the most popular plants used as houseplants worldwide, able to adapt and endure different indoor climatic conditions. This colorful plant is a winner indoors, Provide as much indirect bright light as possible, without the correct light exposure, the Rubber Tree 'Tineke' will not be able to live up to its name. keep away from cold and air drafts in winter, keep the soil lightly to moderately moist. This gorgeous tree can add a touch of grace and elegance to your houseplant collection, they are very simple to care for. Below find care tips for keeping your Variegated Rubber Tree healthy and happy.

KEY FEATURES & BENEFITS
• Filter indoor air by absorbing toxins, and removing harmful chemicals.
• Boost mood, productivity, concentration and creativity.
• Reduce stress and Fatigue by simply enjoying and caring for your plants.
• Compact tree perfect for tight spaces
• Add life to a given space, Plants are therapeutic and cheaper than a therapist.
DECORATING WITH FICUS TINEKE VARIEGATED PLANTS
Plant features are becoming very popular in modern interior design for homes, both indoors and outdoors, also true for spaces like hotels lobbies, main entrances, corporate lobbies and offices, the inclusion of plants make space feel more attractive, exciting and comfortable, creating a well balance peaceful ambiance of styles that can both calm the senses and invigorate the mind simultaneously, adorning with live plants and natural elements is a great choice to create a relaxing atmosphere while at home, reducing the day to day stresses from modern life, weather is traffic congestions or stressful daily routines, living sculptures can be the answer to some of this challenges, design your space with tropical plants in mind.

Care & Maintenance
Care Guide

HOW TO CARE FOR FICUS TINEKE - Below see details on how to keep your Ficus Tineke happy, healthy, and beautiful. If you're a fan of fiddle leaf figs and Ficus in general, you've probably heard of Ficus Audrey, Ficus Burgundy, Ficus Ruby, and Ficus Triangularis, If you're looking to expand your indoor tree collection consider the Ficus plants family, anyone of this trees will add a touch of grace and elegance to your home.

WATER MANAGEMENT FOR FICUS TINEKE - Ficus plants are known to be drought tolerant, Ficus plants purchased for indoors use can be watered less frequent, It is recommended to monitor your houseplants and water them when they need it, rather than on a schedule. When watering plants the objective is to maintain the soil moist but never soggy, a moisture meter is a great tool to utilize to reduce the guesswork, We recommend to sample the top soil an inch deep every 3-4 days, if you notice is still moist hold off on watering until it dries further, since most plants water needs may be different this is a good way to determine each individual plant water requirements.
Water Recommendations base on pot size, we suggest to utilize a soil probe initially to determine humidity levels and when to water.
6 inch Pot plants, every 5-7 Days, 10-12 inch Pot plants, every 7-12 days

LIGHTING INSTRUCTIONS - Ficus Trees generally require bright indirect light, this is one of the most important aspects of care, although they can adapt to lower lighting conditions it is not sufficient for the variegation blend to thrive, the alternative colors cream-pink can not photosynthesize and will gradually turn into more copper green. It is highly recommended to place the Ficus Tineke in bright indirect bright light in order for their leaves to remain vibrant, bright light is what encourages the beautiful variegation and blend of colors in the foliage.
HUMIDITY - Many of our houseplants come from the tropics, where humidity is very high, generally the air in our homes is dry, occasional misting houseplants is a very simple and effective way to boost humidity, an easy solution to the risk of overwatering your plants.

PLACEMENT AND TEMPERATURE - Selecting the right location for your plant indoors or outdoors is very important, micro climates can affect the health of the plant, make sure the plant does not receive air draft from near by AC/Heating vents, or warm air if close to a freezer, the foliage will dehydrate faster than it can hydrate from moisture in the air or in the soil, eventually turning brown and dropping, when plants are properly watered and care for and still display signs of wilting or seem sad it may help to relocate the plant to a different area for brighter indirect light. Please note most tropical plants are from the tropics, proper moisture is required for their health and survival, we highly recommend to bring your tropical plants indoors when temperatures are expected below 45s during winter months or above 90 during summer months, extreme weather can severely damage the plant.

REPOTTING - Ficus Tineke can grow exceptionally well in pots for long periods of time, frequent repotting isn't as necessary compared to other plants. Generally you should repot your plant when it has become excessively rootbound that its roots are overgrown, you may not need to repot your Ficus Tree for 2-3 years, do maintain a feeding schedule, the longer is kept in its existing pot the more nutrients are needed to maintain the plant happy and healthy.

FERTILIZING – No need to fertilize right away, We fertilize our plants during the production phase with slow release fertilizer which can last an additional 2-3 months supplying residual nutrients to the plant. Once you do decide to fertilize You may use a fertilizer formulated for interior plants, preferably a slow release fertilizer 180 days duration, fertilize during spring or fall base on label instructions.


Satisfaction Guarantee
Warranty Policy - Backed by our 30 days Satisfaction Guarantee Policy.
We hope that you enjoy your new plants, Every plant we ship is GUARANTEE for a period of 30 DAYS from the day it is received. our main objective is to ensure a great customer experience and deliver great quality plants for your enjoyment. We love our plants and we hope that you will as well, in the event your plant(s) do not arrive in healthy conditions we ask that you share images supporting the reason(s) and we will provide a replacement plant at no cost to you.