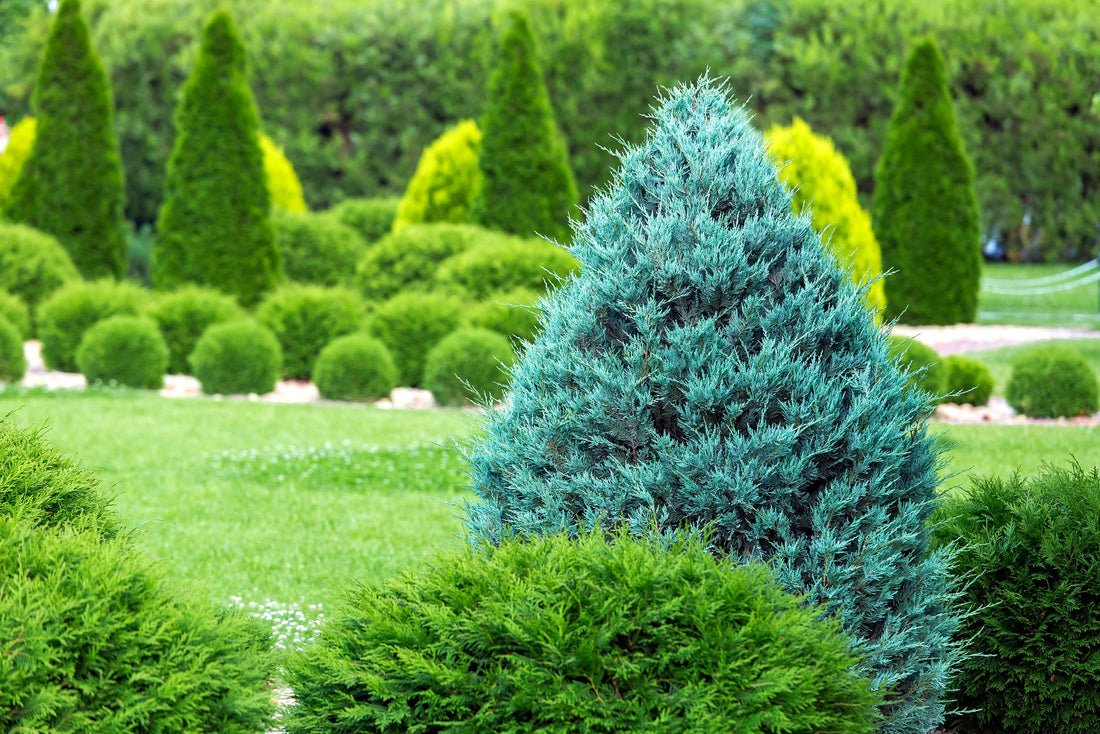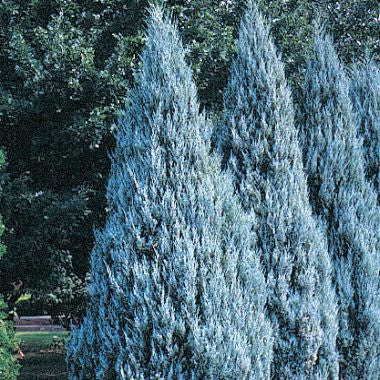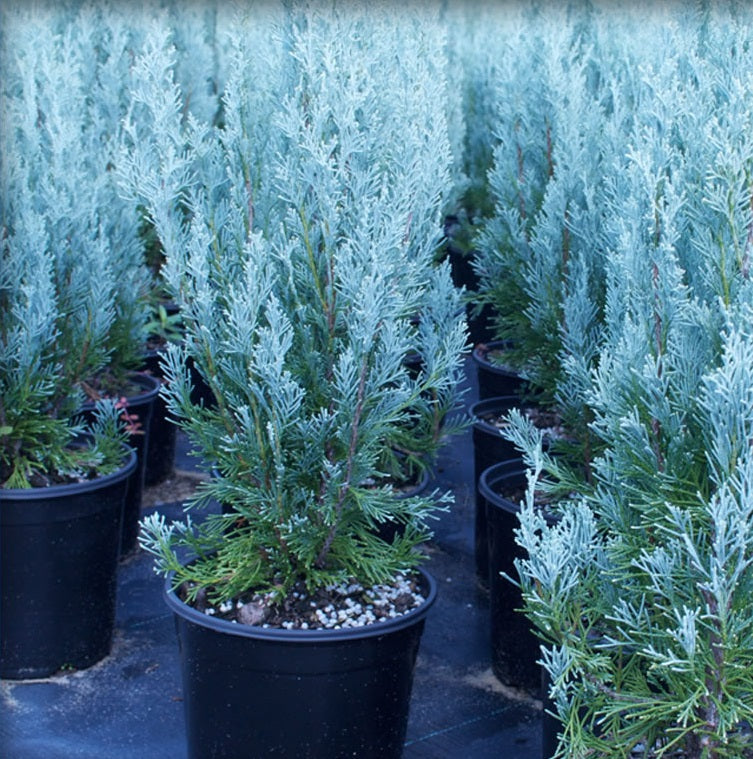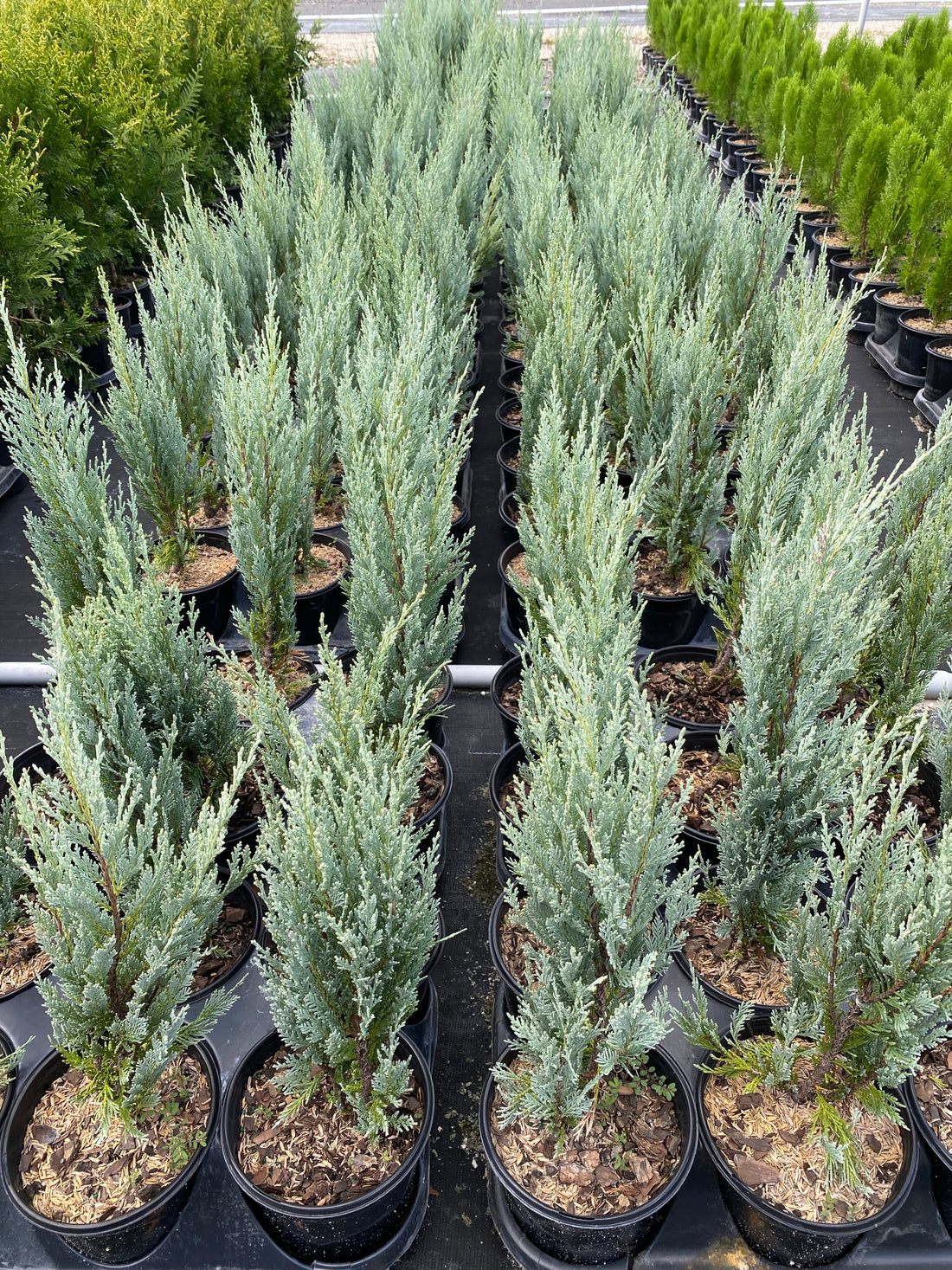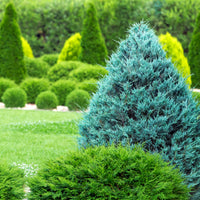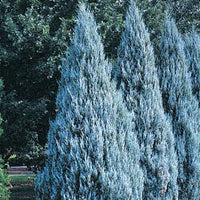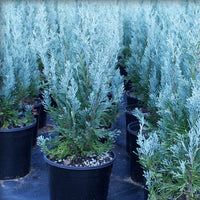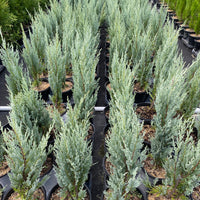 Moonglow, Rocky Mountain Juniper, Juniperus scopulorum
Moonglow Rocky Mountain Juniper, excellent choice for a formal landscape vertical accent or screen.
Moonglow Rocky Mountain Juniper, also known as Juniperus scopulorum 'Moonglow', is a slow-growing evergreen shrub that is native to the Rocky Mountains of North America. It is a popular choice among landscapers and gardeners due to its unique silver-blue foliage, which gives it a distinct appearance.
Moonglow Juniper grows in a narrow, pyramidal shape and can reach up to 15 feet in height and 5 feet in width at maturity. It is drought-tolerant and low-maintenance, making it an ideal choice for xeriscapes or other areas with less frequent watering.
This shrub prefers full sun to part shade and well-draining soil. It is hardy in USDA zones 3-7, which means it can withstand temperatures as low as (-40°C). In late spring, Moonglow Juniper produces small yellowish flowers, which develop into blue berries that persist through winter, providing year-round interest.
Overall, Moonglow Rocky Mountain Juniper is a beautiful and versatile shrub that can be used in a variety of landscape designs. Its unique foliage and hardiness make it a great choice for gardens, borders, or as a focal point in any outdoor space. 
---
Product Details
Free Shipping on Select orders, 100% satisfaction Guarantee. Most orders ship within 1-3 days from the day order is received, once your order is shipped, you'll receive an email with tracking information. 
Plant Hardiness Zones and Details

| | |
| --- | --- |
| Grow Zones: | 3-8 |
| Growth Rate: | 1-2ft/Year |
| Mature Height: | 15ft. |
| Mature Width: | 5ft. |
| Light: | Thrives in Full Sun to Partial Shade |
| Form | Pyramidal |
| Foliage | Blue-Silver |
| Uses | Privacy screen, Focal Specimen |
| Characteristics | Asian/Zen, Contemporary |
| Soil Conditions: | Adaptable to most soils |
| Does Not Ship To: | AZ |
PLANT BENEFITS AND KEY FEATURES
DECORATING WITH THE MOONGLOW JUNIPER
Accent plants are essential in creating a main focal point within the garden. None have the impact and ability to create a majestic effect like the Moonglow Juniper, shooting up upright like a silver needle from among your other plants provides a great contrast. Due to their narrower form they can be planted much closer together than larger spreading trees.

The Moonglow Juniper is a wonderful eye catching tree in its own right, silver-blue foliage creates a beautiful contrast with green plants in the background, Easy to maintain as no trimming is necessary, drought and cold resistant, will keep its columnar shape naturally.

Plant them either on the side of a gate, front door, along pathway to create a border, they will look fantastic creating a formal garden with a stately feel, sure to bring the attention of not just the butterfly's, but also site viewers that will surely praise your garden.

Moonglow Juniper narrow form also lends itself to planting between already established existing trees that may not have spread as widely as you had hoped, thus adding a new layer of interest and color to a pre-existing natural fence. Use it too for a screen in a confined space or as specimens along your drive for a majestic effect or framing your front entrance. Very drought-tolerant but also the ideal choice for cold regions too, Skyrocket should shoot to the top of your shopping list. Privacy is also something that is important when it comes to our property and values.

Care & Maintenance
Care Guide
PLANTING:
Select an area with full sun.
Dig a hole twice as wide as the root ball and deep enough for the top of the root ball to be parallel with the ground level.
Plant the tree upright and backfill with excavated soil, tamping down to eliminate air pockets.
Soak with a hose and take care not to leave any gaps around the root ball.
SOIL: 
Suitable for a wide range of soils.

Well-drained soil is preferred. 

Mix in sand or grit for heavy soil.

Not picky about soil PH.
MULCH:
Apply 2-3 inch layer of organic hardwood mulch around base of juniper.
Avoid mulching too close to trunk.
Helps retain moisture and suppress weed growth.
LIGHT:
Thrives in full sun, tolerates partial shade. 
WATER:
Drought-tolerant once established.
Water regularly during first growing season, then as needed.
If Soil feels dry to the touch, it's time to water. 
FERTILIZE:
Fertilize during the spring before new growth begins. 
Apply slow-release fertilizer in spring if desired.
PRUNING:
Not necessary, it will maintain its columnar growth habit naturally.
Warranty Policy
Backed by our 30 days Satisfaction Guarantee

We hope that you enjoy your new plants! We grow and care for our plants from cuttings, seeds or liners, we hand select the best quality available before shipping to your home or office. Please do not hesitate to contact us with any questions or concerns. Our friendly customer service team is here to help.
FAQs
Is it safe to ship plants by mail?
We Believe it is, let us prove it, our success rate sipping plant(s) online is well over 99%.
How do you measure height for junipers?
Approximate height is measured from the base of the plant to the top of the highest branch.
Are plant(s) purchased online guarantee?
All plants are guarantee for a period of 30 days, We offer a Satisfaction Guarantee Policy.

Can I order during winter months?
Yes you can, however most Tropical plants are sensitive to extreme cold conditions, once cold temperatures are expected to fall below freezing it will not be safe to ship life plants, we carefully manage shipping decisions during winter months and determine when is safe to ship, please be advise we may need to hold orders until conditions are appropriate to safely ship the plants.