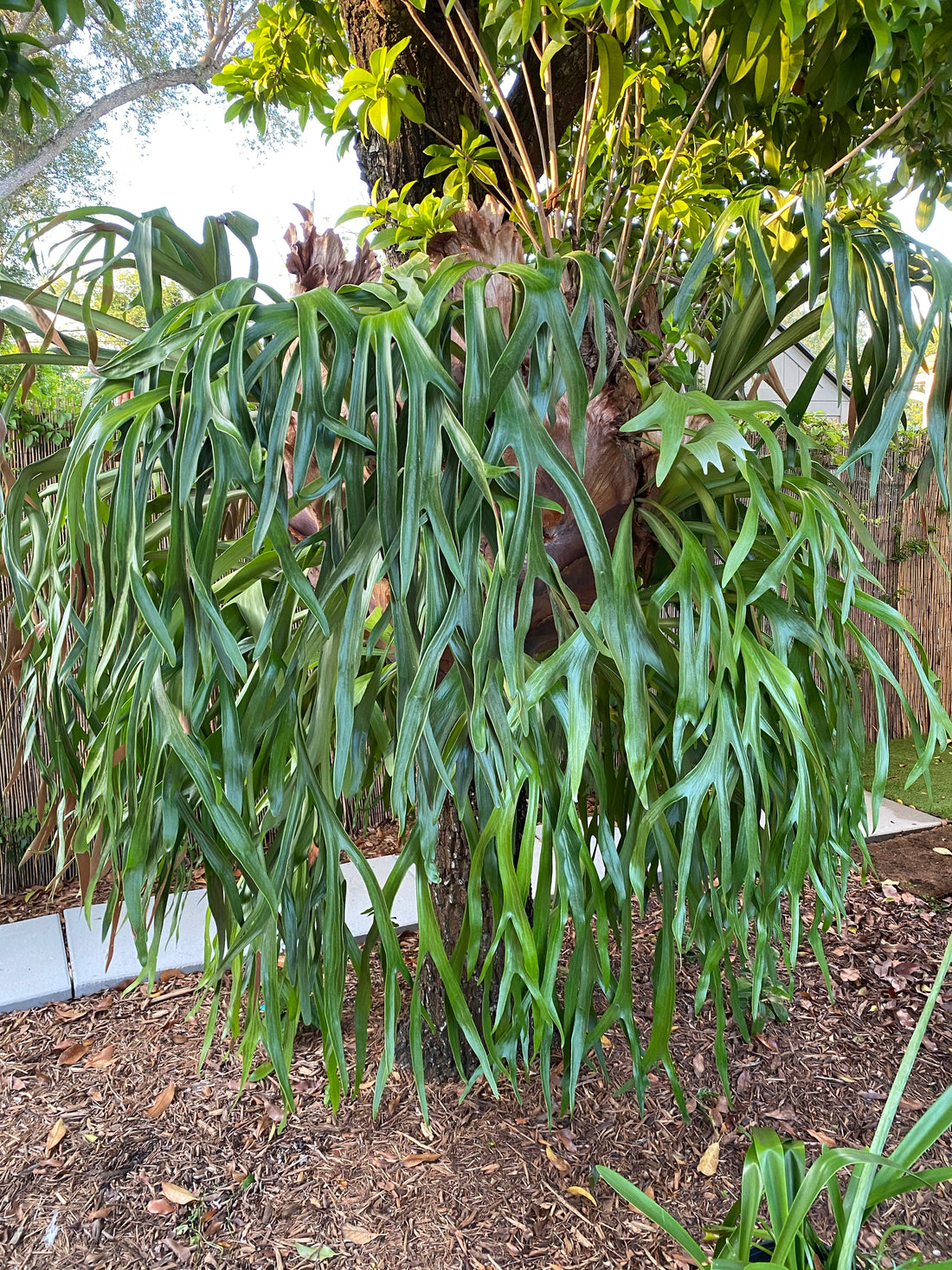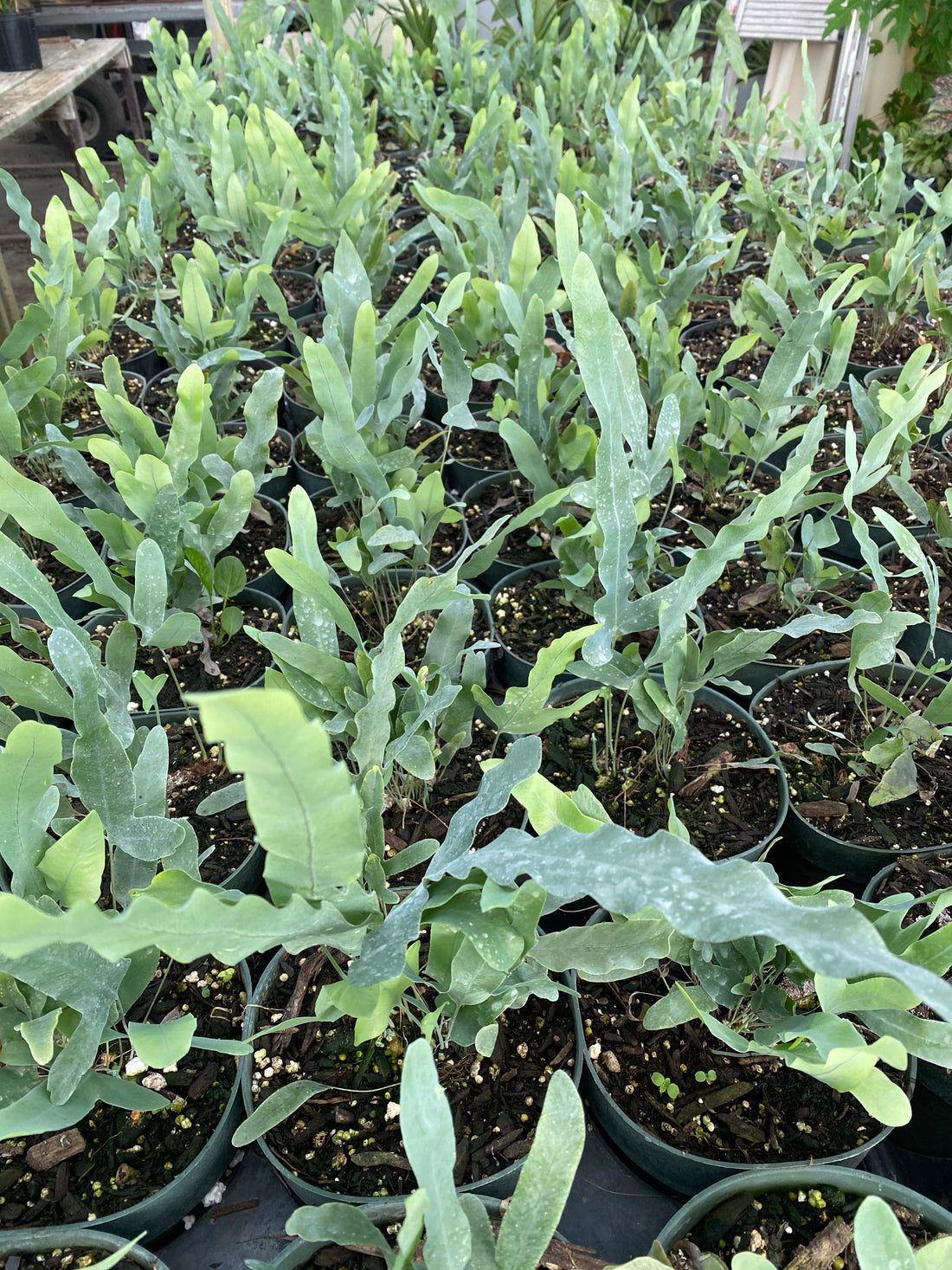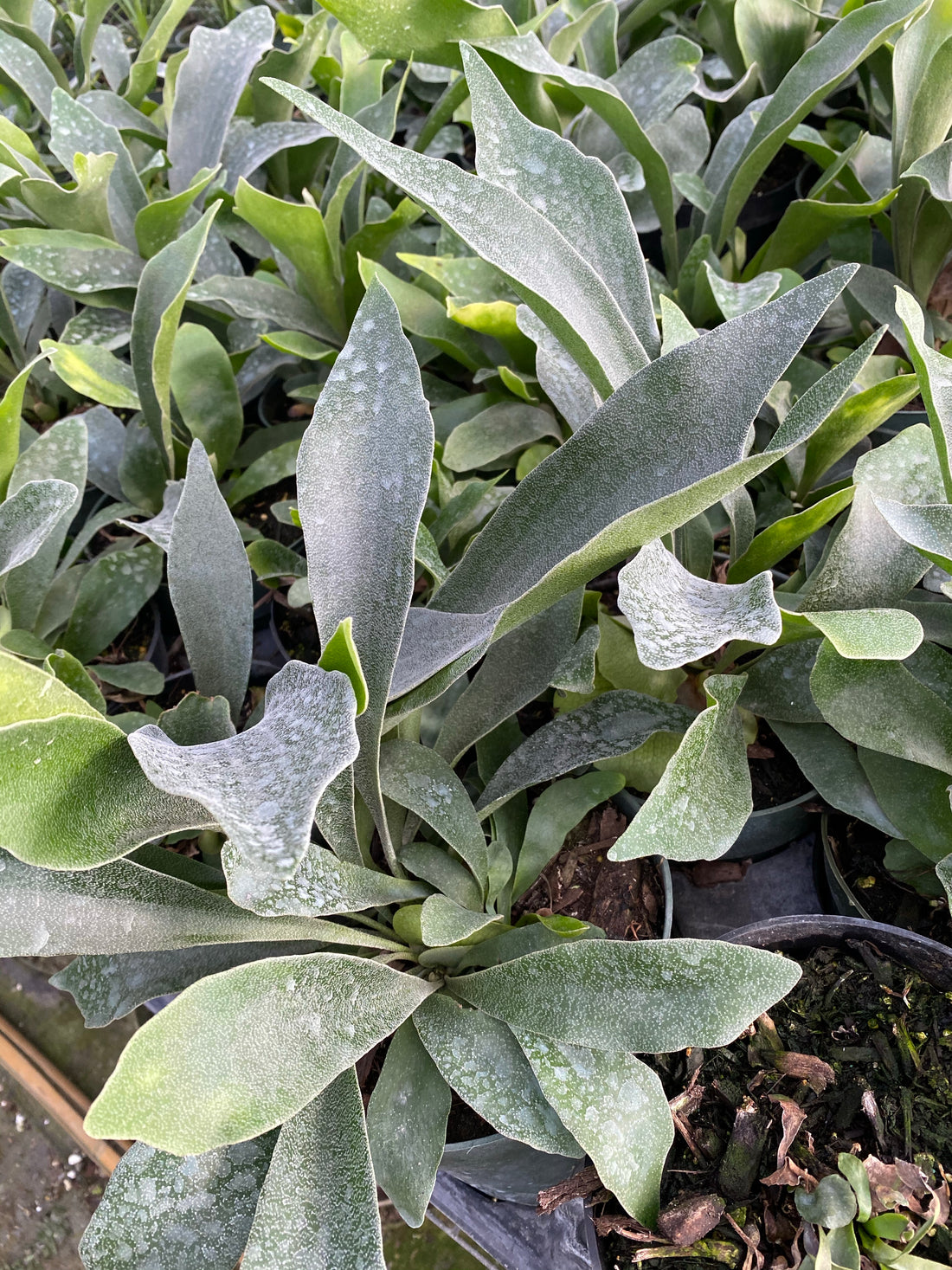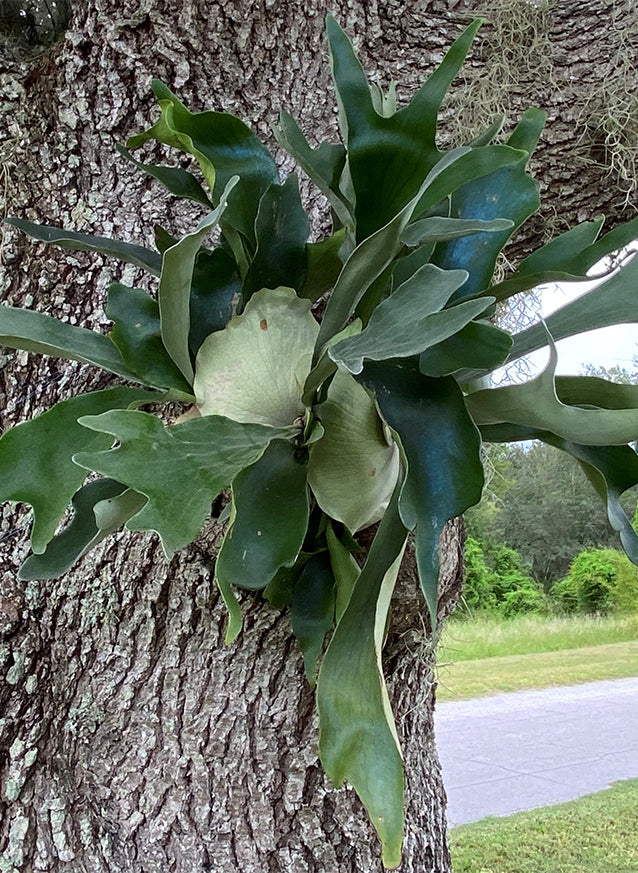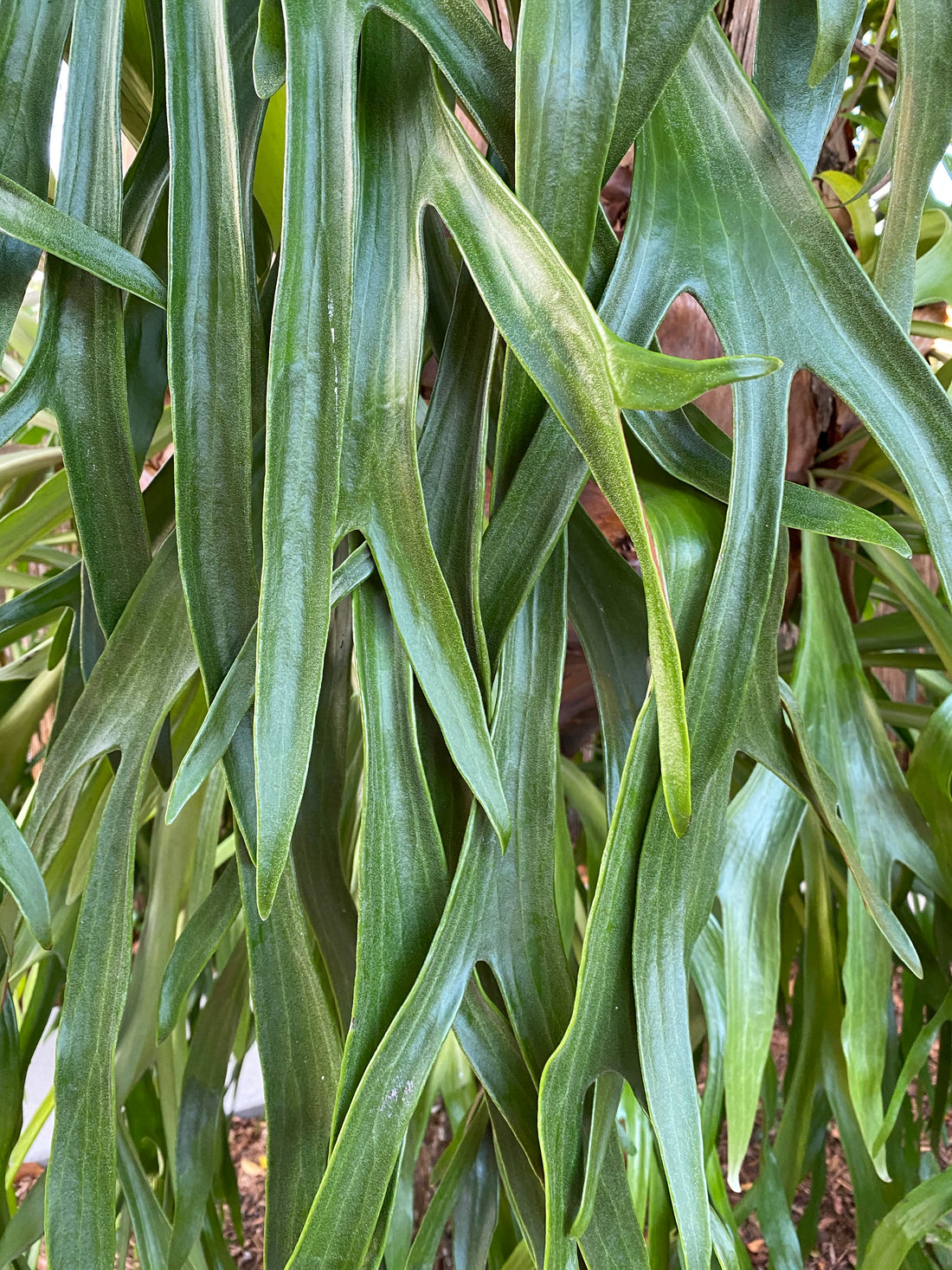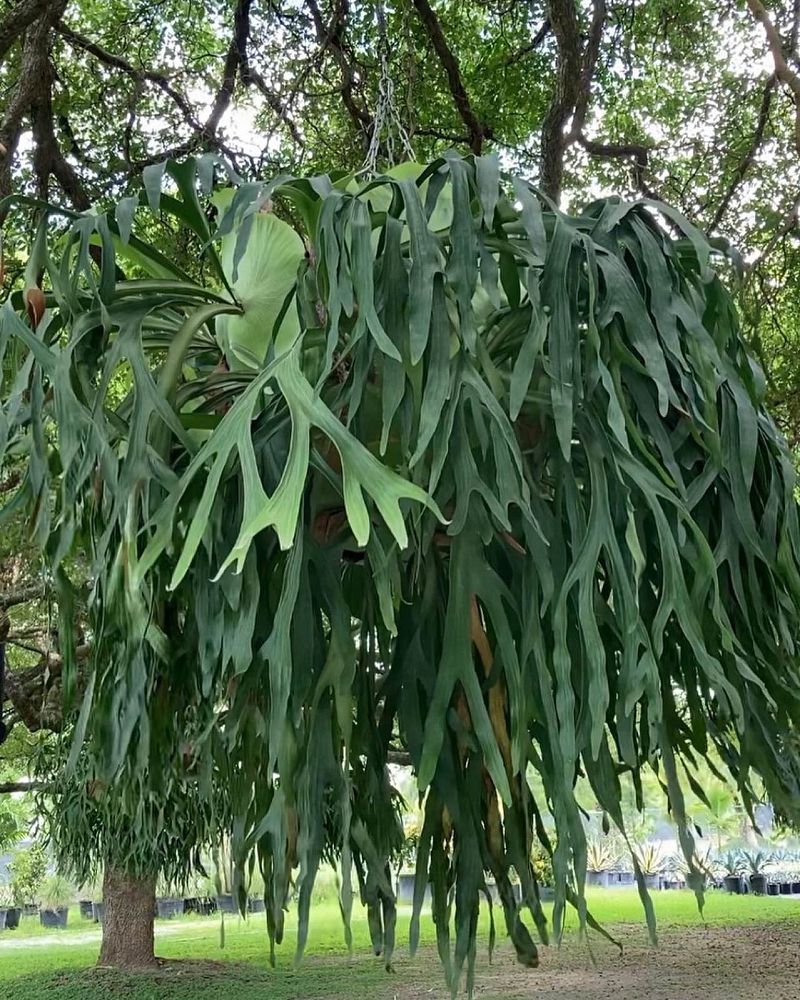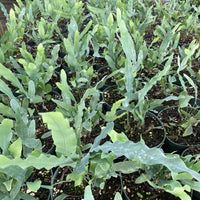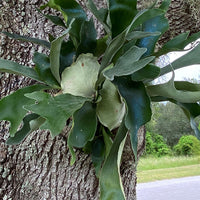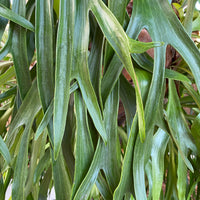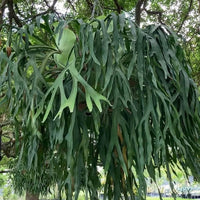 Staghorn Fern, Platycerium bifurcatum
Staghorn Fern, Hang or your porch or under a tree.

Looking for a unique and stylish hanging plant? Look no further than the staghorn fern! This beautiful plant resembles horns of a deer. Staghorn Ferns are also known for being low-maintenance, so you won't have to worry about watering or fertilizing them very often. Plus, they're long-lasting - you'll be able to enjoy your Fern for years to come.
---
Product Details
Free Shipping on Select orders, 100% satisfaction Guarantee. Most orders ship within 1-3 days from the day order is received, once your order is shipped, you'll receive an email with tracking information. This plant's height is measured beginning at the pot's base.
Plant Hardiness Zones and Specifications
| | |
| --- | --- |
| Grow Zones: | 4-9 Patios / 9-10 Outdoors |
| Growth Rate: | Slow |
| Mature Height: | 4-6 ft. |
| Mature Width: | 3-4 ft. |
| Light: | Partial Shade |
| Foliage: | Green |
| Uses: | Hanging Plant |
| Characteristics: | Stag Horn Fern |
| Soil Conditions: | Prefers well drain organic soil |
| Does Not Ship To: | AZ |


Description
Staghorn Ferns mature plants develop tufted roots, growing from a short rhizome, capable of attaching to other surfaces, mostly on the branches or trunks of trees. they  bear basal fronds that are sterile and laminate against the tree, to protect the fern's roots from damage and desiccation. Some species, the top margin of these fronds will grow into an open crown of lobes, catching rainwater, falling forest litter and bird droppings, these plants are capable of building their own compost system of nutrition over many years.

Care and Maintenance
Care Guide
Additional Care and Maintenance Tips
My new plant arrived, Thank you for trusting Eureka Farms with your recent purchase, We grow and care for our plants and hope that you will too, our main objective is to ensure a great customer experience and deliver great quality plants for your enjoyment. Plants shipped online are in complete darkness for several days, is normal for plants to stress during this process, before planting allow your new arrival to gradually climatize for a few days to its new environment, humidity levels, lighting and temperatures.
LIGHT - Partial Shade under tress, porches or in patios.

WATER - Twice a week for potted plants, for outdoor settings once a week during the first two months, once stablished rain water will suffix.

FERTILIZING – No need to fertilize right away, We fertilize our plants during the production phase with slow release fertilizer which can last an additional 2-3 months supplying residual nutrients to the plant. Once you do decide to fertilize You may use a fertilizer formulated for interior plants, preferably a slow release fertilizer 180 days duration, fertilize during spring or fall base on label instructions.

INSECTS OR DESEASES - In the event that scale, mealy bugs, or mites are found to affect the plant, they can be controlled by applying horticultural neem oil that can be sprayed directly onto the insects, A second and third treatment, when using oils, will be necessary. Space out the sprays at 2 weeks intervals to break up the mealybug life cycle.

Plant benefits and key features
• We believe in the power of plants to lift the spirit, calm the mind and clean the air. • Plants can reduce stress and anxiety by spending time close to nature caring for them. 
Satisfaction Guarantee
Backed by our 30 days Satisfaction Guarantee

We hope that you enjoy your new plants! We grow and care for our plants from cuttings, seeds or liners, we hand select the best quality available before shipping to your home or office. Please do not hesitate to contact us with any questions or concerns. Our friendly customer service team is here to help.
FAQs
Is it safe to ship plants by mail?
We Believe it is, let us prove it, our success rate sipping plant(s) online is well over 99%.
How do you measure height for indoor plants?
For indoor plants we measure approximate height from the bottom of the pot to the top of the plant.
Are plant(s) purchased online guarantee?
All plants are guarantee for a period of 30 days, We offer a Satisfaction Guarantee Policy.