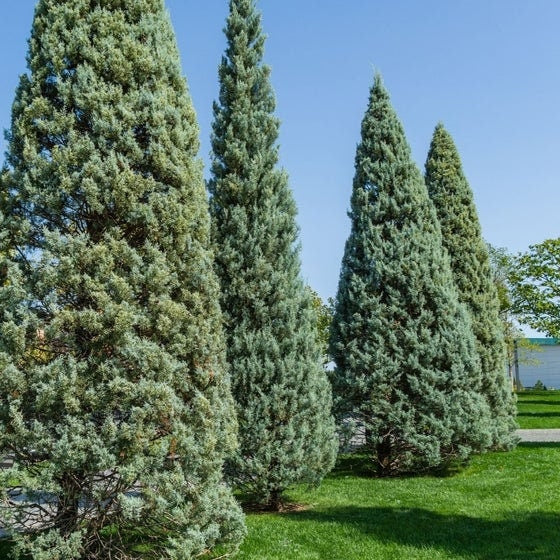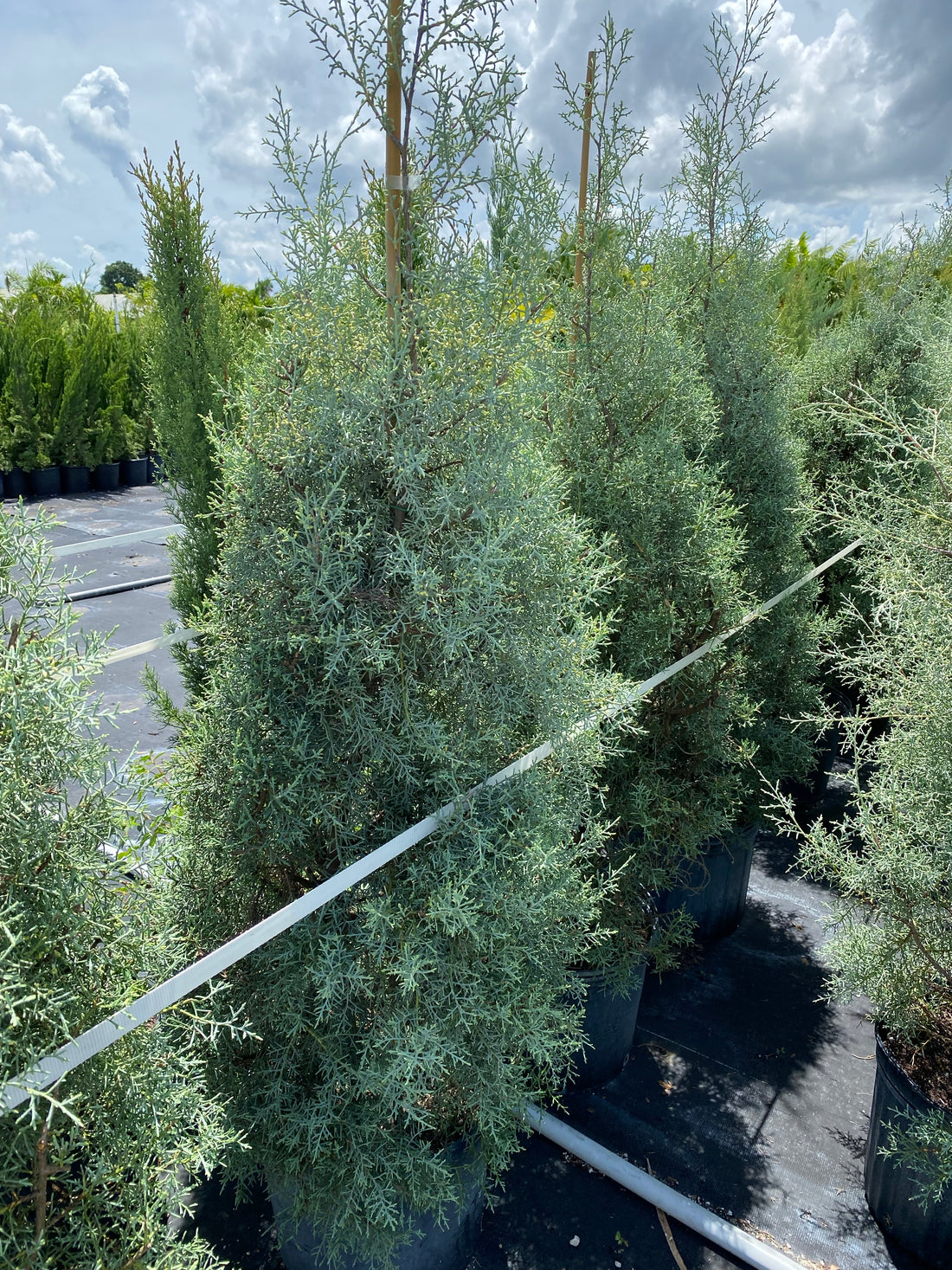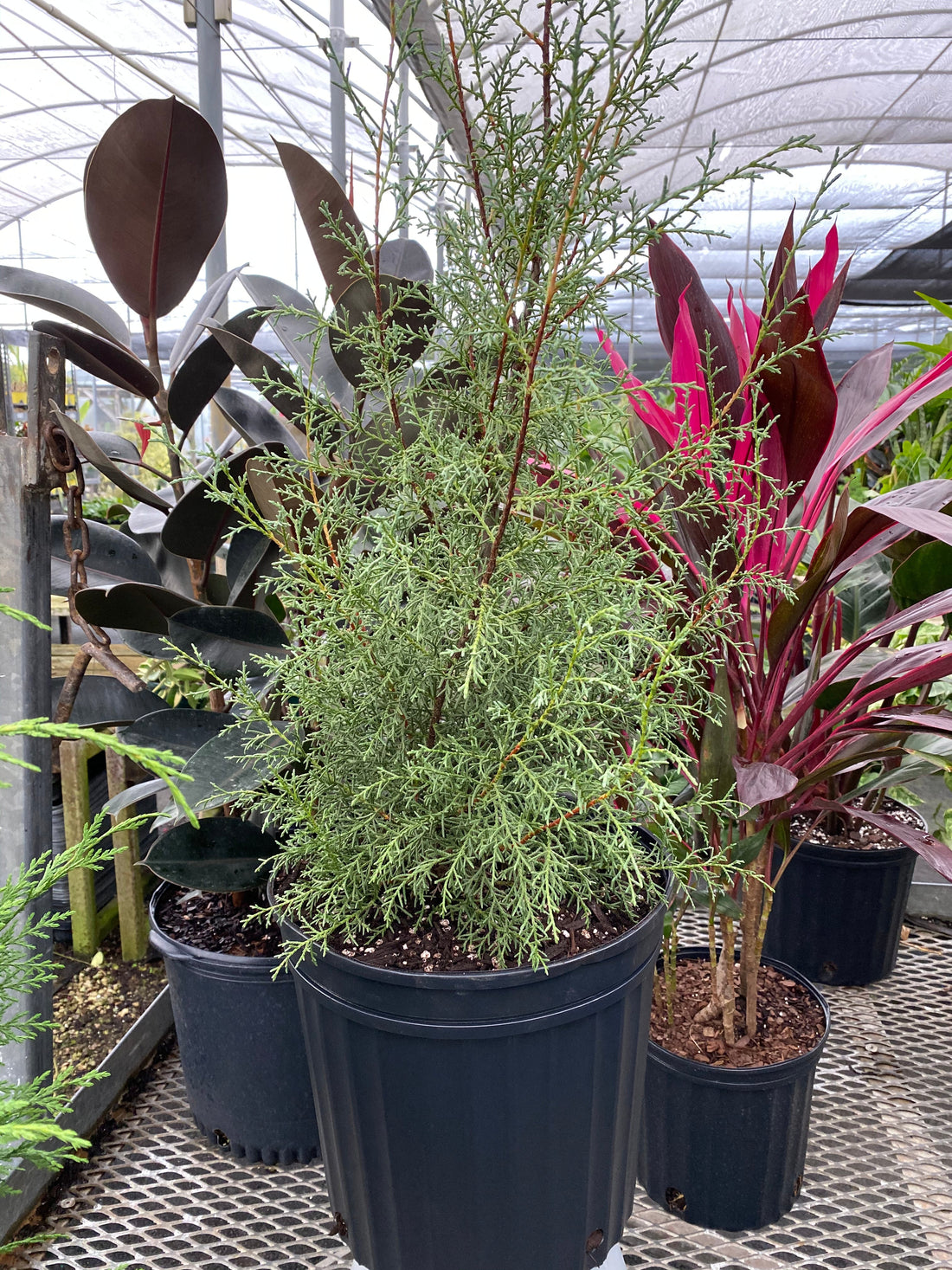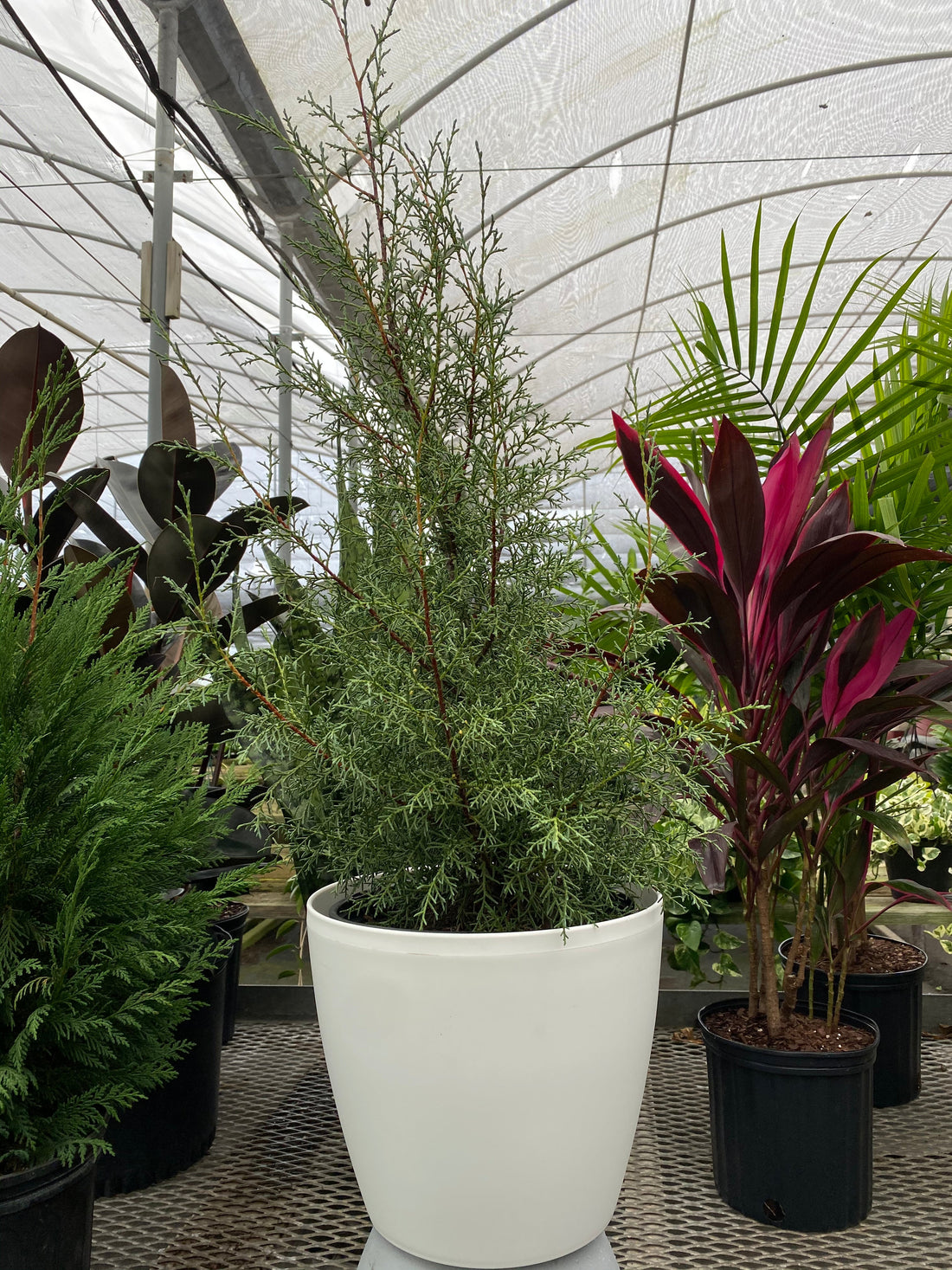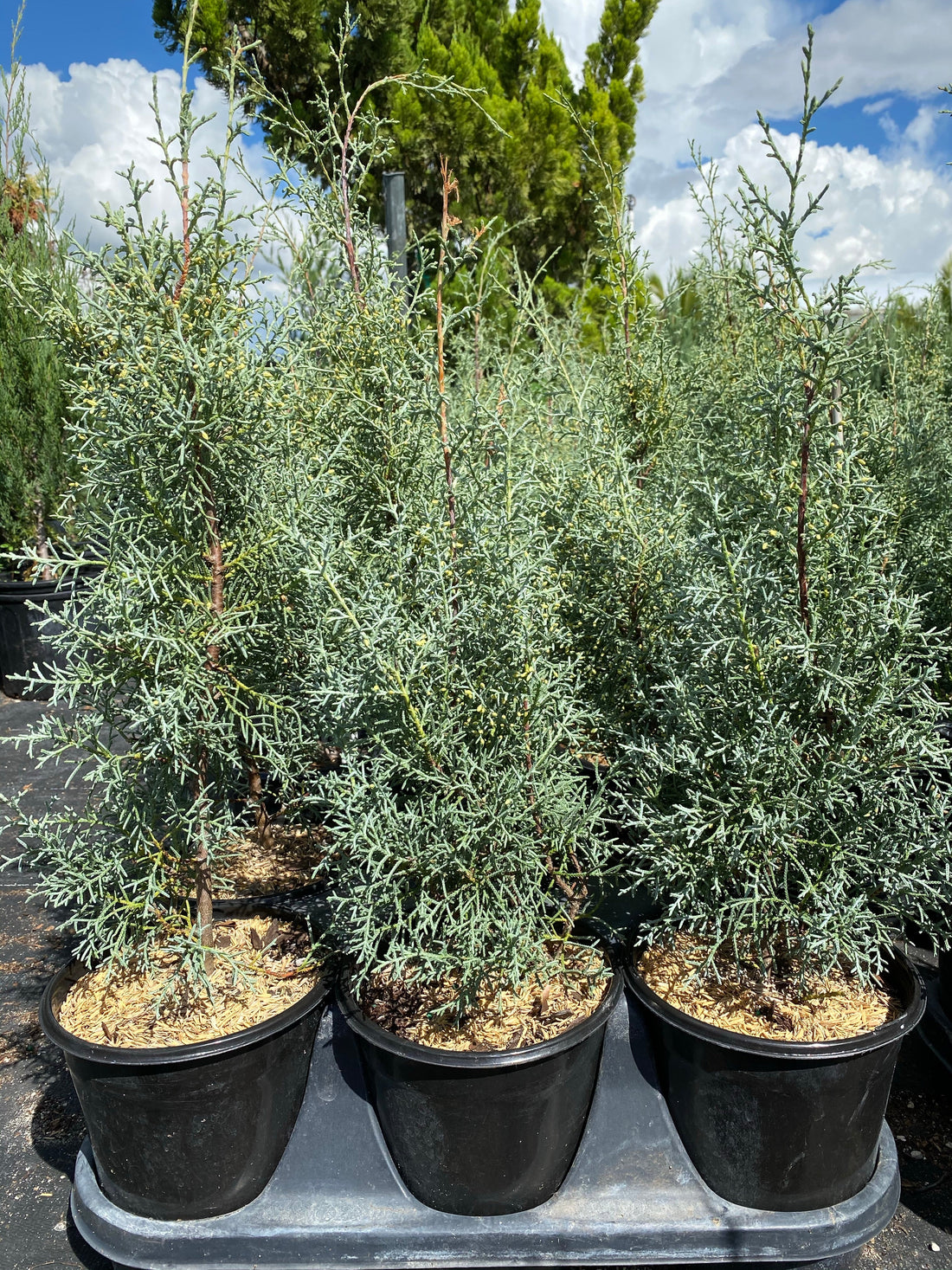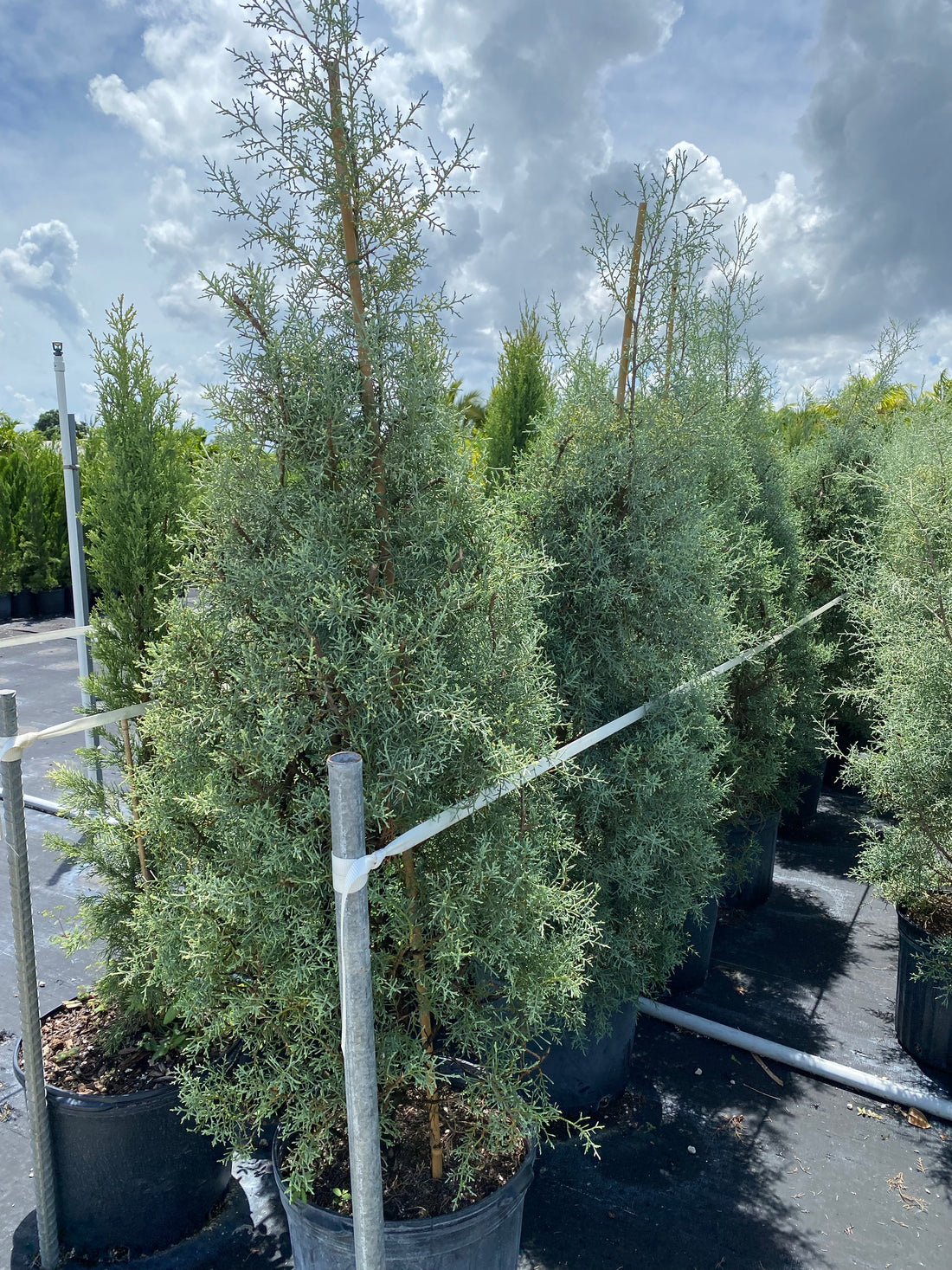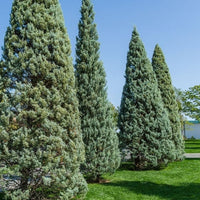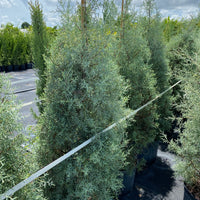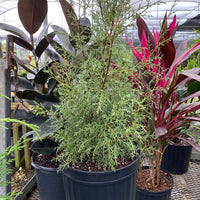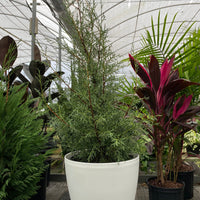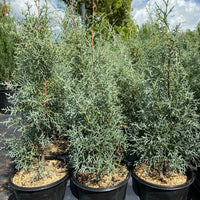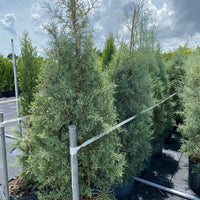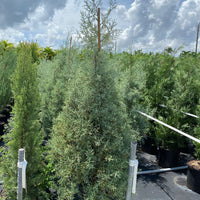 Topiary Cone Carolina Sapphire
Topiary Form Carolina Sapphire Cypress, Silver-Blue foliage
Carolina Sapphire, Arizona Blue Cypress Trees, a must have if you are looking for a unique ice blue evergreen, Low-maintenance and Incredibly rapid growth rate of 2 to 3 feet per year. The Carolina Sapphire Cypress (Cupressus arizonica glabra 'Carolina Sapphire') is also a popular choice for topiary trees. Here are some key details about the Carolina Sapphire Cypress as a topiary tree:

Appearance: The Carolina Sapphire Cypress features lacy, silvery-blue foliage, making it an attractive choice for topiary designs.

Growth Habit: This evergreen tree has a compact pyramidal shape that lends itself well to topiary forms such as spirals, cones, or pom-poms.

Size: The Carolina Sapphire Cypress can grow up to 20 to 30 feet tall, but with regular pruning and training, it can be maintained at the desired height for a topiary.

Care: Plant the Carolina Sapphire Cypress in well-drained soil and provide it with full sun to partial shade. Regular watering and occasional feeding will help maintain its health and growth.

Uses: Carolina Sapphire Cypress topiary trees are often used as focal points in gardens, as accent pieces in landscapes, or to create formal shapes in container gardening.

Hardiness: The Carolina Sapphire Cypress is known for its tolerance to various environmental conditions, including drought and heat.
---
Product Details
Free Shipping on Select orders, 100% satisfaction Guarantee. Most orders ship within 1-3 days from the day order is received, once your order is shipped, you'll receive an email with tracking information. 
Plant Hardiness Zones and Details

| | |
| --- | --- |
| GROW ZONES: | 4-9 Patios/6-9 Outdoors.  |
| GROWTH RATE: | Moderate. |
| MATURE HEIGHT: | 6-10 ft. Potted |
| MATURE WIDTH: | 2-3 ft. |
| LIGHT: | Full Sun. |
| GROWTH FORM: | Pyramidal. |
| FOLIAGE: | Evergreen Tree, Aqua Blue. |
| USES: | Accent, Privacy Hedge, Topiary. |
| CHARACTERISTICS: | Most Popular in Gardens. |
| SOIL CONDITIONS: | Well drained organic soil. |
| DOES NOT SHIP TO: | AZ. |
Plant Benefits and Key Features
• Lets use the power of plants to lift the spirit, calm the mind and clean the air
• Plants can reduce stress and anxiety by spending time close to nature caring for them
• Great choice to increase property value with a low maintenance evergreen
• Drought Tolerant and Resistant to ice, freezing conditions and Pest, Easily grown in a wide range of soils
Care & Maintenance

Care Guide
PLANTING:
Choose a planting location with full sun to partial shade and well-draining soil.

Dig a hole that is two to three times the width of the root ball but no deeper than the height of the root ball.

If available mix in organic matter, such as compost or peat moss, with the backfill soil to add additional nutrients to the soil.

Place the tree in the hole so that the root ball is level with or slightly above the surrounding soil.

Fill in the hole with the backfill soil, tamping it down lightly. Water the tree deeply to settle the soil.

Carolina Sapphire are container friendly and can remain potted, you should replant to a larger pot 2 inches wider every other year.
SOIL:
Thrives in a wide range of soil conditions, Soil should be well-draining, loamy, and fertile.

Add a layer of mulch around the base of the tree to help retain moisture and regulate soil temperature.
MULCH:
Spread a 2-3 inch layer of mulch around the base of the plant to conserve moisture and suppress weeds.
Use organic mulch such as bark, wood chips, or leaves.
LIGHT:
Thrives in full sun, tolerates partial shade

WATER:
Water the tree regularly 2-3 times a week, especially during the first year after planting, to keep the soil consistently moist but not waterlogged.
Once established, water only during extended periods of drought.
FERTILIZE:
Fertilize during early spring with a slow-release, well-balanced fertilizer.
PRUNING:
Pruning is recommended to maintain current form.
DISEASE:
Carolina Sapphire cypress is generally resistant to pests and diseases, but you should still keep an eye out for any issues and treat them promptly if necessary.

Practice good planting and care techniques, such as planting in well-draining soil, keeping the soil consistently moist but not waterlogged, and properly fertilizing the tree.

Keep an eye out for any signs of disease, including discoloration or wilting of needles or branches, yellowing of foliage, or bark damage.

Prune any diseased or damaged branches promptly, making clean cuts and disposing of the debris properly.

Avoid overhead watering and excess water around the base of the tree, which can contribute to disease development.

Consider using fungicides or other disease control products as needed, following the product label instructions carefully.
Warranty Policy
Backed by our 30 days Satisfaction Guarantee
We hope that you enjoy your new plants! We grow and care for our plants from cuttings, seeds or liners, we hand select the best quality available before shipping to your home or office. Please do not hesitate to contact us with any questions or concerns. Our friendly customer service team is here to help.
FAQs
Is it safe to ship plants by mail?
We Believe it is, let us prove it, our success rate sipping plant(s) online is well over 99%.
How do you measure height for ground cover junipers?
Approximate height is measured from the base of the plant to the top of the highest branch.
Are plant(s) purchased online guarantee?
All plants are guarantee for a period of 30 days, We offer a Satisfaction Guarantee Policy.
Can I order during winter months?
Yes you can, however most Tropical plants are sensitive to extreme cold conditions, once cold temperatures are expected to fall below freezing it will not be safe to ship life plants, we carefully manage shipping decisions during winter months and determine when is safe to ship, please be advise we may need to hold orders until conditions are appropriate to safely ship the plants.