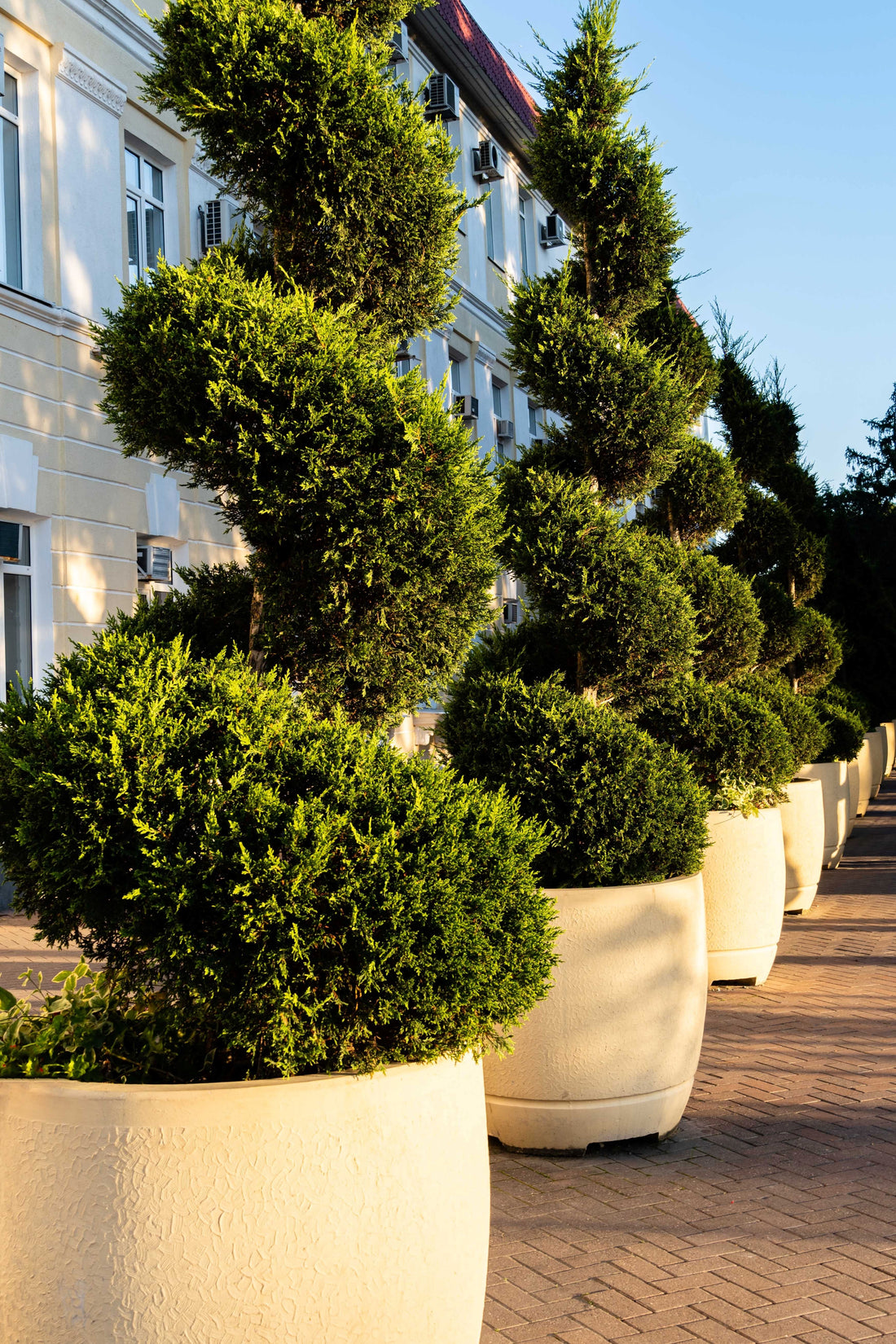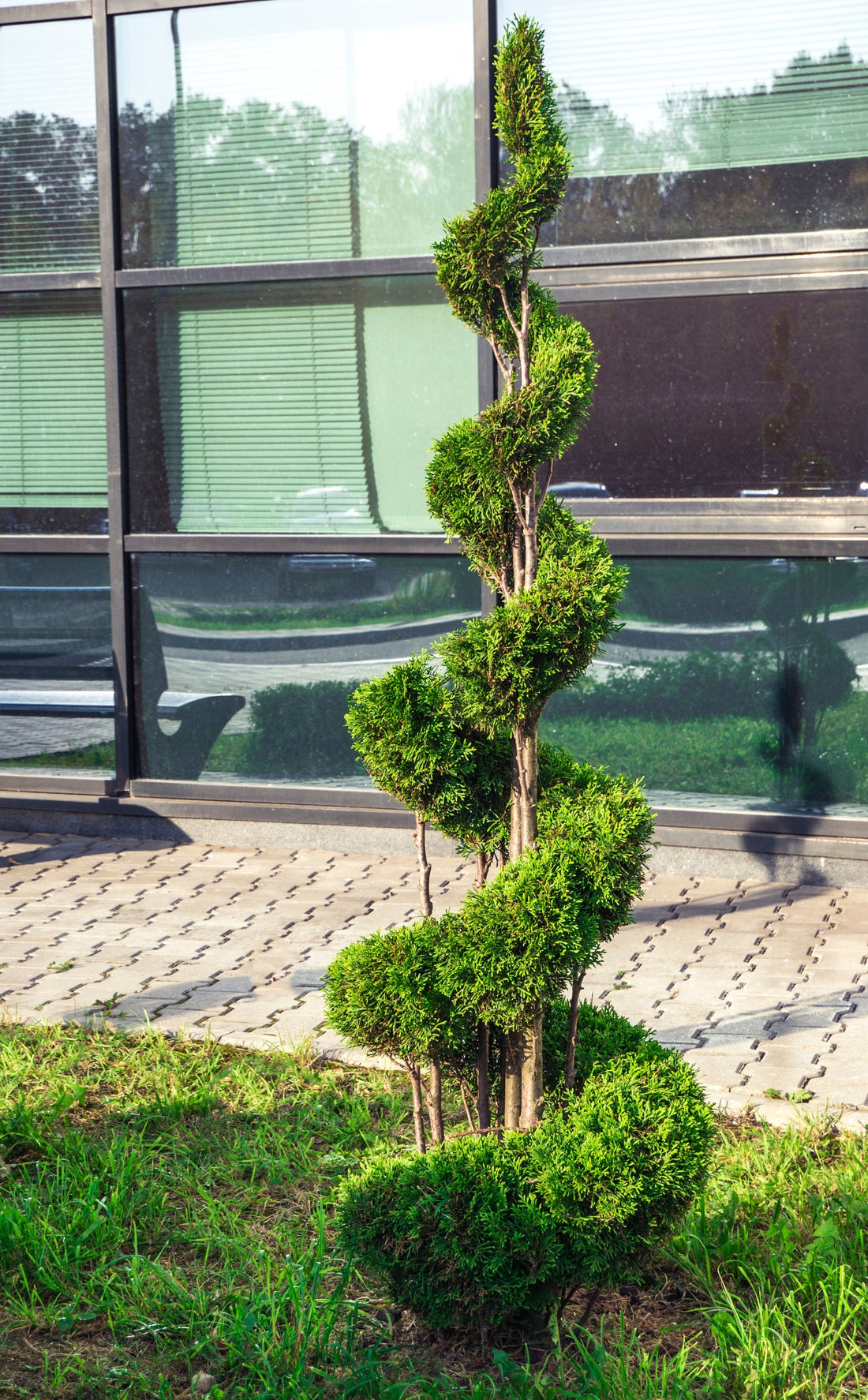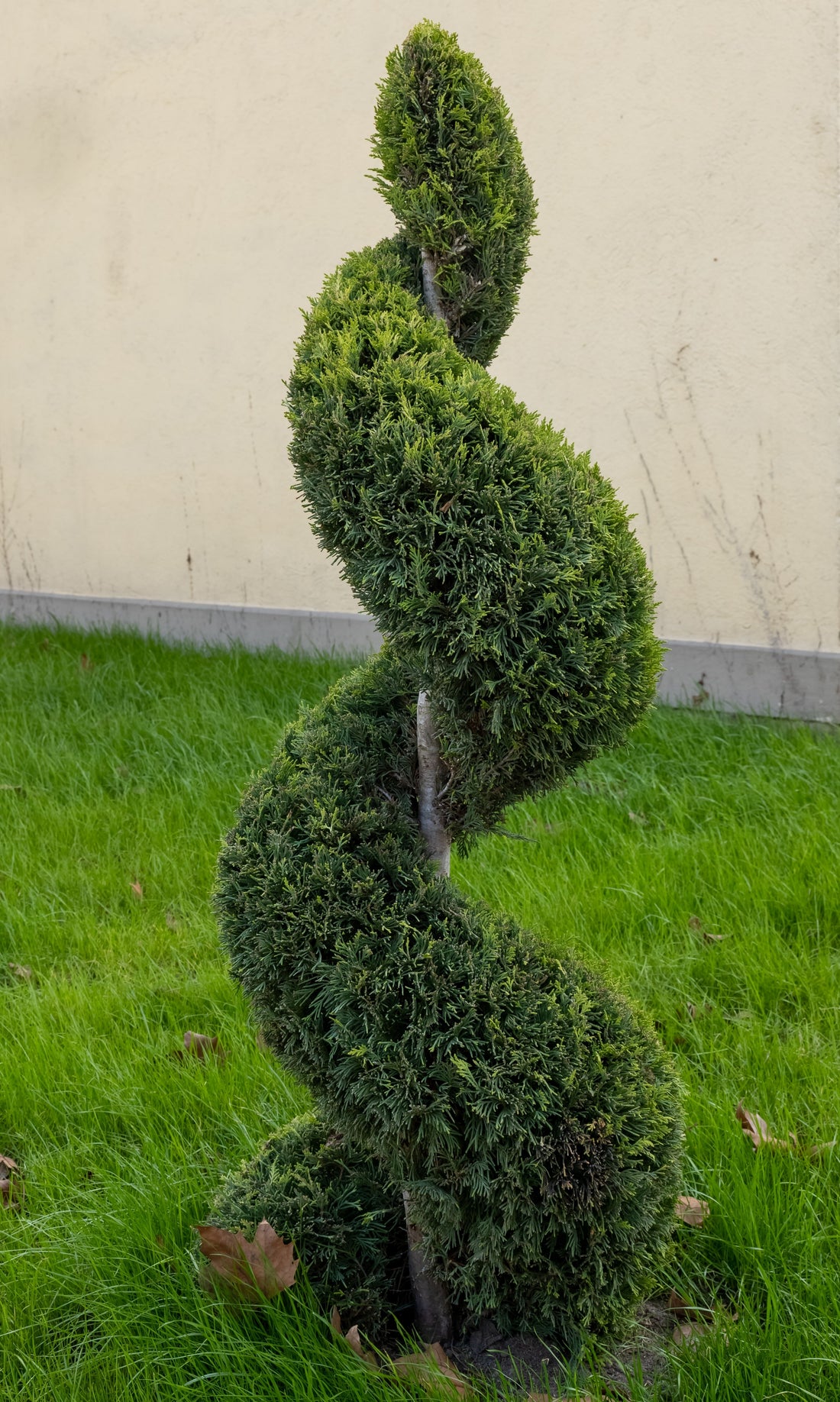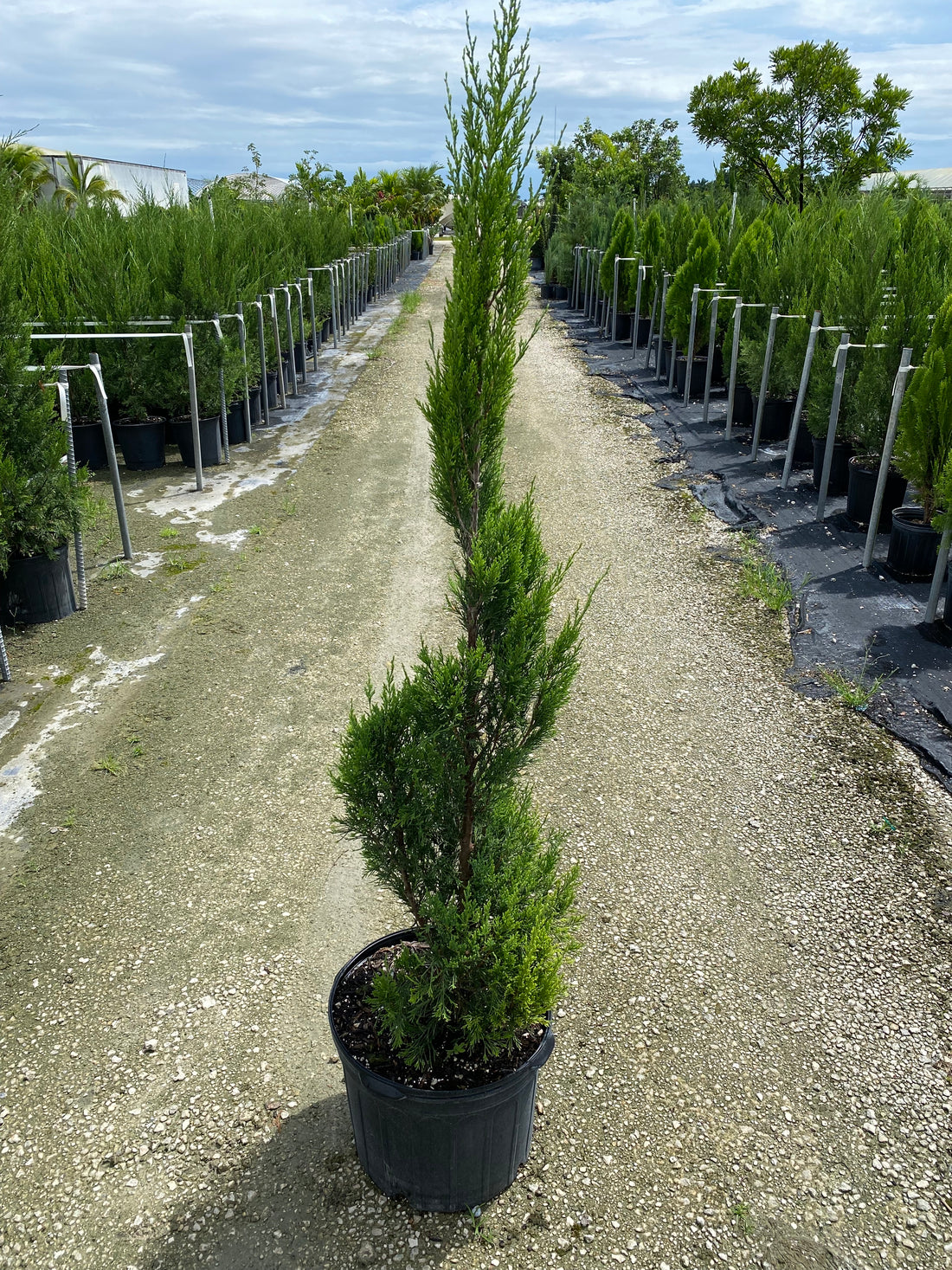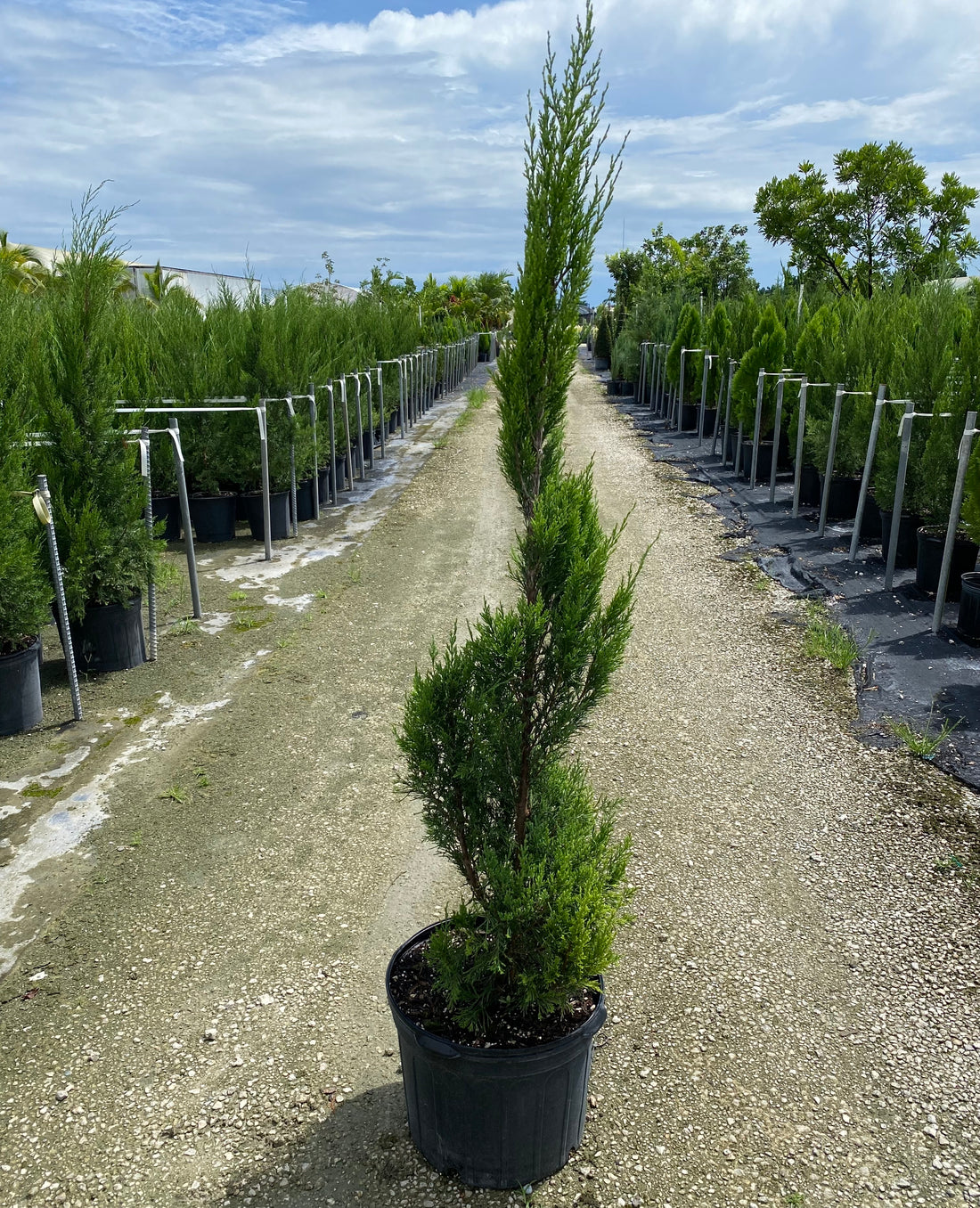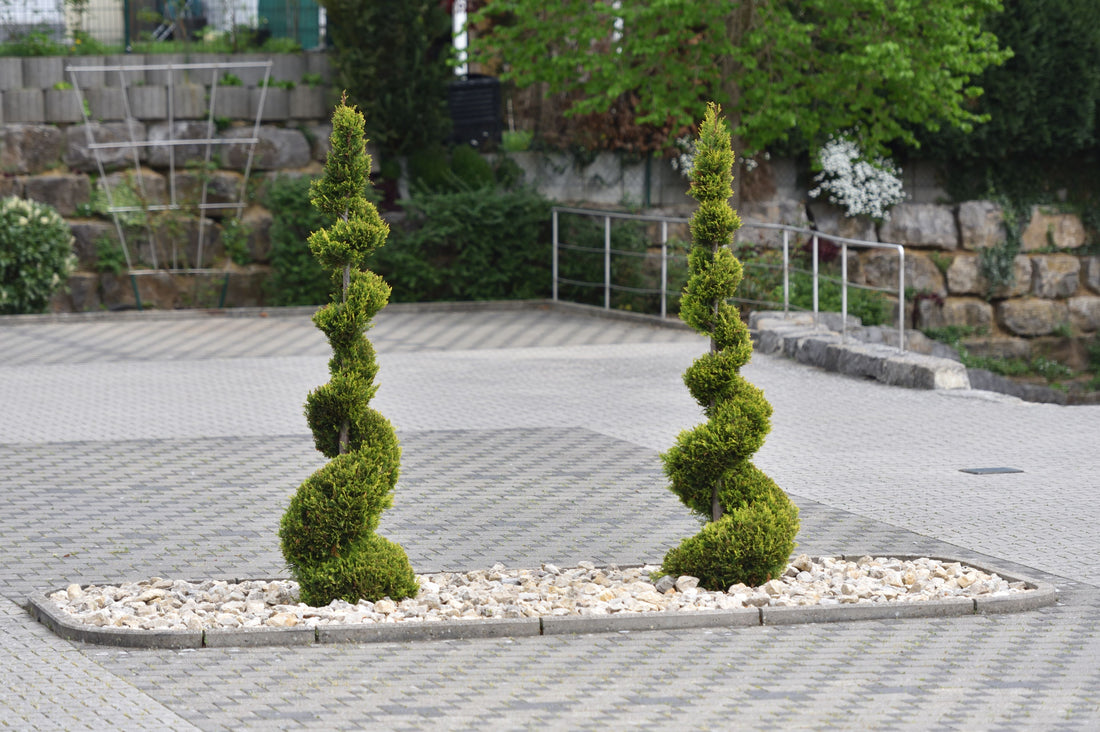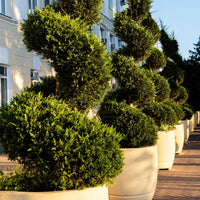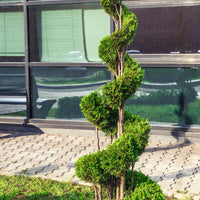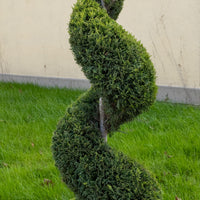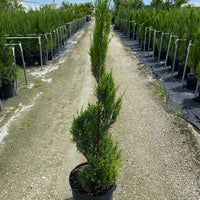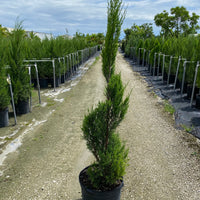 Topiary Spiral Spartan Juniper
Spartan Juniper, Hand Crafted Spiral Topiary
Spartan Juniper (Juniperus chinensis 'Spartan') Spiral topiary tree form, is pre trimmed, hand crafted, maintained and grown over a year by experts into a magnificent work of art, making an interesting Spiral Topiary Tree resembling a corkscrew wine opener device. Outdoor Topiary trees make a great addition to your patio or entryways, this evergreen adds a whimsical feel to the garden or landscape. The Yellow-green foliage of this topiary holds up well even during winter months.

Regular maintenance is crucial to keep your Topiary Spartan Juniper looking its best. Trim the juniper every 2-3 moths, preferably in early spring, early fall or late winter before new growth begins. Remove any unwanted or excessive growth to maintain its current shape.
This fast growing evergreen offers luxuriant evergreen foliage, is tough, attractive and highly durable. Spartan's fantastic tolerance to heat, cold and drought makes it one of the hardiest junipers you can grow, they are considered one of the most popular upright juniper on the market by most growers and is considered a fast growing tree. Spartan's are extremely easy to grow, no matter where you live, especially since it thrives in virtually all soil types. Spartan Juniper is so durable that it can survive in harsh environments where other plants don't even stand a chance.

---
Product Details
Free Shipping on Select orders, 100% satisfaction Guarantee. Most orders ship within 1-3 days from the day order is received, once your order is shipped, you'll receive an email with tracking information. 
Plant Hardiness Zones and Details

| | |
| --- | --- |
| GROW ZONES: | 5-9 Outdoors. |
| GROWTH RATE: | 1-2ft/Year. |
| MATURE HEIGHT: | 15-20 ft. |
| MATURE WIDTH: | 4-5ft. |
| LIGHT: | Full Sun. |
| WATER: | Regularly. |
| FOLIAGE: | Bright Green. |
| USES: | Focal Point, Privacy Screen, Landscaping, Hedge.  |
| GROWTH FORM: | Dense-Columnar. |
| SOIL CONDITIONS: | Wide range of soils.  |
| DOES NOT SHIP TO: | AZ. |

PLANT BENEFITS AND KEY FEATURES

Prized for its vibrantly-hued, rich green foliage, the Spartan Spiral Juniper embodies the beauty of the holiday season. Even better? It's totally effortless, so hassle-free care is synonymous with this go-to.
Whether you're decking the halls, entryways or potting as an accent the Spartan Juniper is a top pick. This conifer produces enduring evergreen foliage all year round. Plus, with a spiral craft design its silhouette is second to none when it comes to holiday décor and unique, eye-catching looks.
Basically, the Spiral Topiary Spartan Juniper is an opulent ornamental that's one-of-a-kind. And when you gift the Spartan Juniper to the loved ones on your nice list, you're giving the gift of growth, which continues to impress long after the season's end.
We believe in the power of plants to lift the spirit, calm the mind and clean the air, Plants can reduce stress and anxiety by spending time close to nature caring for them. Great choice to increase property value with a low maintenance evergreen. Drought Tolerant and Resistant to ice, freezing conditions and Pest, Easily grown in a wide range of soils.
Care & Maintenance

Care Guide
PLANTING:
Select an area with full sun.
Dig a hole that is twice as wide and just as deep as the root ball.

Remove the tree from its container and loosen any roots that are tightly packed.
Place the tree in the hole and backfill with soil, making sure to eliminate any air pockets.
Water the tree well to settle the soil.
SOIL:
Prefers well-draining soil.
Suitable for clay, alkaline, and compacted soils, avoid wet and soggy.
MULCH:
Spread a 2-3 inch layer of mulch around the base of the plant.
Mulch with hardwood or cypress. 
LIGHT:
WATER:
Water regularly during the first growing season. 
Increase frequency in extreme hot days. 
Once established, water only during extended periods of drought.
FERTILIZE:
Fertilize during early spring with a slow-release fertilizer.
PRUNING:
Pruning is not necessary. 
If left to grow naturally it may reach heights of up to 60 feet. 
Avoid pruning during the hottest or coldest months. 
Warranty Policy
Backed by our 30 days Satisfaction Guarantee

We hope that you enjoy your new plants! We grow and care for our plants from cuttings, seeds or liners, we hand select the best quality available before shipping to your home or office. Please do not hesitate to contact us with any questions or concerns. Our friendly customer service team is here to help.
FAQs
Is it safe to ship plants by mail?
We Believe it is, let us prove it, our success rate sipping plant(s) online is well over 99%.
How do you measure height for Topiary junipers?
Approximate height is measured from the bottom of the pot to the top of the highest branch.
Are plant(s) purchased online guarantee?
All plants are guarantee for a period of 30 days, We offer a Satisfaction Guarantee Policy.

Can I order during winter months?
Yes you can, however most Tropical plants are sensitive to extreme cold conditions, once cold temperatures are expected to fall below freezing it will not be safe to ship life plants, we carefully manage shipping decisions during winter months and determine when is safe to ship, please be advise we may need to hold orders until conditions are appropriate to safely ship the plants.