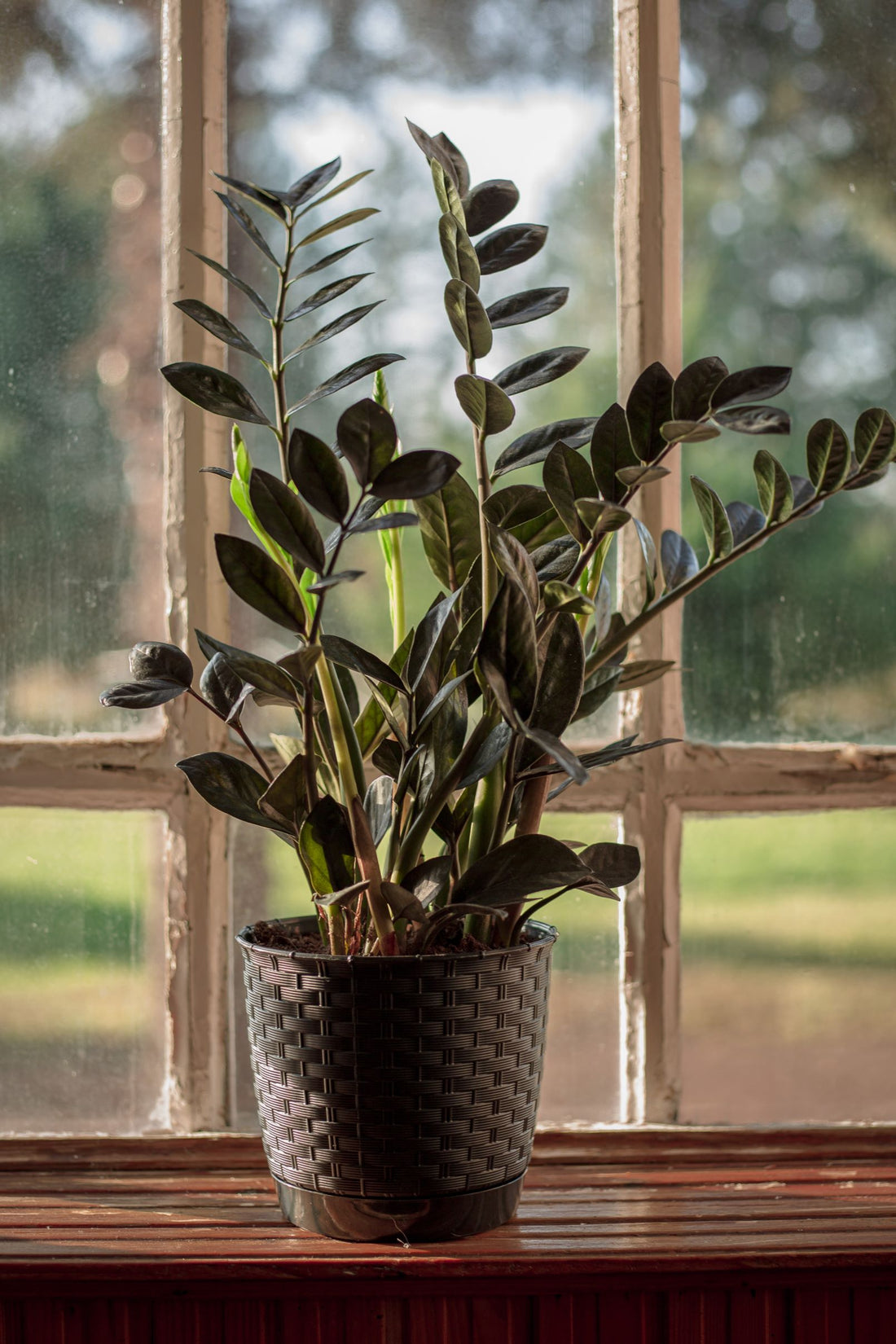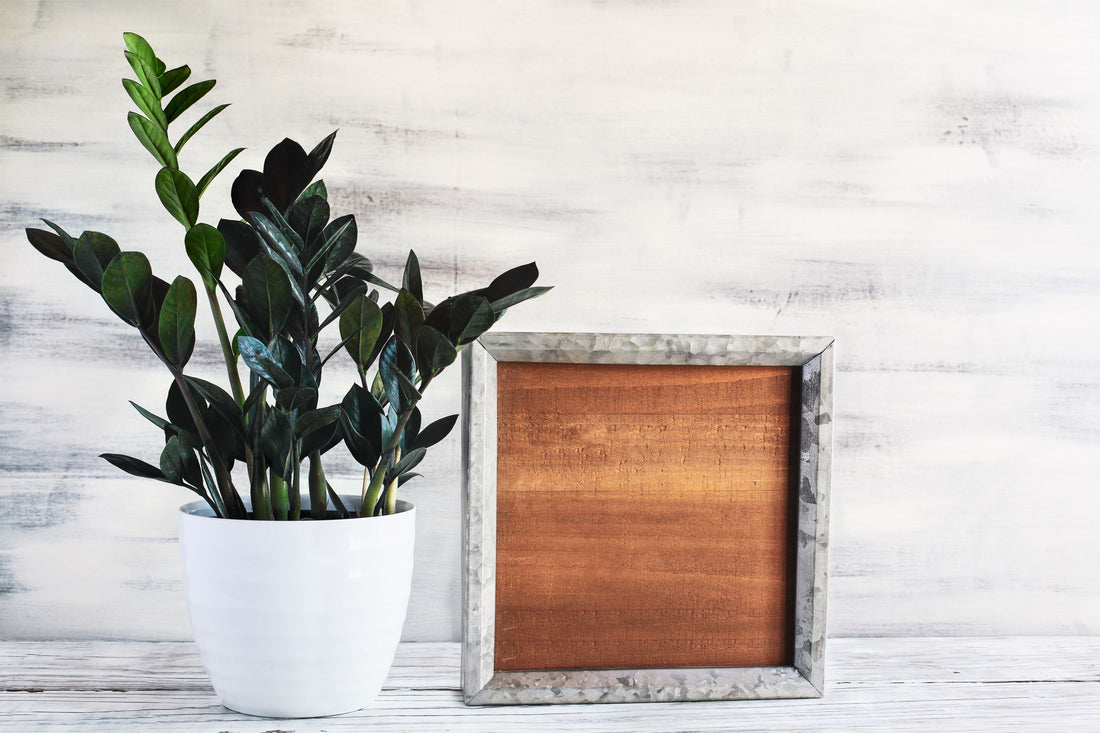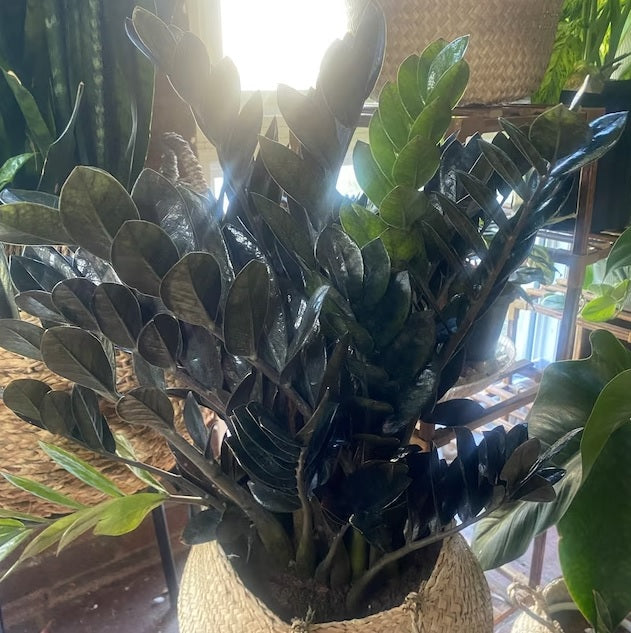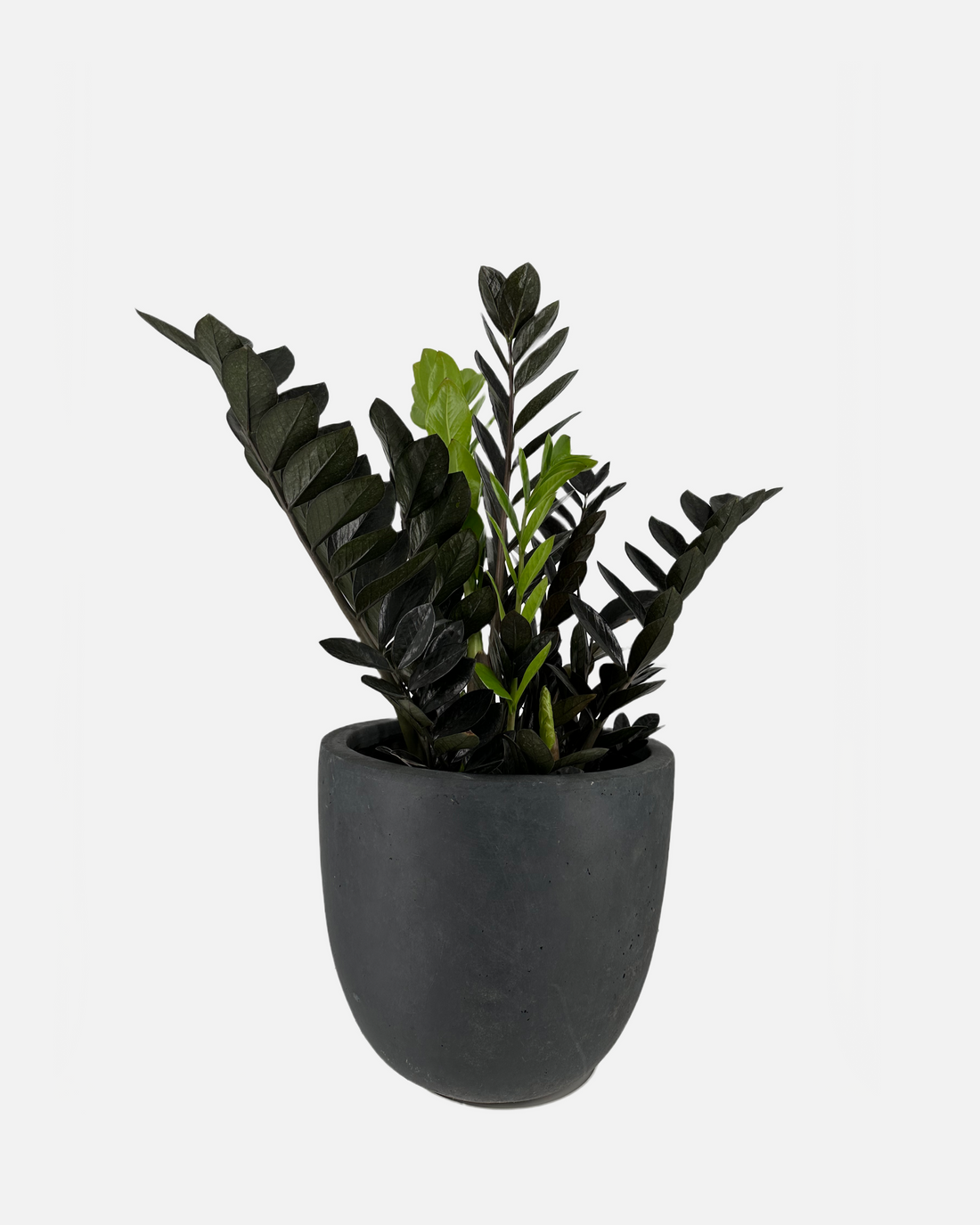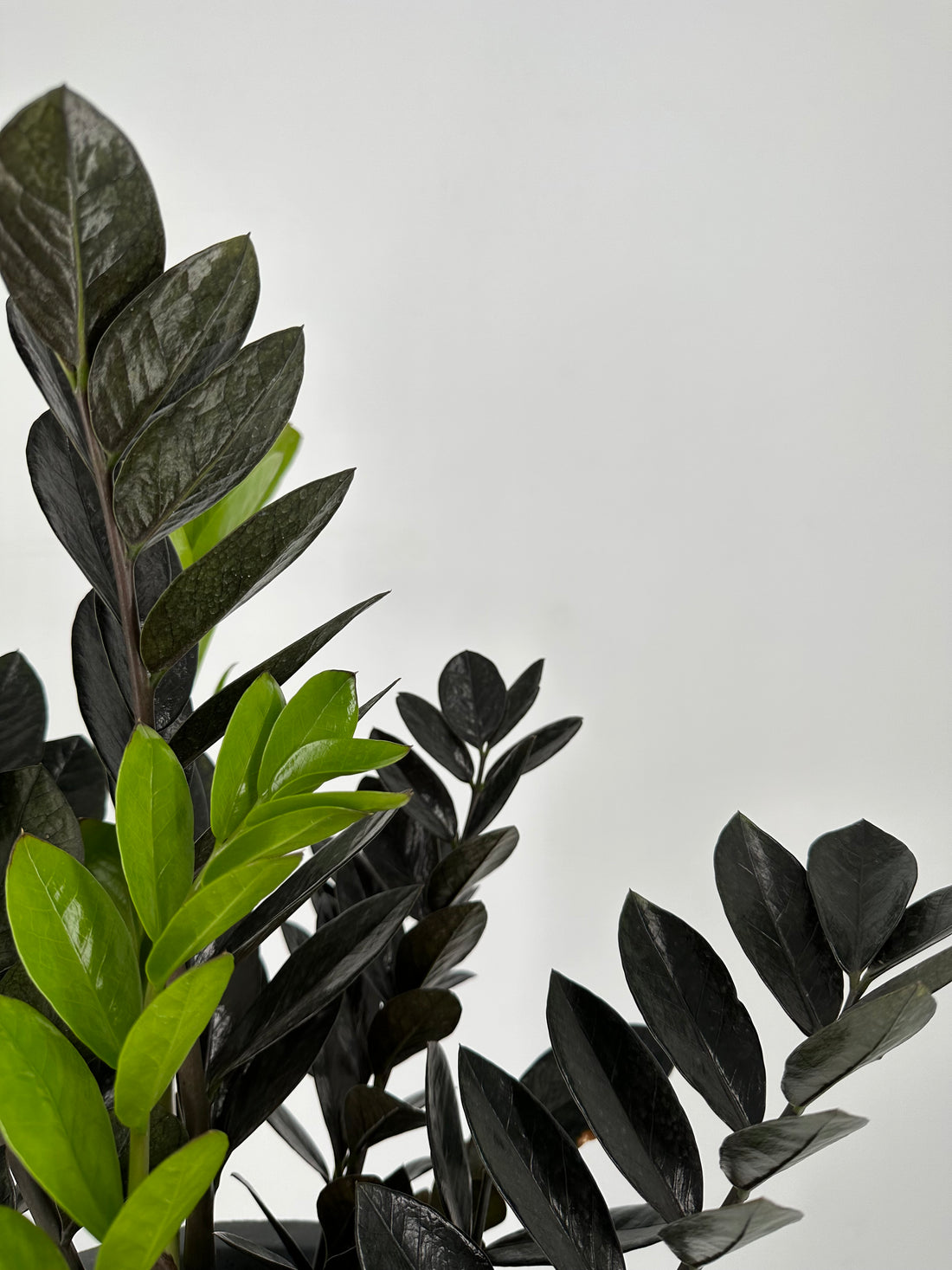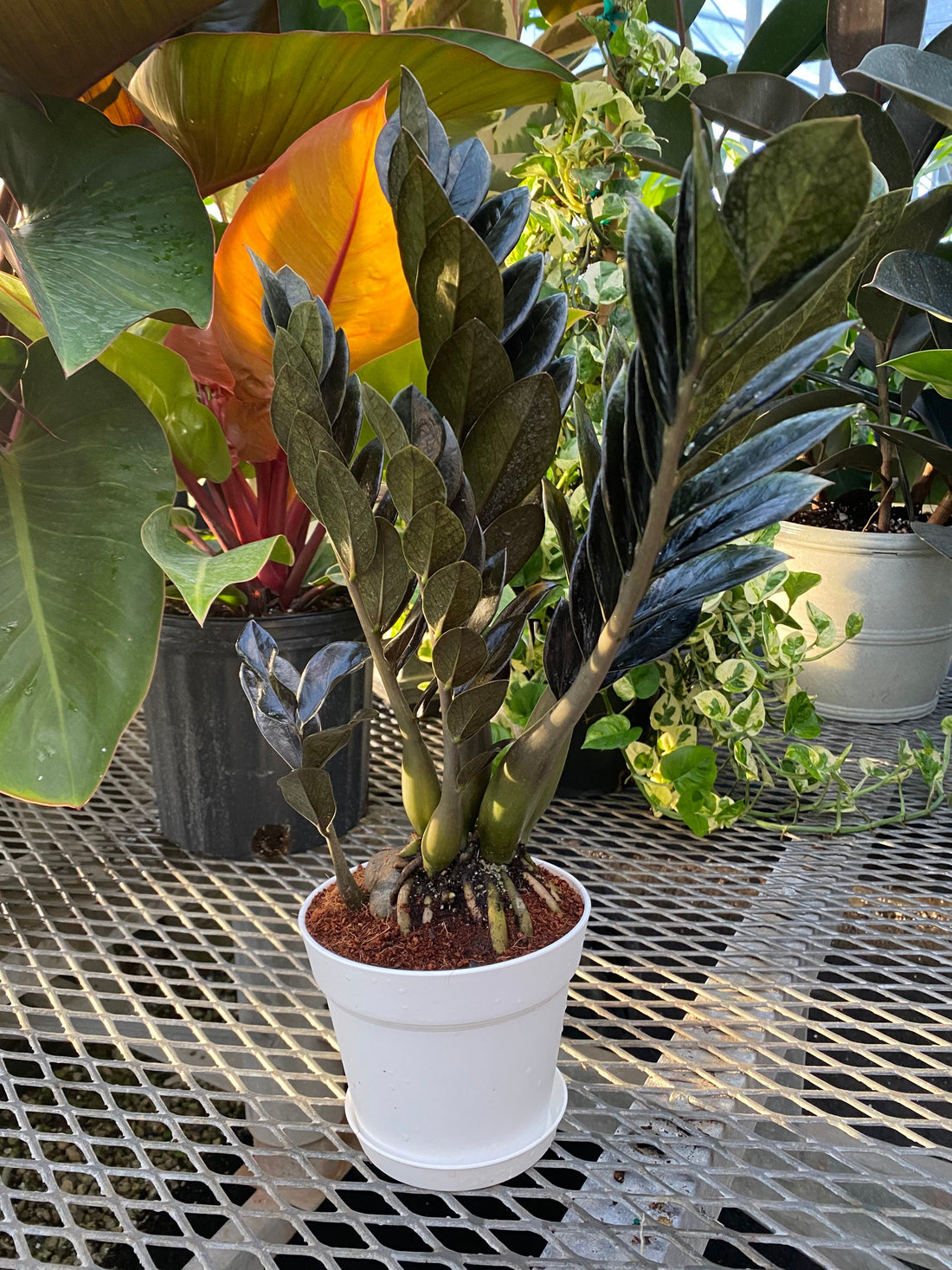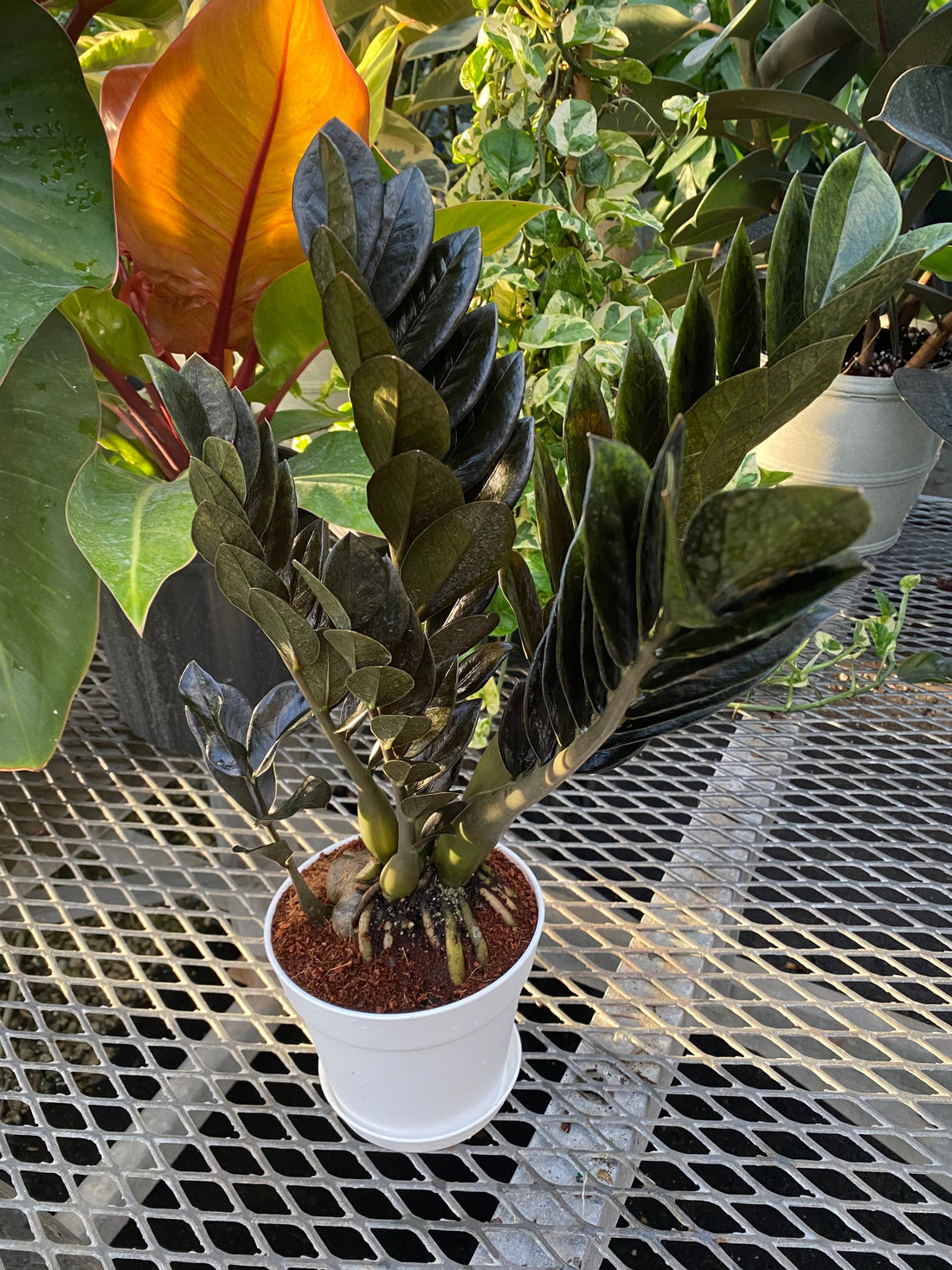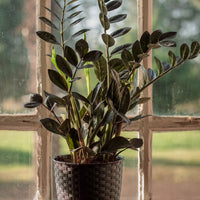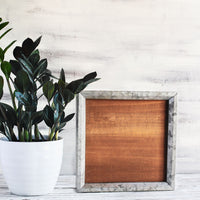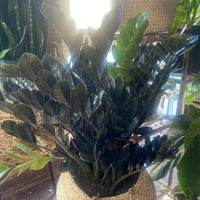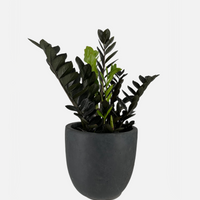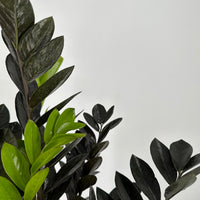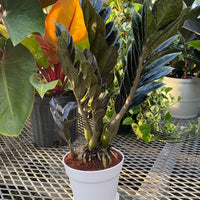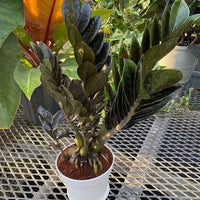 ZZ Plant Black Raven, Live Indoor Plant
ZZ Plant Black Raven, Zanzibar Gem, Perfect Addition to your Plant Family.
About me, My name is ZZ Zanzibar Gem, Black Raven, Zamioculcas zamiifolia, known as ZZ Plant, Although originally from central Africa, where I was able to tolerate extreme weather for decades, I have entered hearts, homes and offices worldwide, I have the ability to purify and remove certain toxins from the air we breathe, can grow gracefully displaying a deep green waxy shiny coating that at times can be mistaken for an artificial plant. I do best in bright to moderate indirect light, but will do fine in extremely low levels of light. I can retain water in my root system, enabling me to tolerate long dry spells, I'm a great choice for those who may forget to water me frequently, however I will appreciate a drink of water every other week or as top portion of soil feels dry. Allow me to add a touch of grace and elegance to your houseplant collection, I'm very simple to care for.

KEY FEATURES & BENEFITS
• Filter indoor air by absorbing toxins, and removing harmful chemicals.
• Boost mood, productivity, concentration and creativity.
• Reduce stress, Fatigue and Allergies.
• Add life to a given space, Plants are therapeutic and cheaper than a therapist.

 PLANT CARE
• Repotting and Fertilizing, Wait 4 weeks before repotting, allow the plant to settle in and acclimate to its new environment, Plants shipped by mail are in complete darkness for several days, it can be a stressful journey, Fertilize during Spring to Fall base on label instructions.
• Watering, allow the top inch of Soil to dry out, may take 4-7 days, water slowly to allow the soil to moist evenly.
• Humidity, most Tropical plants can benefit from regular moisture, a humidifier or regular misting is recommended.
• Lighting, if is bright enough to read is bright enough for plants, if outdoors place in indirect sun light under Shade.

DECORATING WITH THE ZZ PLANTS
Plant features are becoming very popular in modern interior design for homes, both indoors and outdoors, also true for spaces like hotels lobbies, main entrances, corporate lobbies and offices, the inclusion of plants make space feel more attractive, exciting and comfortable, creating a well balance peaceful ambiance of styles that can both calm the senses and invigorate the mind simultaneously, adorning with live plants and natural elements is a great choice to create a relaxing atmosphere while at home, reducing the day to day stresses from modern life, weather is traffic congestions or stressful daily routines, living sculptures can be the answer to some of this challenges, design your space with tropical plants in mind.
Care & Maintenance

View more info on ZZ Plant Care & Maintenance
WATER MANAGEMENT FOR ZZ PLANTS - ZZ plants are known to be drought tolerant, It is a must to let these plants dry substantially between watering, ZZ are able to store water in their root system, Too much water will cause a rot where stems meet the soil. Frequency of watering will depend on the size of the plant, humidity levels and rate of growth. One of the most common mistakes in the care of indoor plants is overwatering, indoor plants are far more tolerant to underwatering than overwatering. It is recommended to monitor your houseplants and water them when they need it, rather than on a schedule. When watering plants the objective is to maintain the soil moist but never soggy, a moisture meter is a great tool to utilize to reduce the guesswork, We recommend to sample the top soil an inch deep every 3-4 days, if you notice is still moist hold off on watering until it dries further, since most plants water needs may be different this is a good way to determine each individual plant water requirements.
Water Recommendations base on pot size, we suggest to utilize a soil probe initially to determine humidity levels and when to water.
6 inch Pot plants, every 7-10 Days, 10-12 inch Pot plants, every 10-14 days

LIGHTING INSTRUCTIONS - ZZ Plants can tolerate low light, However as an indoor plant it should be placed near a window where the plant can receive the brightest available light, east, south, and west facing windows are the best options, we recommend to rotate the plant occasionally, this will allow the plant to receive bright light from different angles, it can minimize leaf drops from within the canopy and allow the plant to maintain even healthy growth all year round.

FERTILIZING – No need to fertilize right away, We fertilize our plants during the production phase with slow release fertilizer which can last an additional 2-3 months supplying residual nutrients to the plant. Once you do decide to fertilize You may use a fertilizer formulated for interior plants, preferably a slow release fertilizer 180 days duration, fertilize during spring or fall base on label instructions.

CLEANING, REGULAR MAINTENANCE - Since ZZ plant leaves are small in size it can be a bit more time consuming, Simply add a few drops of dish soap to a cup of water, wet a soft cloth and manually wipe off dust off the leaves, is a simple solution that is inexpensive and works well without damaging the plant.

Frequently Asked Questions.
Is it safe to ship plants by mail?
We Believe it is, let us prove it, our success rate sipping plant(s) online is well over 99%.
How do you measure height for indoor plants?
For indoor plants we measure approximate height from the bottom of the pot to the top of the plant.
Are plant(s) purchased online guarantee?
All plants are guarantee for a period of 30 days, We offer a Satisfaction Guarantee Policy.

Can I order during winter months?
Yes you can, however most Tropical plants are sensitive to extreme cold conditions, once cold temperatures are expected to fall below freezing it will not be safe to ship life plants, we carefully manage shipping decisions during winter months and determine when is safe to ship, please be advise we may need to hold orders until conditions are appropriate to safely ship the plants.
Satisfaction Guarantee
Backed by our 30 days Satisfaction Guarantee

We hope that you enjoy your new plants! We grow and care for our plants from cuttings, seeds or liners, we hand select the best quality available before shipping to your home or office. Please do not hesitate to contact us with any questions or concerns. Our friendly customer service team is here to help.