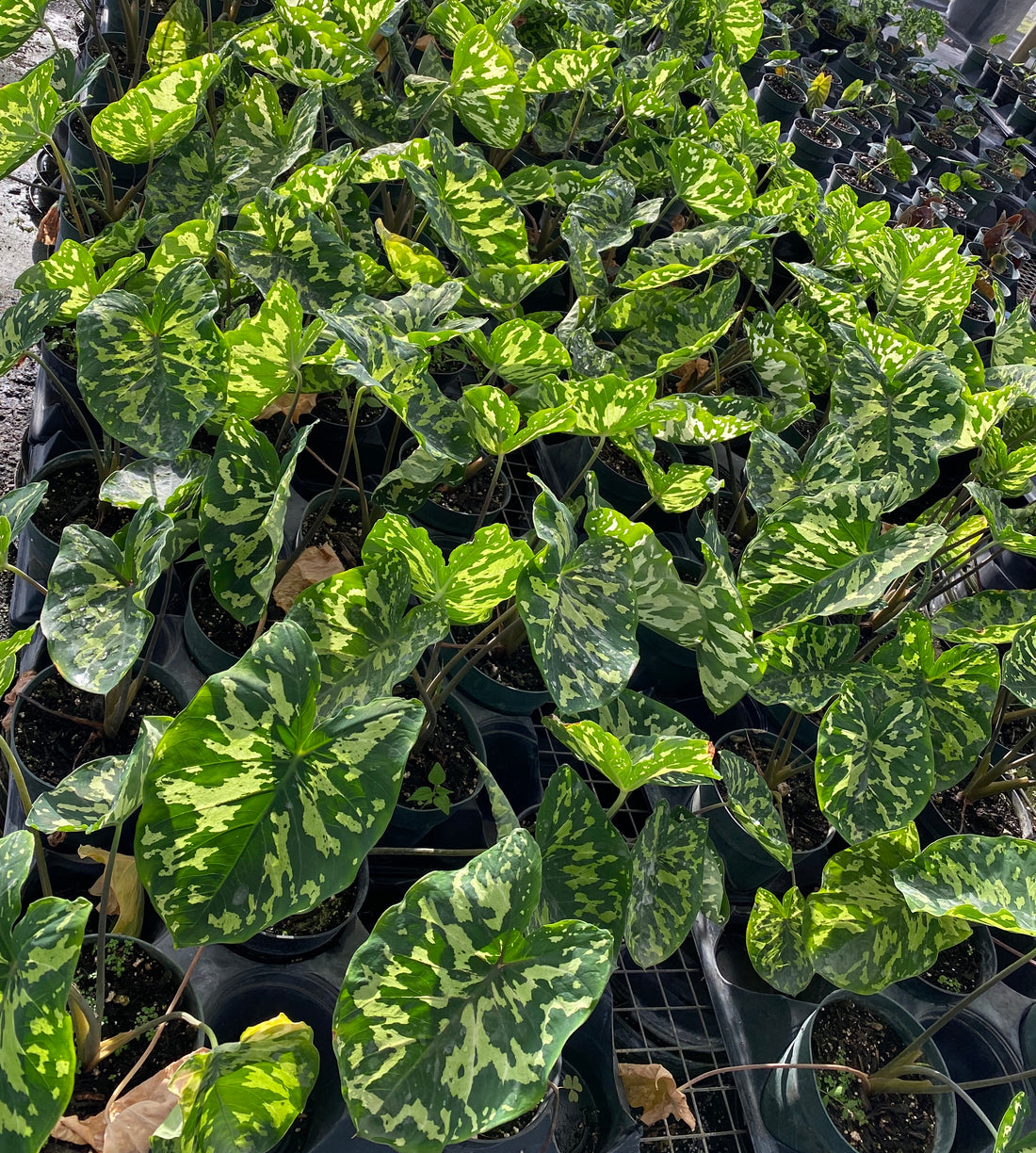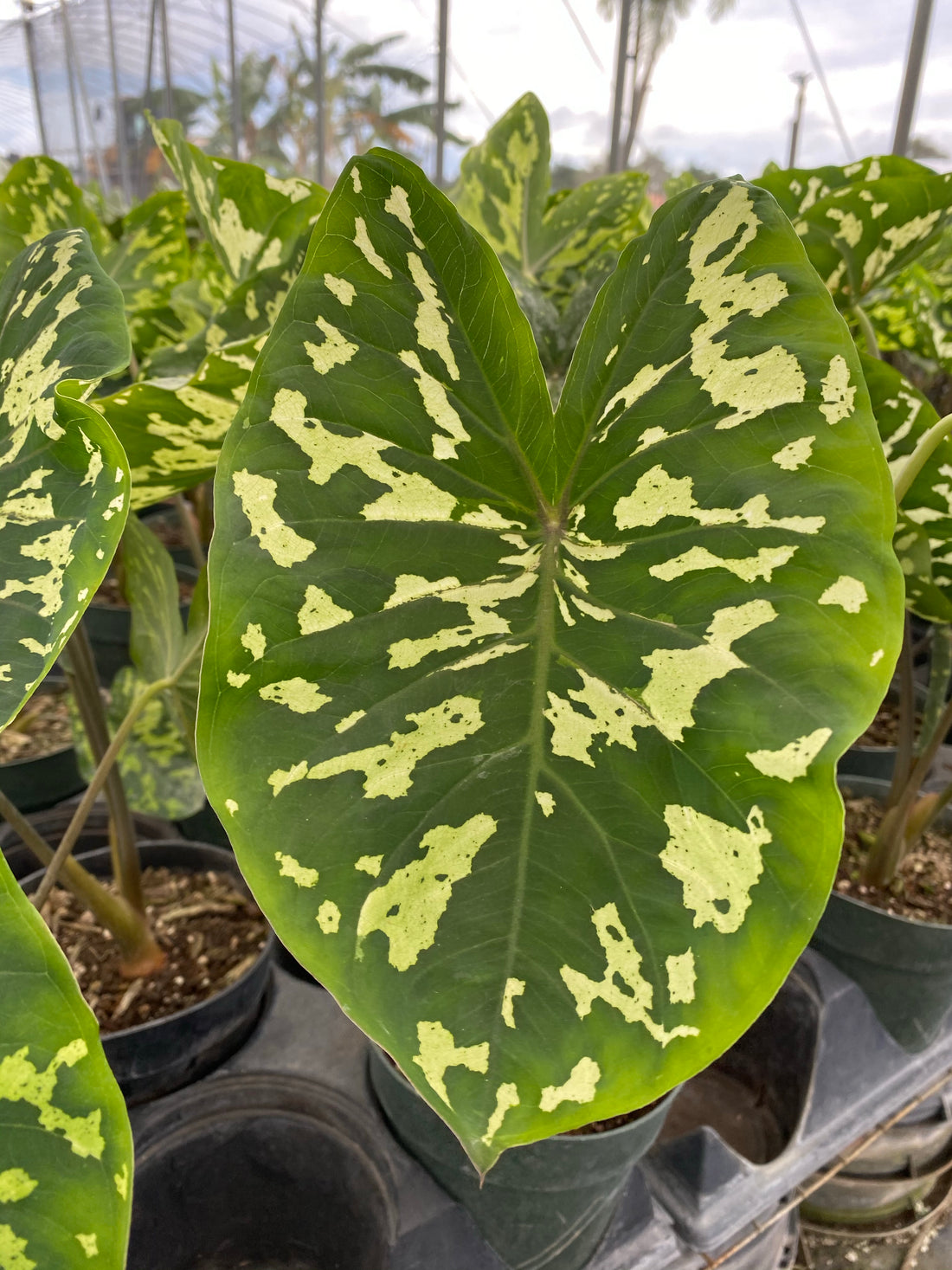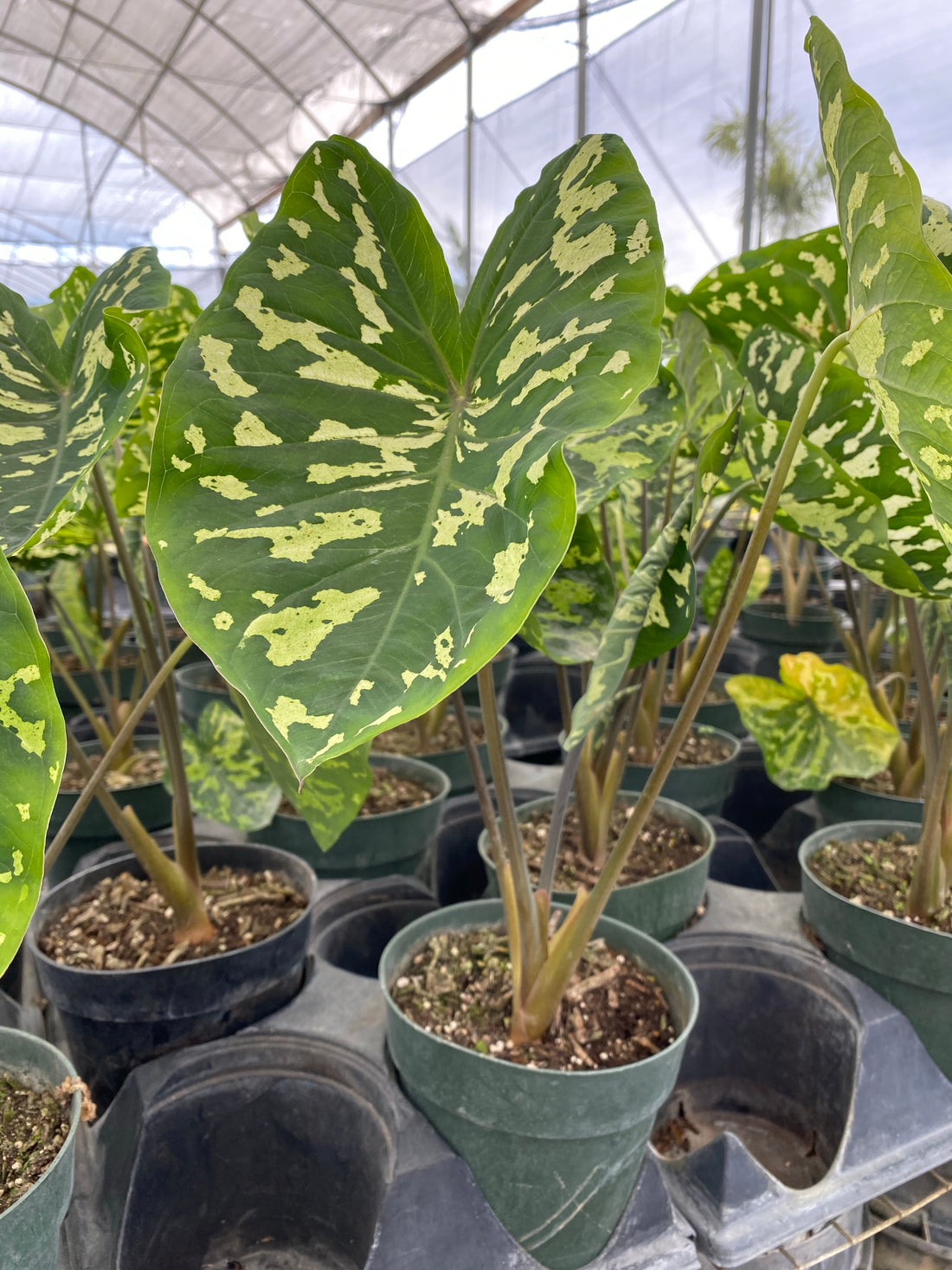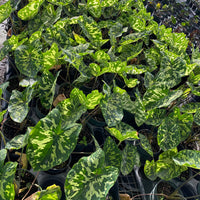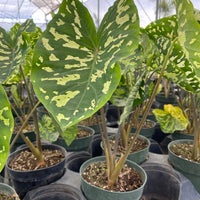 Colocasia Hilo Beauty, Elephant Ears
Save 10% with code FALL10
Looking for a plant that will make a statement? Look no further than the Colocasia Hilo Beauty! Also known as the Elephants Ear plant, this fascinating plant is sure to turn heads wherever it's placed. The bright green leaves with decorated with white speckles spots are supported by a dark blue stem, creating a unique contrast that is unlike any other plant. The small, thick leaves can grow up to 2 feet in tropical climates, making it a showstopper in any garden. The best part about the Alocasia Hilo Beauty is that it's easy to grow and care for - truly a magnificent plant.

---
Details

Free Shipping on Select orders
100% satisfaction Guarantee. 
Most orders ship within 1-3 days from the day order is received
Once your order is shipped, you'll receive an email with tracking information. 

Please note Colocasias are susceptible to some yellowing of leaves from transit, this is normal, they will bounce back within weeks and will continue sending out new shoots once established.
Plant Hardiness Zones and Details

| | |
| --- | --- |
| Grow Zones: | 9-11 |
| Growth Rate: | Moderate |
| Mature Height: | 2-3 ft. |
| Mature Width: | 2-3 ft. |
| Light: | Bright Indirect |
| Foliage | Sculpted forest green leaves |
| Uses | Interior Foliage, Accent Plant, Complements other plants |
| Characteristics | Vibrant and variegated foliage |
| Soil Conditions: | Prefers well drain organic soil |
| Does Not Ship To: | AZ |
Description
This Colocasia is so rare that you won't find it in most nurseries - and it's sure to stand out in your plant collection, wherever you place it. The Hilo Beauty is fast-growing and does best in warmer temperatures with well-draining soil and bright indirect sunlight.
Each heart-shaped leaf creates its own unique in pattern - no two are the same! True to its tropical roots, the Colocasia 'Hilo Beauty' is named after an island in Hawaii - but it's commonly known as an Elephant Ear plant, due to the size and shape of its foliage.
If you choose to plant it in a container outdoors, be sure to bring it inside before the first frost and place it in front of a sunny window.

Plant Benefits
• Filter indoor air by absorbing toxins, and removing harmful chemicals.
• Boost mood, productivity, concentration and creativity.
• Reduce stress, Fatigue and Allergies.
• Add life to a given space, Plants are therapeutic and cheaper than a therapist.
Care & Maintenance

Plant Care
• Plants shipped online are in complete darkness for several days, once received place in a low light area for 2-3 days before transitioning to bright light.
• Repotting / Fertilizing, once received Wait 4 weeks before repotting or fertilizing, Fertilize during Spring to Fall base on label instructions.
• Water, allow the top 1-2 inch of Soil to dry out, may take 7-12 days, water slowly to allow the soil moist evenly.
• Humidity, most Tropical plants can benefit from regular moisture, a humidifier or regular misting is recommended.
• Light, if is bright enough to read is bright enough for plants, if outdoors place in indirect sun light under Shade.


Satisfaction Guarantee
Warranty Policy
Backed by our 30 days Satisfaction Guarantee
We hope that you enjoy your new plants, Every plant we ship is GUARANTEE for a period of 30 DAYS from the day it is received. our main objective is to ensure a great customer experience and deliver great quality plants for your enjoyment. We love our plants and we hope that you will as well, in the event your plant(s) do not arrive in healthy conditions we ask that you share images supporting the reason(s) and we will provide a replacement plant at no cost to you.

FAQs
Is it safe to ship plants by mail?
We Believe it is, let us prove it, our success rate sipping plant(s) online is well over 99%. We package all our plants in a tightly secure method to prevent the plant from damage or shifting during transit.
How do you measure height for indoor plants?
For indoor plants we measure approximate height from the bottom of the pot to the top of the plant.
Are plant(s) purchased online guarantee?
All plants are guarantee for a period of 30 days, We offer a Satisfaction Guarantee Policy.

Can I order during winter months?
Yes you can, however most Tropical plants are sensitive to extreme cold conditions, once cold temperatures are expected to fall below freezing it will not be safe to ship life plants, we carefully manage shipping decisions during winter months and determine when is safe to ship, please be advise we may need to hold orders until conditions are appropriate to safely ship the plants.