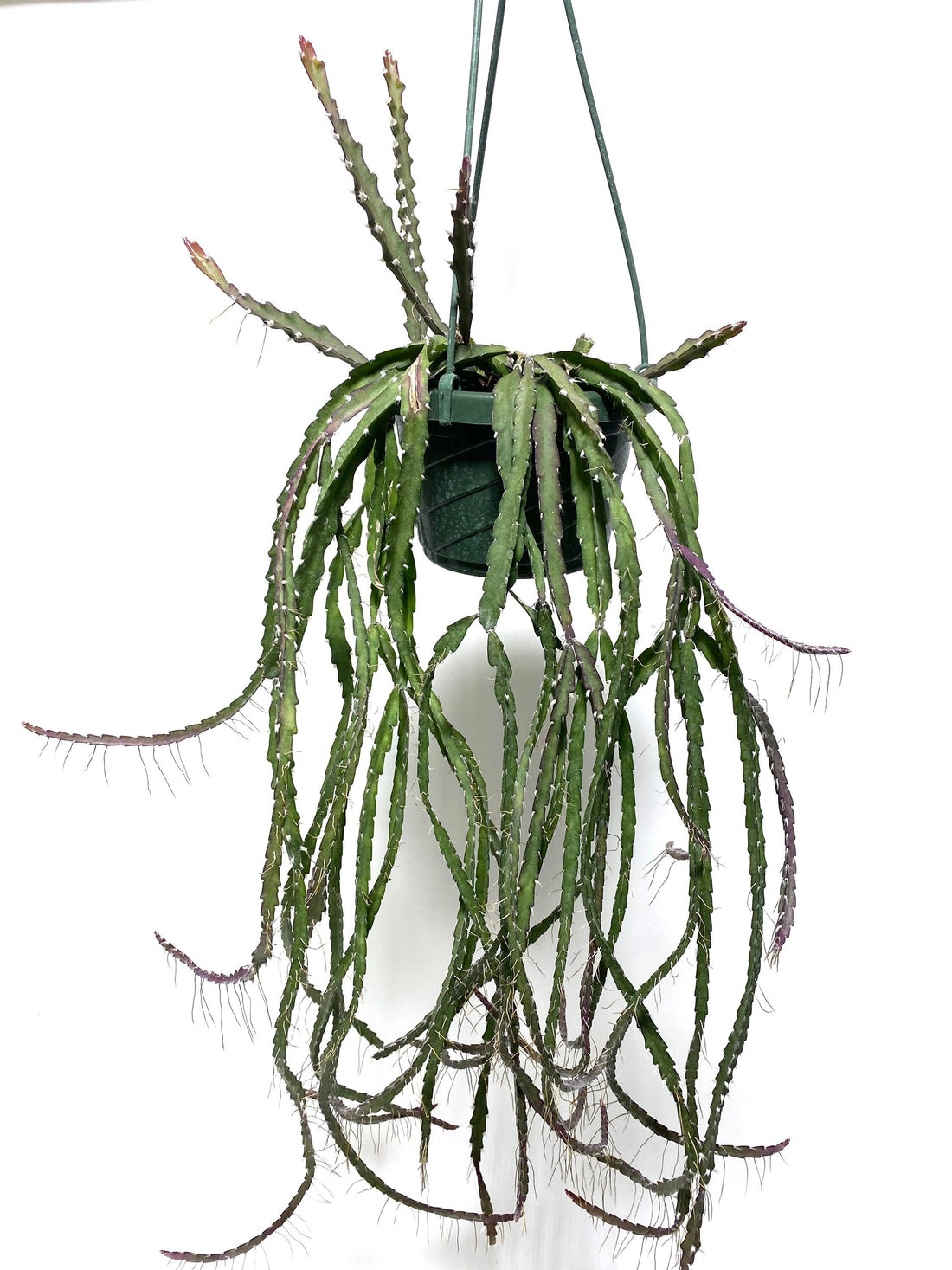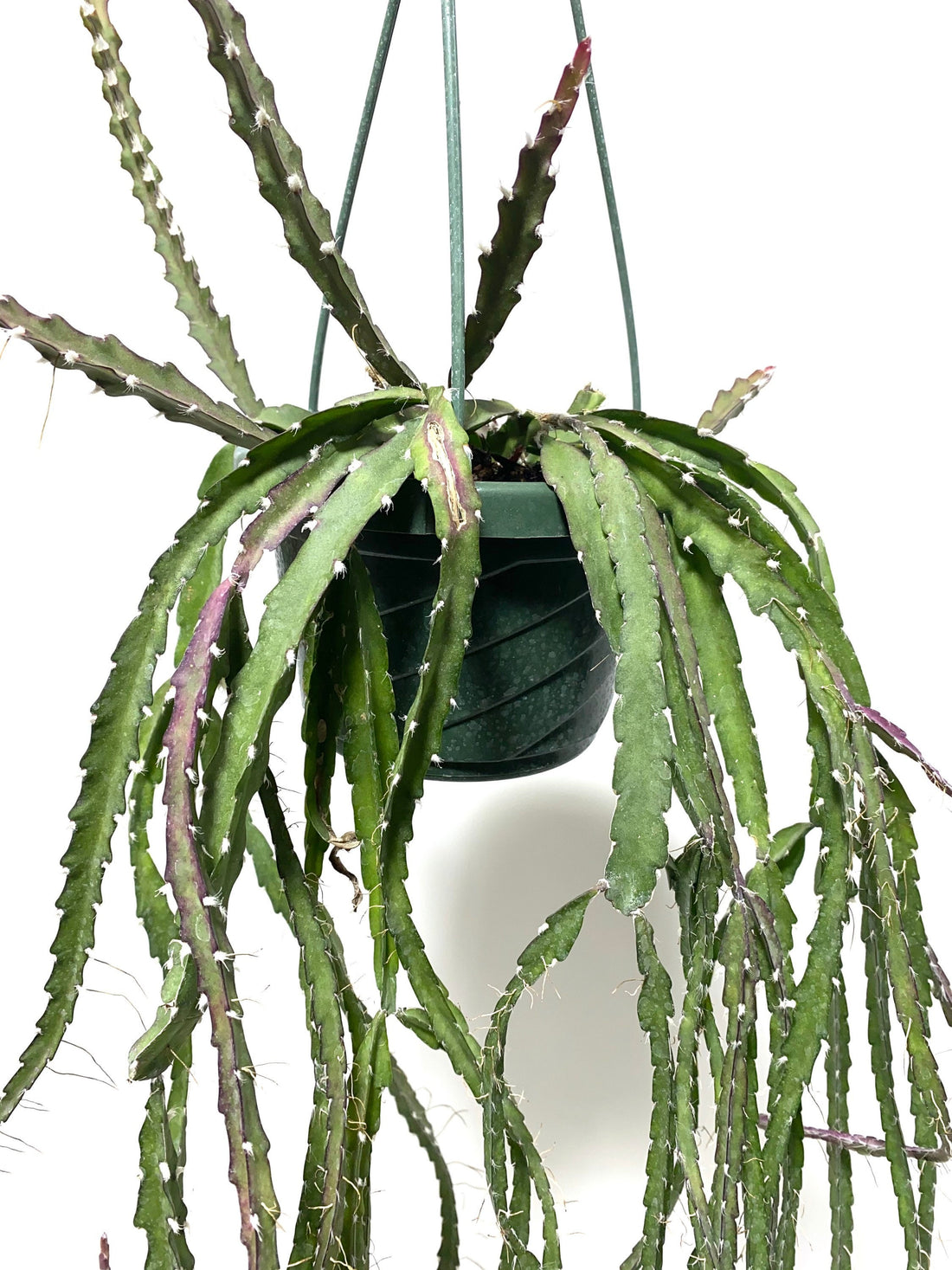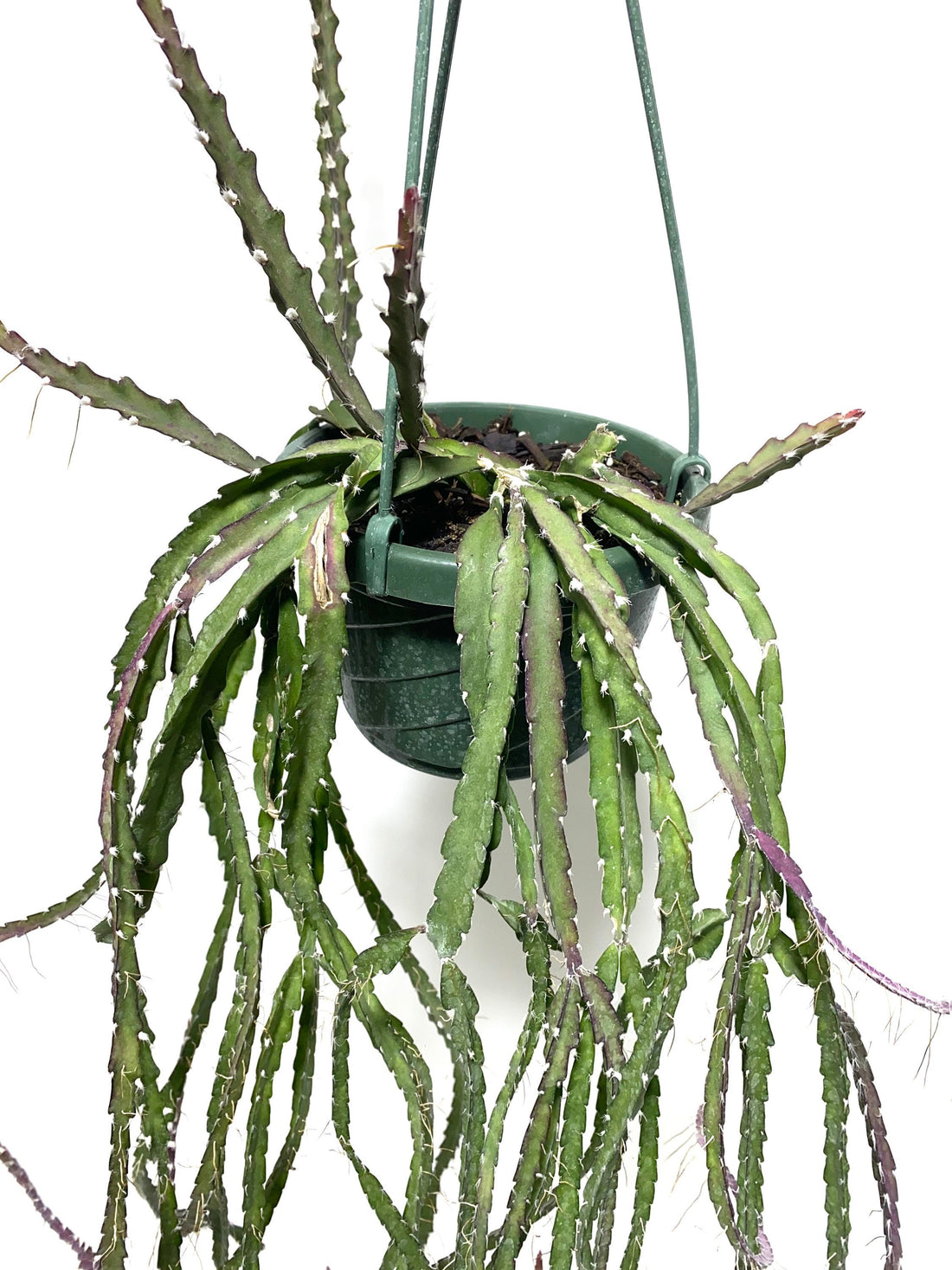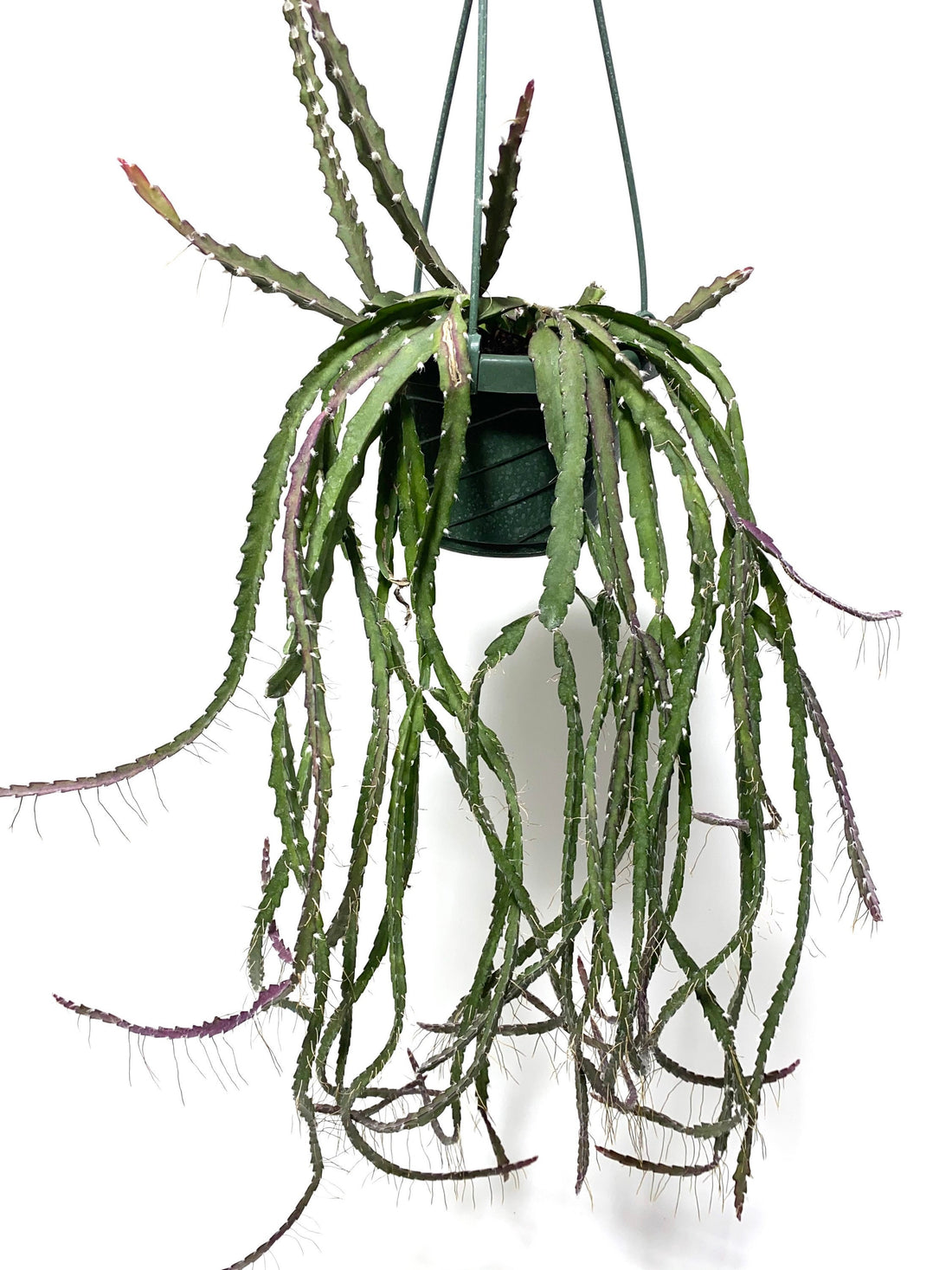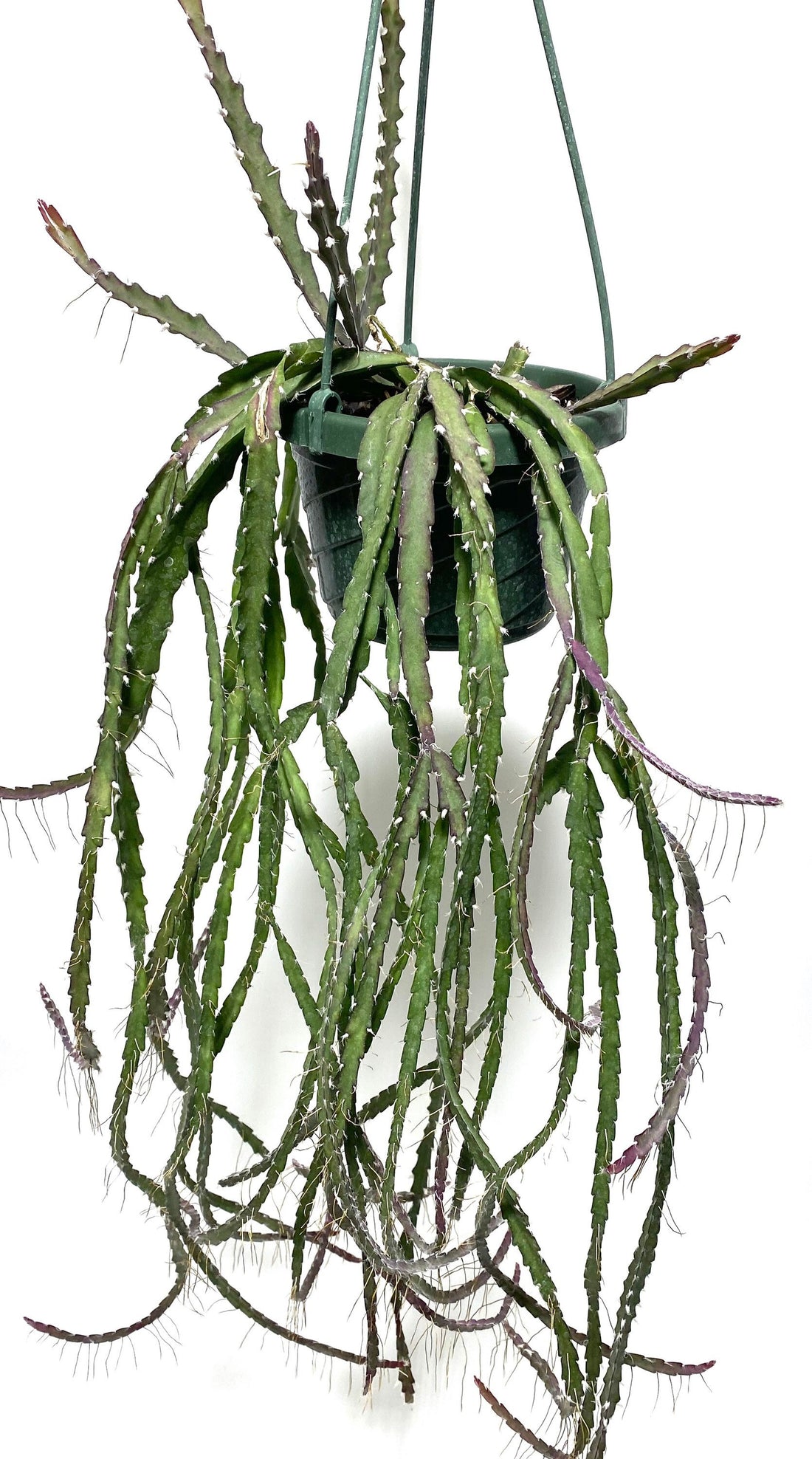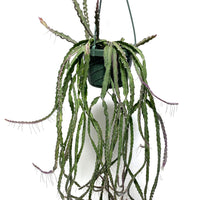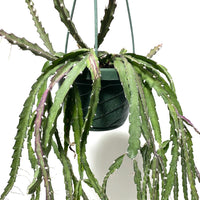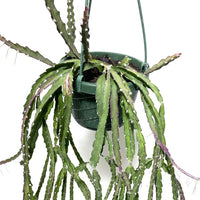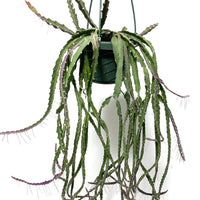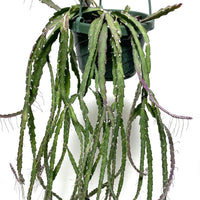 Lepismium Cruciforme Purple, Hurricane Cactus, Stunning Hanging Plant Vines
Lepismium Cruciforme, Plant Vines, Cascades in Hanging Basket, Hurricane or Jungle Cactus.
Lepismium Cruciforme, Purple Epiphyllum Succulents, Hurricane Epiphylic Cactus. Jungle Cactus Rhipsalis Species Rare Houseplant in Hanging Basket.

The hurricane cactus, or Lepismium Cruciforme, is an epiphytic cactus characterized by its long, three-sided ridged stem segments that sprout thick white tufts along the areoles. It does flower, producing red pods that resemble berries with pink flowers.
Lepismium Cruciforme is a fun, rare and exotic cactus plant vine which flowers along the outer edges on each stem, another winner of the plant Vines world. Also know as Hurricane Cactus, is a plant vine or a plant hanger, Lepismium can climb and attach to surfaces, its roots will gradually attach by rooting, Lepismium cruciforme can vine in trellis, post or totem, Hurricane Cactus can also hang, perfect for hanging baskets, vines can cascade until they are prune back. Provide as much indirect bright light as possible, correct light exposure will enhance the shine and beauty of the hurricane cactus, so they can be able to live up to its name. This gorgeous plant can add a touch of grace and elegance to your houseplant collection.

Plant Care
• Plants shipped online are in complete darkness for several days, once received place in a low light area for 2-3 days before transitioning to bright light.
• Repotting / Fertilizing, once received Wait 4 weeks before repotting or fertilizing, Fertilize during Spring to Fall base on label instructions.
• Water, allow the top 1-2 inch of Soil to dry out, may take 5-7 days, water slowly to allow the soil to moist evenly.
• Humidity, most Tropical plants can benefit from regular moisture, a humidifier or regular misting is recommended.
• Light, if is bright enough to read is bright enough for plants, if outdoors place in indirect sun light under Shade.

Plant Benefits
• Filter indoor air by absorbing toxins, and removing harmful chemicals.
• Boost mood, productivity, concentration and creativity.
• Reduce stress, Fatigue and Allergies.
• Add life to a given space, Plants are therapeutic and cheaper than a therapist.

Satisfaction Guarantee Policy.
We hope that you enjoy your new plants! Our main objective is to deliver base on your Satisfaction Guarantee Policy. Please do not hesitate to contact us with any questions or concerns. Our friendly customer service team is here to help.