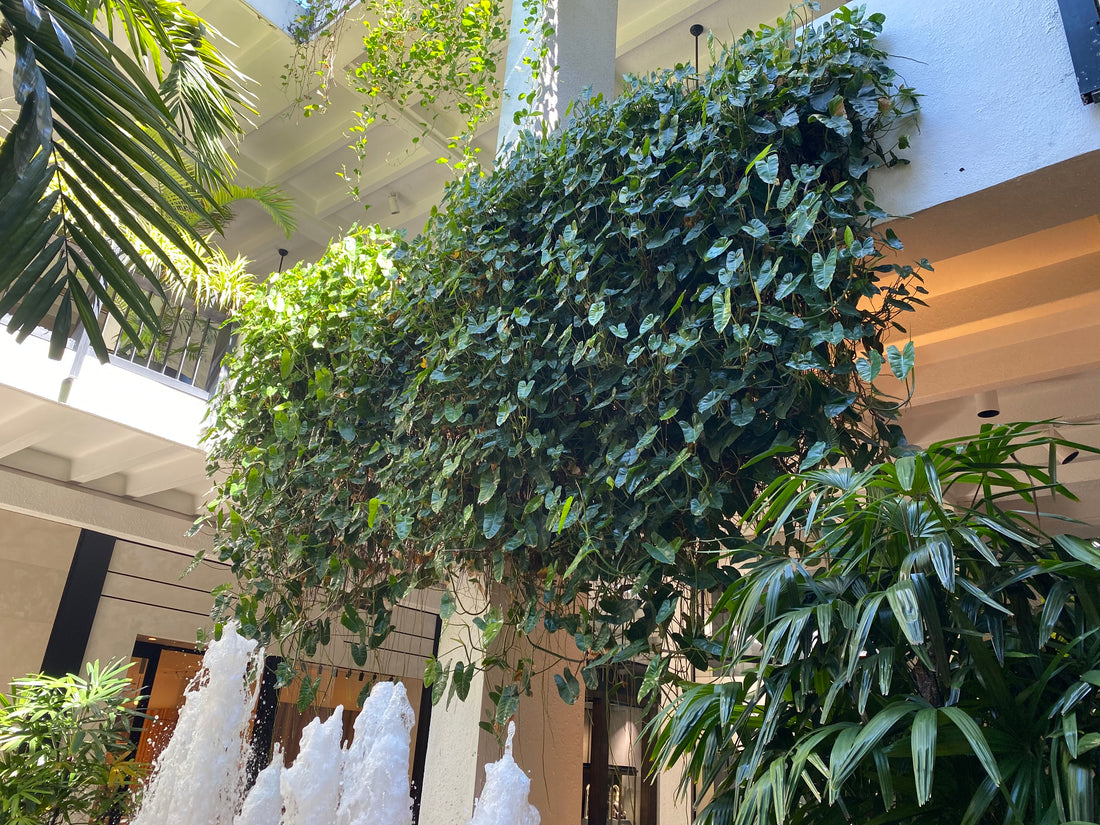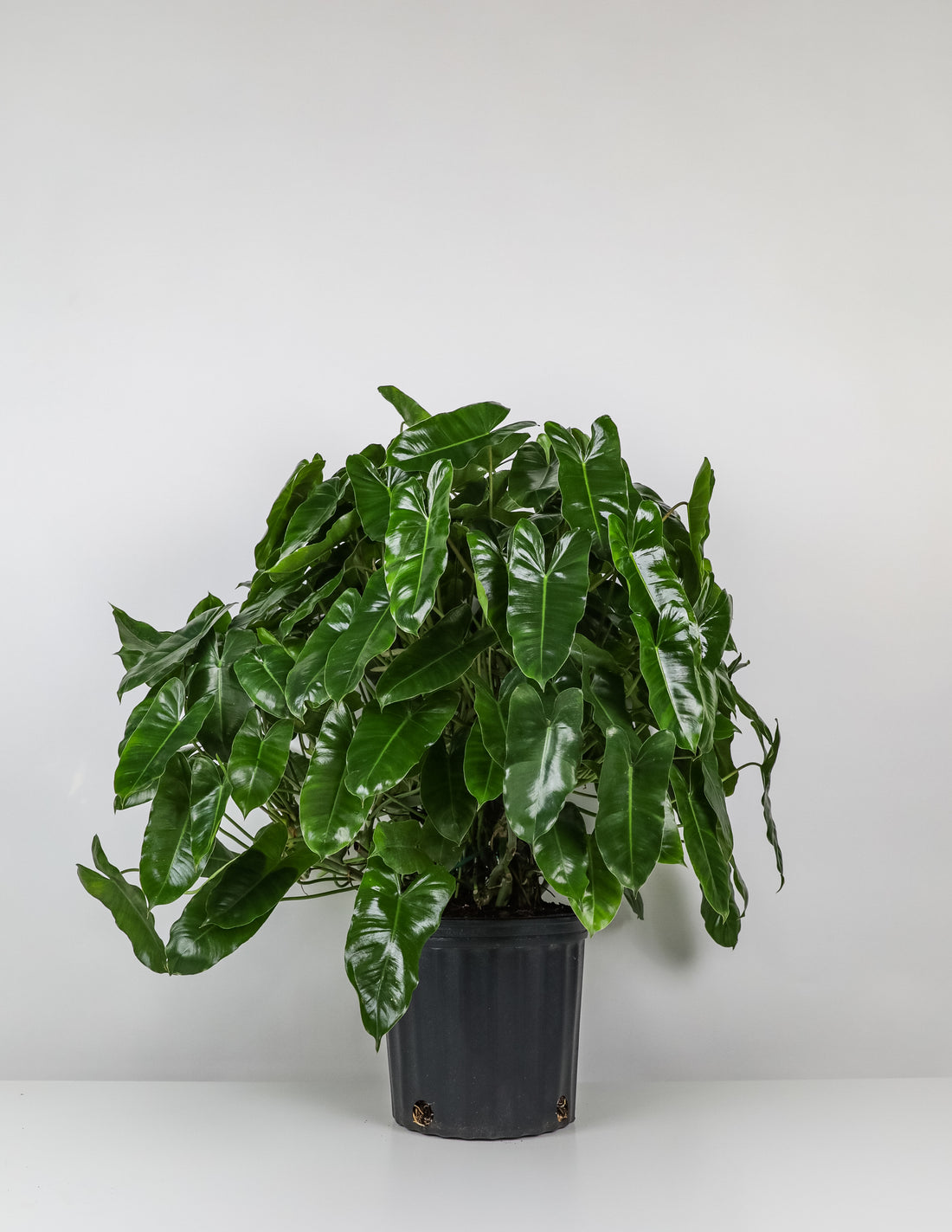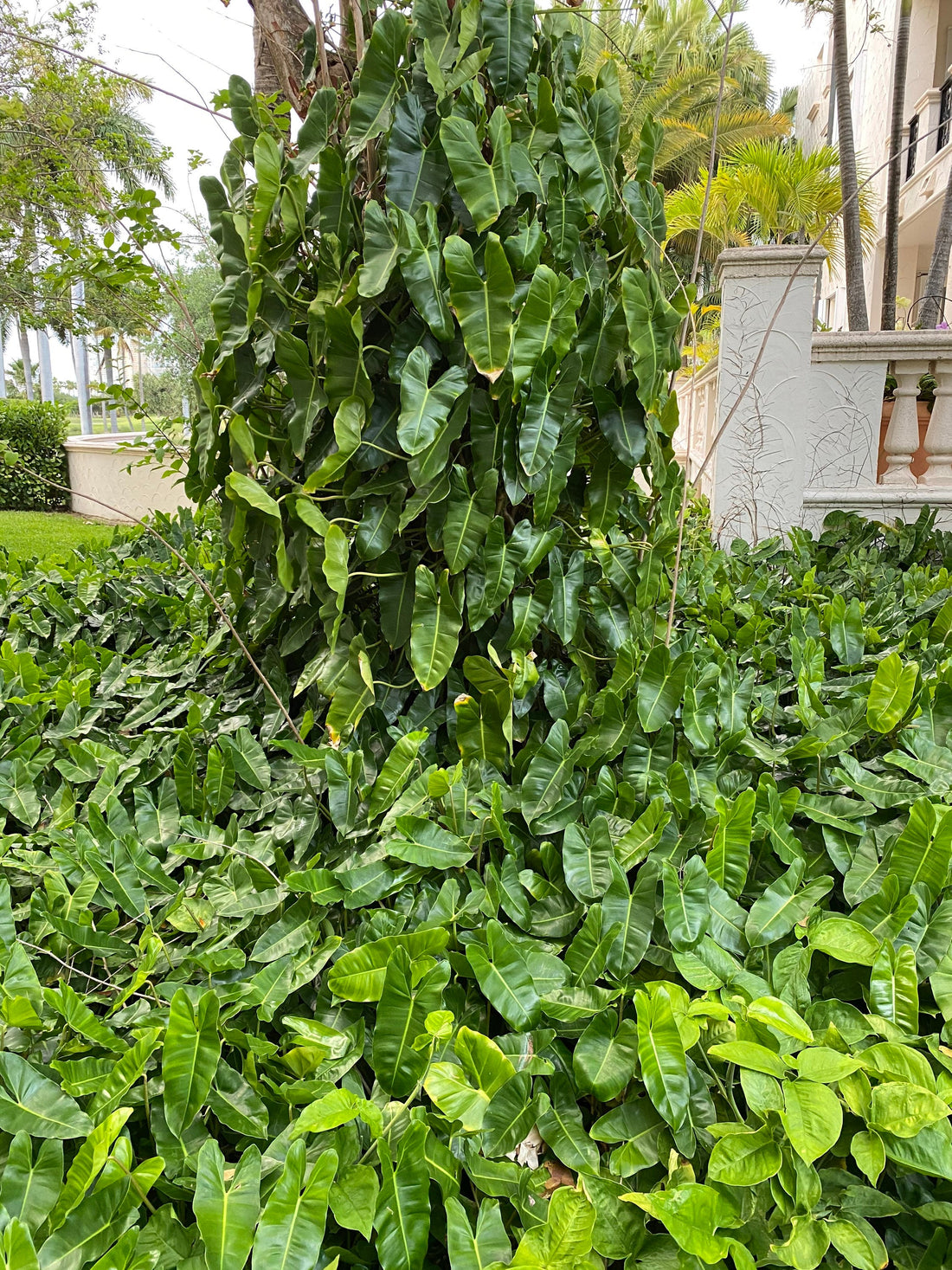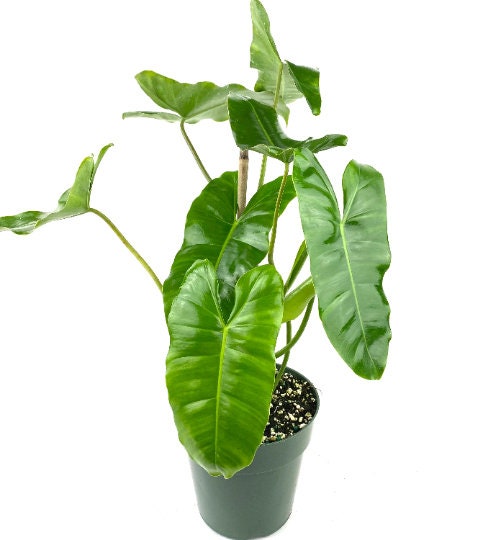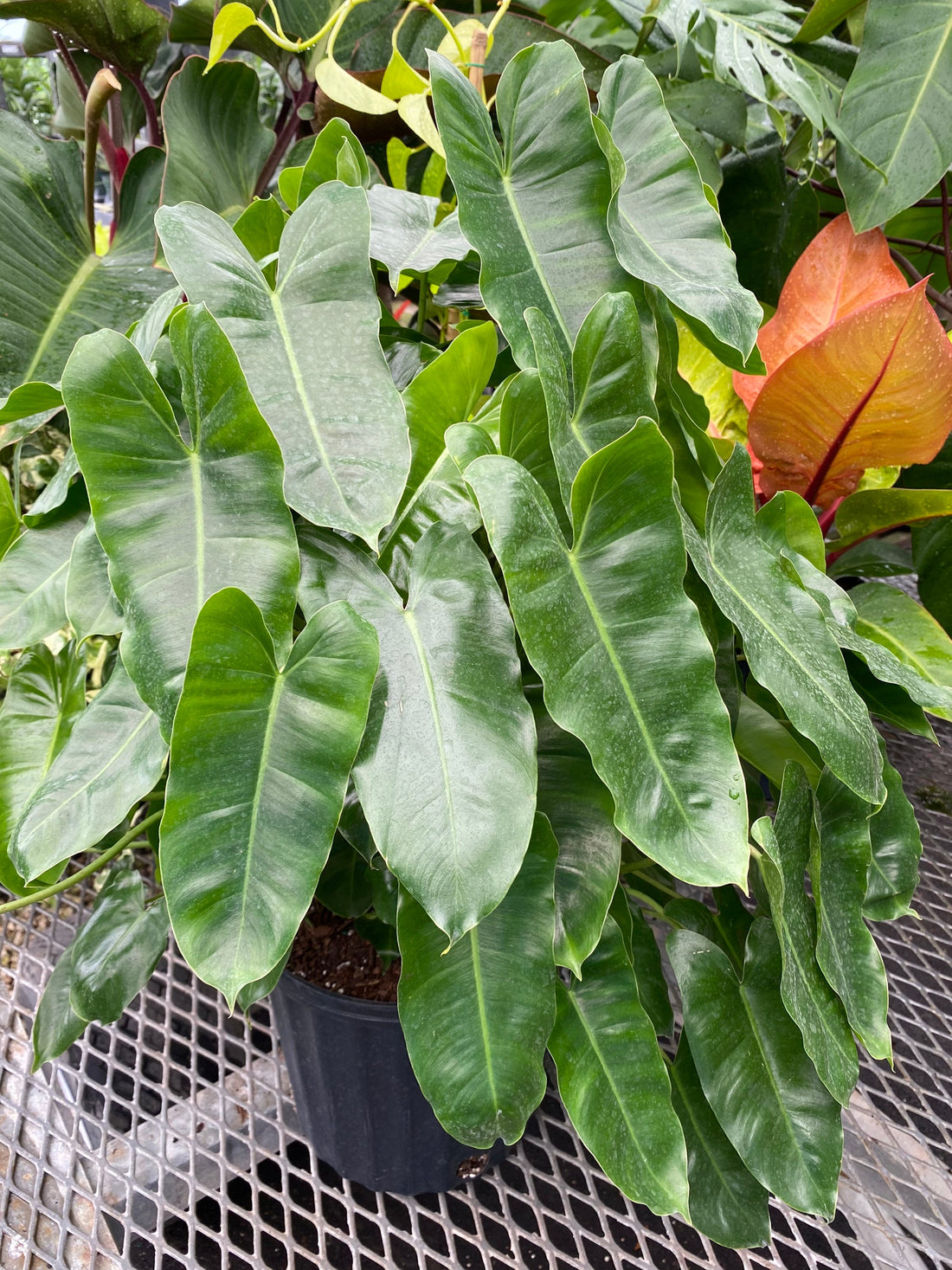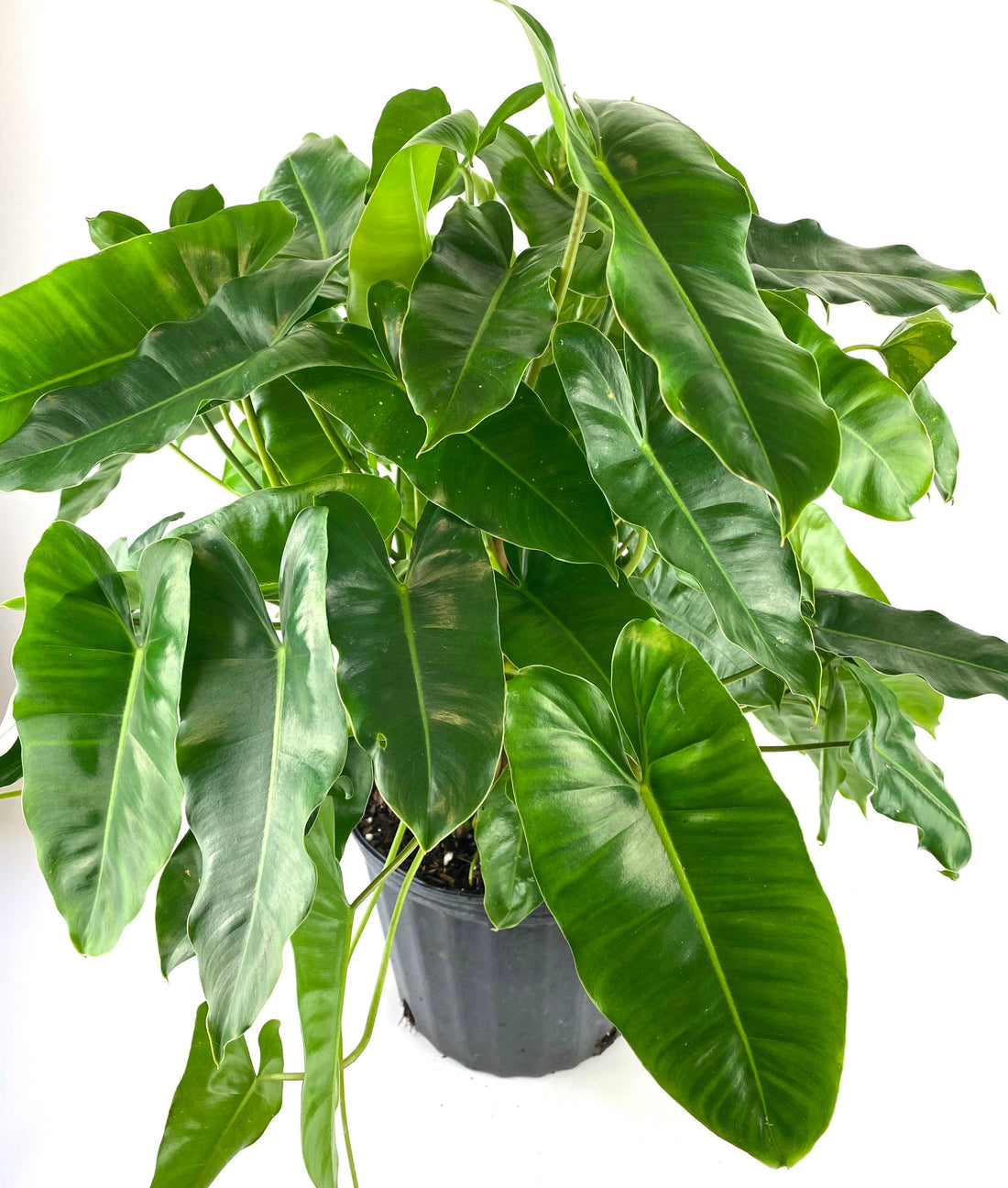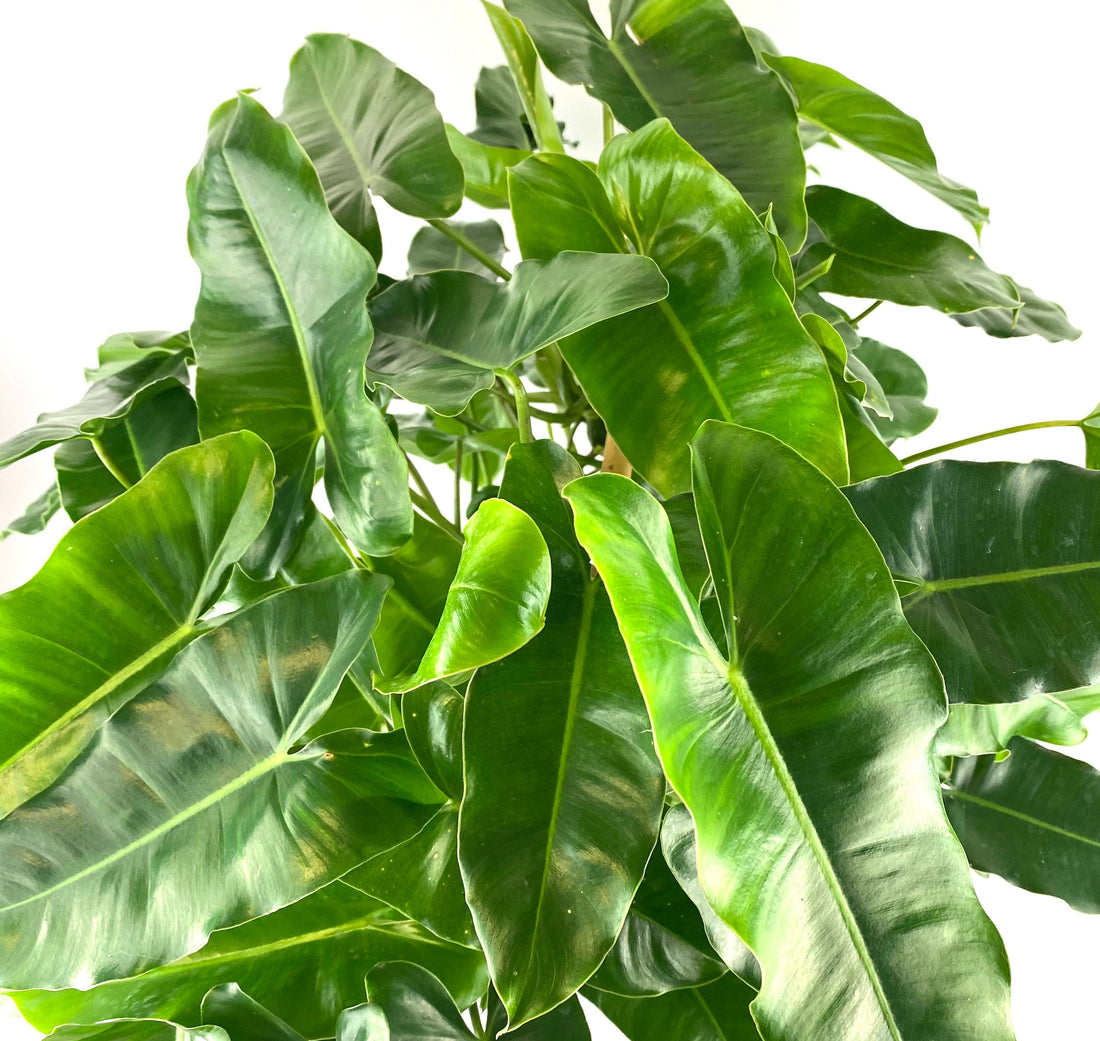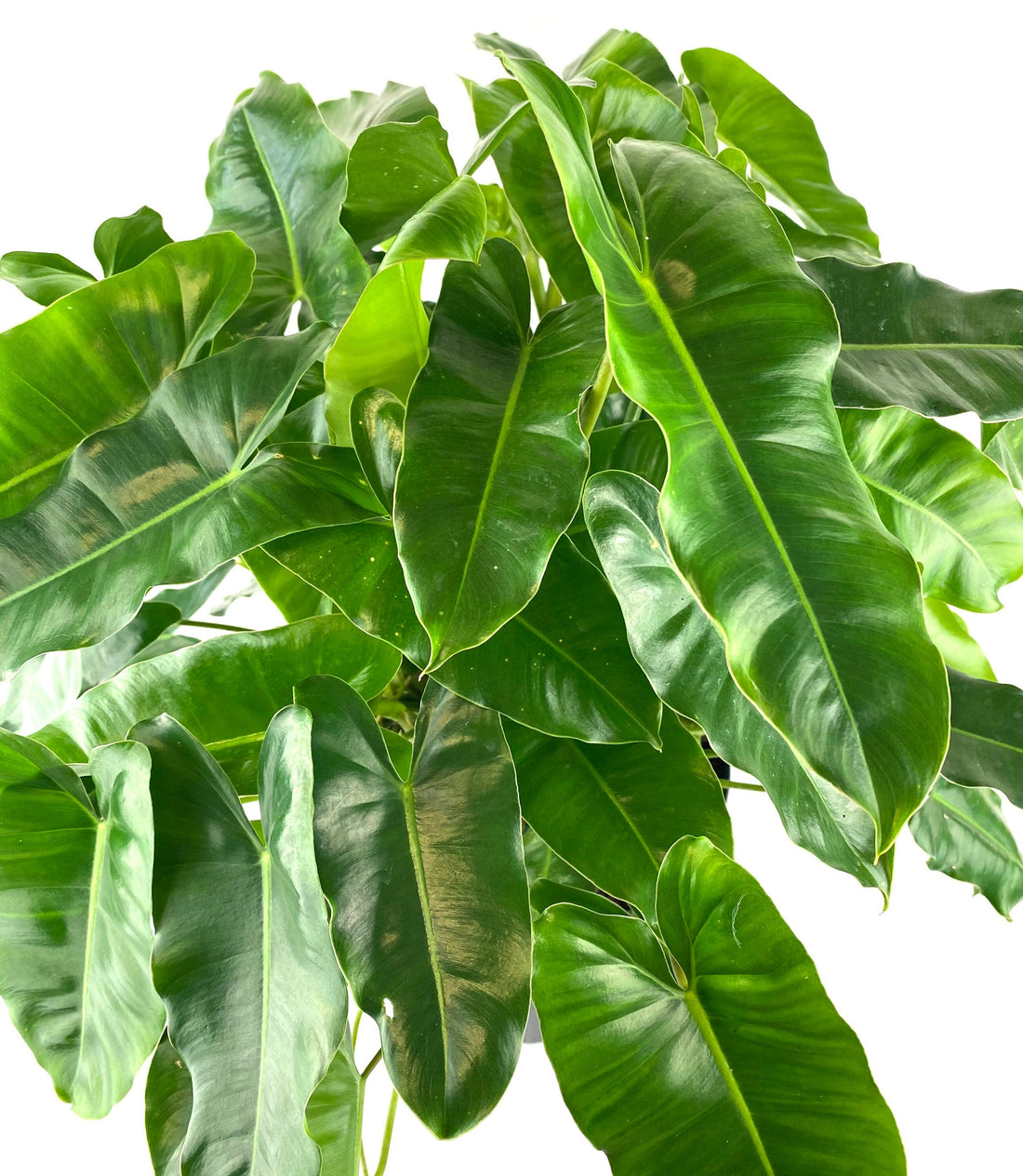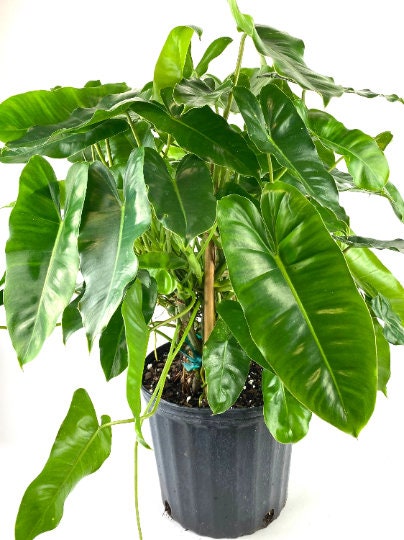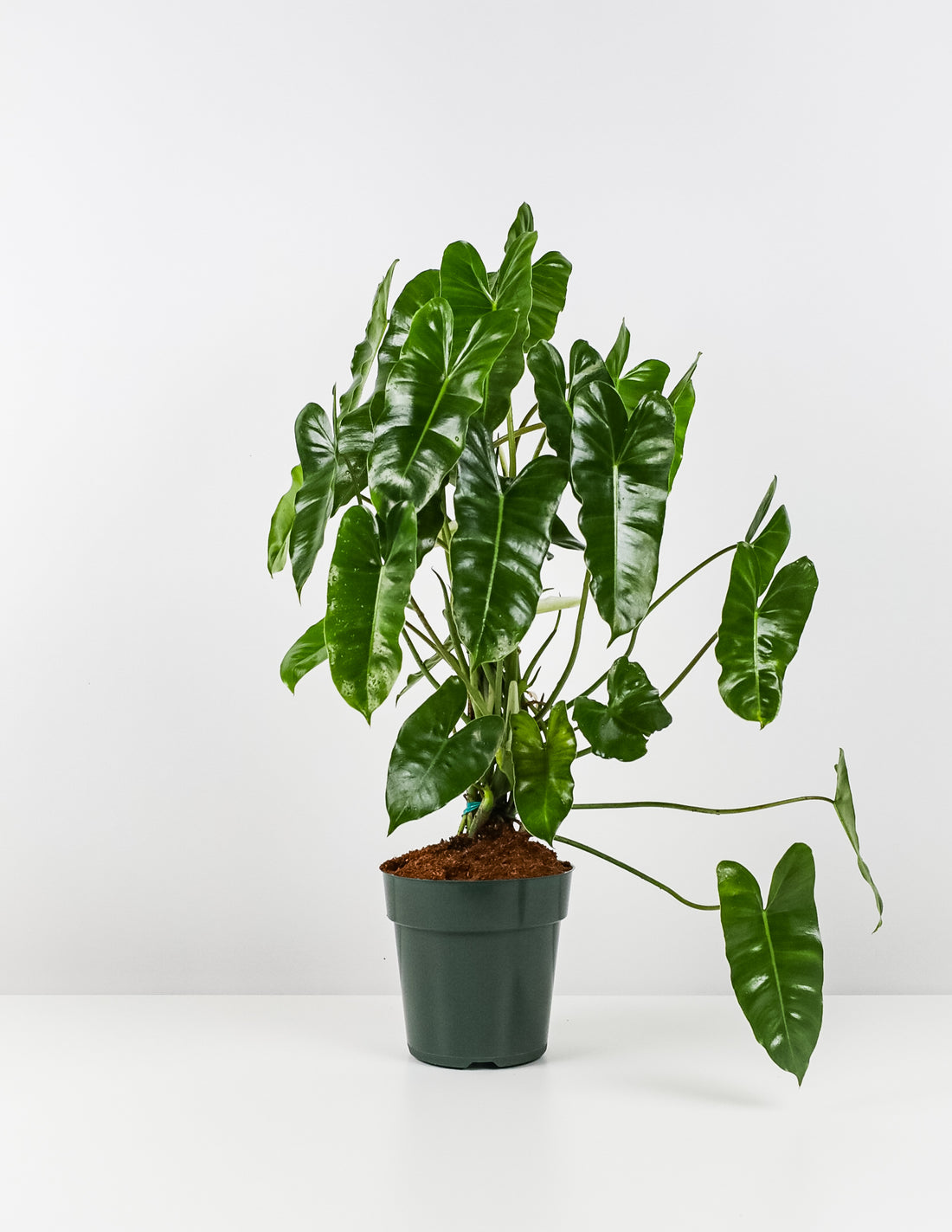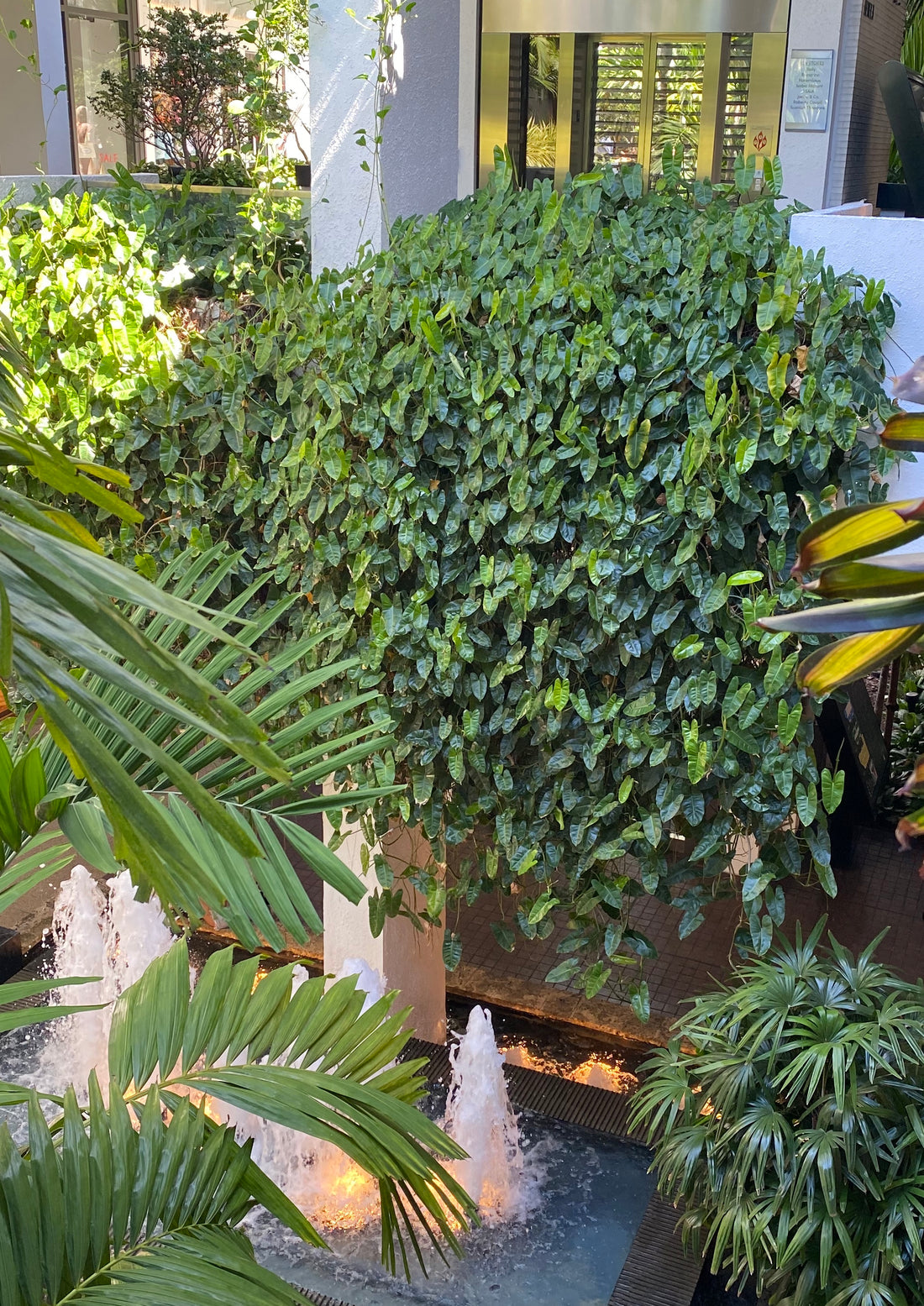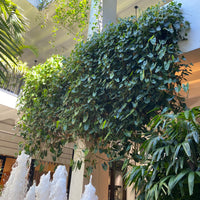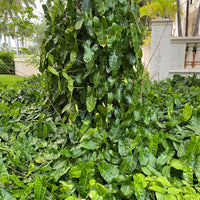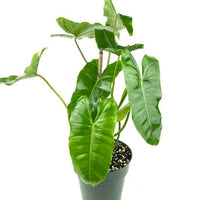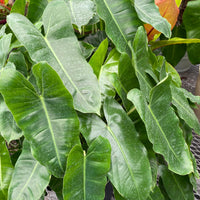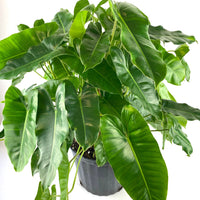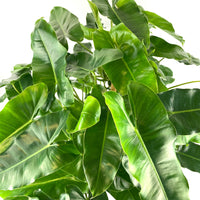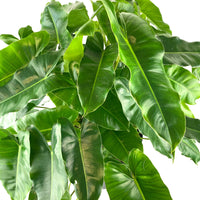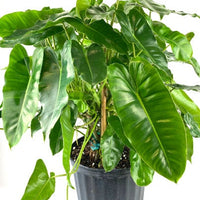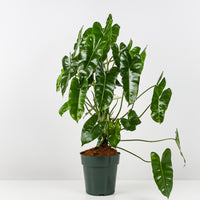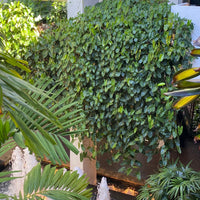 Philodendron Burle Marx, Live Climbing Plant Vine
Philodendron Burle Marx, Bring the Rainforest Indoors and Purify the air with a Beautiful Heart Shape Vining Plant
Philodendron Burle Marx, is a beautiful vining plant with heart shape glossy leaves, perfect for vining environments, they are seen in tree trunks thought out south Florida landscapes, in pots place them in trellis and they will climb. In the ground Burle Marx can develops runners and form a ground cover mostly in shaded areas under trees, making it an exceptional ground cover due to its vining effect. Give it support and it will climb and continue to vine 20 to 30 feet high. Tolerates more sun than other philodendrons, and once established, tolerates mild drought.
---
Details

Free Shipping on Select orders
100% satisfaction Guarantee. 
Most orders ship within 1-3 days from the day order is received
Once your order is shipped, you'll receive an email with tracking information. 
Plant Hardiness Zones and Details

| | |
| --- | --- |
| Grow Zones: | Indoors |
| Growth Rate: | Moderate |
| Mature Height: | 2-3-ft |
| Mature Width: | 3-4 ft. |
| Light: | Bright Indirect |
| Foliage | heart shape glossy leaves |
| Uses | Interior Foliage, Accent Plant, Complements other plants |
| Characteristics | vining plant |
| Soil Conditions: | Prefers well drain organic soil |
| Does Not Ship To: | AZ |

KEY FEATURES & BENEFITS
• Filter indoor air by absorbing toxins, and removing harmful chemicals.
• Indoor gardening relieves stress and Fatigue by simply enjoying and caring for your plants.
• Having plants in your home or office can be a source of pleasure.
• Plants are therapeutic and cheaper than a therapist
• Hand picked and shipped direct from our Nursery

DECORATING WITH THE PHILODENDRON BURLE MARX
Plant features are becoming very popular in modern interior design for homes, both indoors and outdoors, also true for spaces like hotels lobbies, main entrances, corporate lobbies and offices, the inclusion of plants make space feel more attractive, exciting and comfortable, creating a well balance peaceful ambiance of styles that can both calm the senses and invigorate the mind simultaneously, adorning with live plants and natural elements is a great choice to create a relaxing atmosphere while at home, reducing the day to day stresses from modern life, weather is traffic congestions or stressful daily routines, living sculptures can be the answer to some of this challenges, design your space with tropical plants in mind.
Looking to add a touch of nature to your home or office space? Consider the Philodendron Burle Marx! This beautiful plant is perfect for adding a bit of life to any room. Featuring lush, green leaves, the Philodendron Burle Marx is sure to make any space feel more inviting and comfortable. Additionally, this plant is known for its ability to reduce stress and promote tranquility - making it the perfect addition to any home or office. So if you're looking for a way to add a bit of nature's beauty to your space, the Philodendron Burle Marx is the perfect choice!
Care & Maintenance

Care Guide
Additional Care & Maintenance Tips

WATER MANAGEMENT FOR PHILODENDRON BURLE MARX -
•Philodendron plants need higher moisture levels in the soil and environment, but indoor plants can be watered less frequently.
• The frequency of watering depends on the size of the plant, humidity levels, and rate of growth.
• Overwatering is a common mistake made in the care of indoor plants. They are more tolerant to underwatering than overwatering. Improper watering can result in fungal issues and root rot.
• It is recommended to monitor your houseplants and water them when they need it instead of on a schedule.
• The objective when watering plants is to maintain moist soil. A moisture meter can help reduce guesswork by sampling topsoil an inch deep every 3-4 days until it dries further out (since most plant's water needs differ).
Water recommendations are based on pot size: 6 inch pots = every 4-7 days; 10-12 inch pots = every 7-12 days

LIGHTING INSTRUCTIONS -
•Medium to bright indirect light is the best option for these tropical plants.
• Philodendron plants can perform well both indoors or outdoors under shade, but direct sunlight can scorch the leaves.
• Indoor if is bright enough to read, is bright enough for the Philodendrons family of plants.
• Complete darkness is not recommended because it means the plant cannot photosynthesize and will affect its health.

CLEANING, REGULAR MAINTENANCE - 
•Philodendron Micans leaves are delicate, so use caution when cleaning them.
• A simple solution is to add a few drops of dish soap to a cup of water, wet a soft cloth and manually wipe off the dust from the leaves.
Satisfaction Guarantee
Warranty Policy
Backed by our 30 days Satisfaction Guarantee
We hope that you enjoy your new plants, Every plant we ship is GUARANTEE for a period of 30 DAYS from the day it is received. our main objective is to ensure a great customer experience and deliver great quality plants for your enjoyment. We love our plants and we hope that you will as well, in the event your plant(s) do not arrive in healthy conditions we ask that you share images supporting the reason(s) and we will provide a replacement plant at no cost to you.

FAQs
Is it safe to ship plants by mail?
We Believe it is, let us prove it, our success rate sipping plant(s) online is well over 99%.
How do you measure height for indoor plants?
For indoor plants we measure approximate height from the bottom of the pot to the top of the plant.
Are plant(s) purchased online guarantee?
All plants are guarantee for a period of 30 days, We offer a Satisfaction Guarantee Policy.

Can I order during winter months?
Yes you can, however most Tropical plants are sensitive to extreme cold conditions, once cold temperatures are expected to fall below freezing it will not be safe to ship life plants, we carefully manage shipping decisions during winter months and determine when is safe to ship, please be advise we may need to hold orders until conditions are appropriate to safely ship the plants.